How a tough schedule and mistakes have cost the Texans
Oct 23, 2020, 12:35 pm
The Texans have another tough opponent on Sunday. Photo by Christian Petersen/Getty Images
When Aaron Rogers and the Green Bay Packers step foot inside NRG Stadium on Sunday, it will mark the end to a brutal seven-week stretch for the Houston Texans.
After they opened the season against the Super Bowl champions, the Texans went down a trajectory where they faced four MVP quarterbacks — three of which with Super Bowl titles — and three teams currently leading their respective divisions in six of their first seven games.
The outcome led Houston to a 1-5 record on the season, with the likelihood of adding an extra game in the loss column following Sunday's contest. The Texans have not been the typical sub .500 team despite what the record might show. According to cornerback Bradley Roby, it has been simple mistakes that have prevented the team from adding a few more wins on the season.
"Every time I look at it, it's what we're doing," Roby said. "It's us messing up, or making an M.A., or not being aligned right. It's little things. It's not like we're just going out and getting killed. It's little things we're not doing or adjusting to that's causing losses."
Roby said during his press conference on Thursday that it only takes four or five plays to decide the outcome of an NFL game. But in Houston's case, perhaps just one or two. The Texans have come a play or two away from recording a victory over several of their opponents this season.
In the game against the Titans, the general belief is that Romeo Crennel's failed two-point conversion is what led the Texans to their fifth loss in six tries.
Although Crennel's decision had a significant impact on the final results, Derrick Henry's 94-yard touchdown drive was more demoralizing to the Texans — who were ahead by two entering the fourth quarter. With less than 10 seconds left in regulation, Ryan Tannehill connected with A.J. Brown on a seven-yard touchdown pass to send the game into overtime.
Had they got one of the two stops, the Texans would have come out of Nissan Stadium victorious against their AFC South counterparts.
Three weeks prior in the loss to the Steelers, had the Texans prevented James Conner from finding his way into the end zone late in the fourth quarter, Houston would have recorded their first win of the season inside Heinz Field Stadium in Pittsburgh.
"If we have an opportunity to go out there and win the game and end it right there, then I would do that 100 percent of the time," Tim Kelly said when looking back on the failed two-point conversion against the Titans. "I knew our guys would go out there and execute. Two inches more to the left and I think we're having a different conversation today."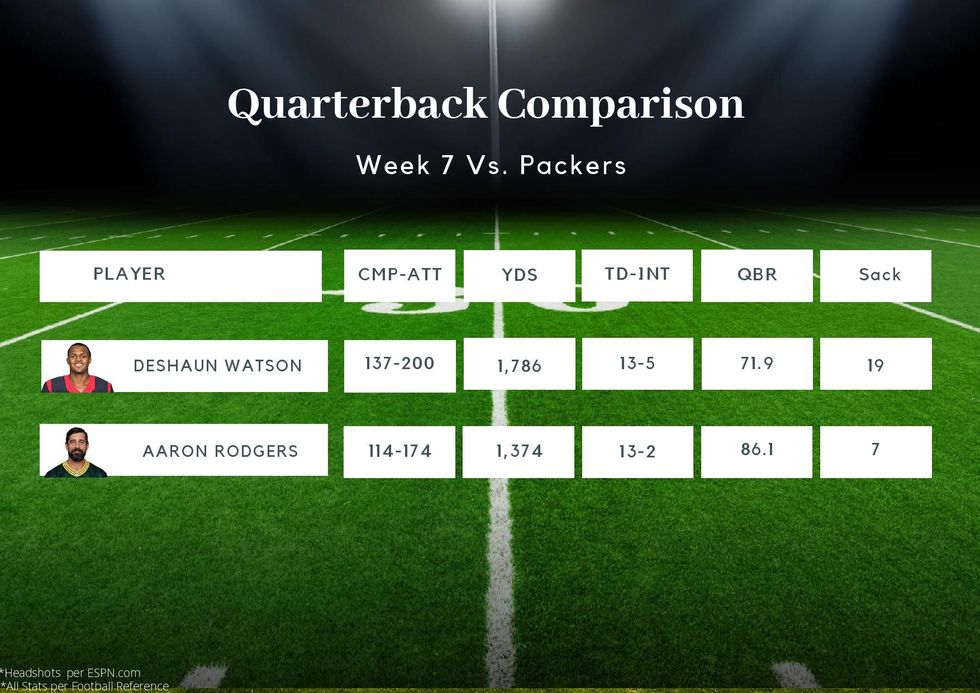 Against Rogers, it is going to be critical for Houston to limit the number of mistakes in an attempt to pull off an upset. In his 15th season, the two-time league MVP winner has aged like fine wine (2011 & 2014). With a QBR of 86.1, Rogers has recorded 1,374 yards with a 13-2 touchdown to interception ratio thus far this season.
"It's my first time going against him, so it's going to be dope just to see him in live-action," Deshaun Watson said. "He's definitely a guy I love to watch, I've been watching since I was young. It's definitely going to be fun to compete with him. We're going to have to score a lot of points because that's what he's going to do. We've got to continue pushing forward. It's going to be fun."
A victory against one of the league's top teams would not only improve their appalling record to 2-5, but it gives the Texans a reason to be optimistic coming out of the bye week with a favorable schedule.
Starting against the Jacksonville Jaguars in Week 9, the Texans' remaining schedule is nowhere near as challenging as their first seven games. They will only face one former league MVP in Cam Newton come Week 11 against the Patriots, and a Super Bowl-winning quarterback in Nick Foles during their Week 14 match against the Bears. As of now, only four of Houston's next nine opponents possess a winning record coming out of the bye.
Can an easier schedule lead to a path where Houston becomes the fourth team in league history to make the playoffs after a 1-5 start? It's possible. But it has to start with the Texans minimizing their on-field mistakes. It's a change that has to begin Sunday against a future Hall of Famer on the opposite side of the line of scrimmage.