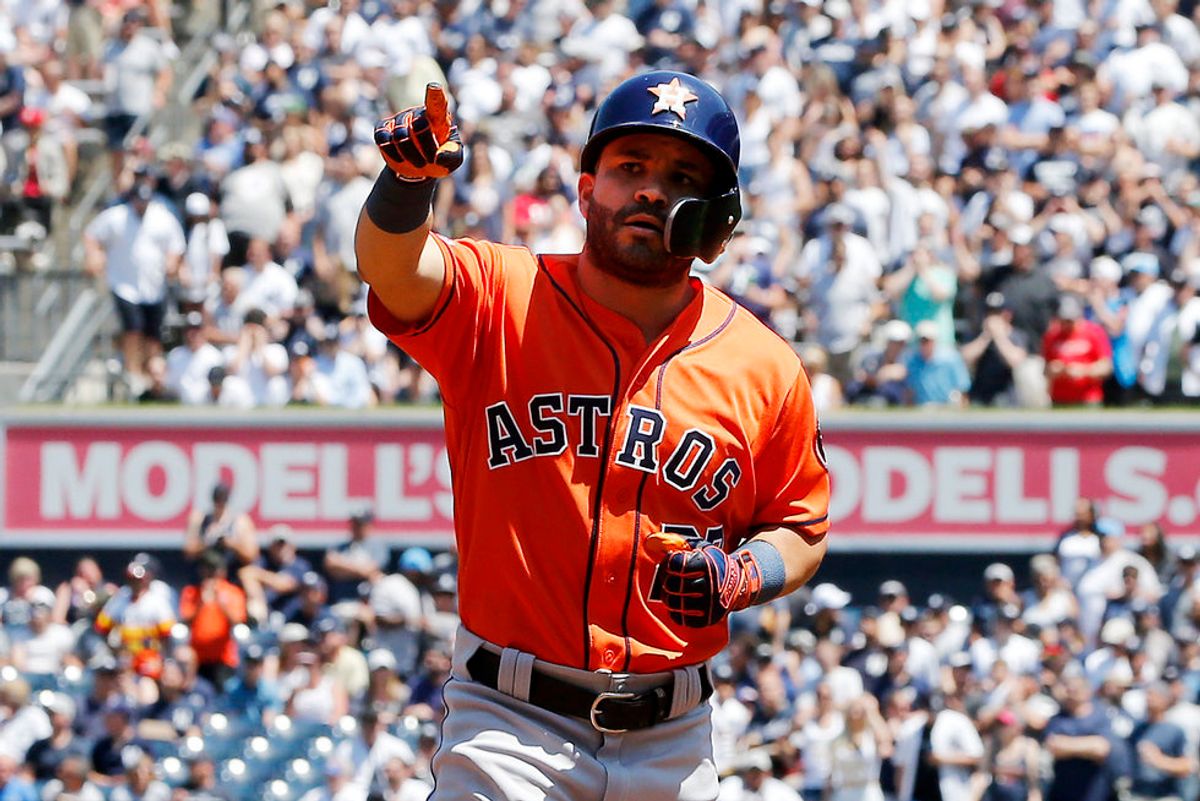 Photo by Jim McIsaac/Getty Images
I believe it started in 2012, maybe 2013. Admittedly, I wasn't really paying too close attention when Jose Altuve made his debut in 2011. What I remember most was the moment my daughter asked "Dad, who's that little guy for the Astros?" "Baby, that's Jose Altuve. He's their best player." Back then, they were losing 100 games a year on a fairy regular basis. I got the kids tickets to a game in 2014. They were really excited. My daughter wore her Jose Altuve t-shirt. My son had on his Astros hat. We were all in. When we got to our seats and they looked over the program, I remember my son randomly asking how tall was he. He was about 5'5 or so at the time. My daughter immediately replied "You're about as tall as Jose Altuve!" He felt like he was on top of the world, and my daughter was excited to know her brother was about the same height as her favorite player. As she put it "short people rule!" Now, he's my height, she's about 5'7, and the wife is the shortest person in the house. Here are a few more reasons why Altuve became my favorite player of all time:
Humble
No matter what he's accomplished, the stage he's done it on, or how often he's had successes, Altuve has remained humble. Whether it's in television, radio, or print interviews, his humble spirit has come across time and time again. It's not a phony act that's been debunked either. Others who've had countless interactions with him have all said the same thing. He's the kind of guy that you would want dating your daughter/sister (if he wasn't married).
Hard worker
The story of Altuve refusing to give up when turned away at tryouts in his home country of Venezuela is remarkable. If you don't know: he was turned away because of his size, came back the next day with birth certificate in hand, didn't take no for an answer, and the rest is history. He's continued to work to make himself into an AL MVP and one of the most feared and respected hitters in the game today. Oh, and he's also a hell of a second baseman.
Clutch
His home run to send the Astros to the World Series this year was just one of his many clutch moments. Altuve is tied with teammate George Springer as the team's all time leader in potseason home runs with 13. He's a career .315 hitter with a career .827 OPS. All that is great, but he does it when it counts most. He never acts as if the moment is too big for him. Most times, you'll see him with that infectious smile on his face, or his trademark scowl. He takes everything in stride and never acts like the moment is too big for him.
Fun-loving
If you've never seen the video of Altuve singing "I Want It That Way" by the Backstreet Boys, you're missing out. He also has countless videos and GIFs out there in which he's dancing and having fun. His HEB commercials are gold as well. He seems like one of those guys that you can't help but have a good time if he's around. Other teammates have said as much. Even opponents root for him because he's such a good guy.
Family and faith
When he's rounding the bases, Altuve told his teammates not to tear his jersey off. Why? He didn't want to upset his wife. After the game, he was most happy when he was holding his daughter and hugging his wife. The way he honors them and respects his wife are truly admirable. He's also a man of faith. One of the first things he did was thank God when he was interviewed, something he's done often.
Fred Faour said it on The Blitz that "if you don't like Jose Altuve, well then you hate puppies." I'm a firm subscriber to that theory. The guy gives you no reason to hate him, unless you're one of those dumbass Yankee fans who chanted "bleep Altuve." The guy is a treasure. Whenever he decides to hang it up, I'm sure he'll have a statue outside whatever stadium the Astros are playing in at the time. Charlie Palillo and Fred both have him ranked highly in their all-time Houston sports greats patheons. In my humble opinion, he's my favorite baseball player of all time. Given all the reasons I've listed, and add to that the fact that he's done all this thus far without the hint of PEDs. So yes, I'm taking him over Ken Griffey Jr, Greg Maddux, Barry Bonds, and all the others. He's now my No. 1, and I don't see that changing. Ever.
During the Texans' game against the Carolina Panthers on Sunday, center Jarrett Patterson sustained a leg injury that will keep him out of the lineup for the foreseeable future, per Aaron Wilson.
#Texans wide receiver Robert Woods expected to miss another game with foot injury, per sources. And tight end Brevin Jordan's foot issue could take some time as he deals with plantar fasciitis. With center Jarrett Patterson sidelined (fracture in ankle area, per source, Texans… https://t.co/DluZWB3w2y
— Aaron Wilson (@AaronWilson_NFL) October 31, 2023
Monday, Texans head coach DeMeco Ryans was about the health of rookie center Juice Scruggs who has missed the entire regular season to this point with a hamstring injury. Ryans said he didn't have an update on Scruggs when asked if he would be returning to practice this week.
So it looks like the Texans may turn to Michael Dieter at center, who replaced Patterson on Sunday, while they wait for Scruggs to get healthy. The Texans have already dealt with a ton of injuries to their o-line this year. Which is why Tytus Howard is struggling to play left guard instead of lining up at right tackle, the position he was given a hefty contract extension to play before the season.
The coaches have said they want to have their best 5 linemen on the field, which is why Howard is not likely to move back to tackle anytime soon, even though his run blocking has been below average at guard. This also means the Texans inability to run the ball may not get fixed this season.
Houston's running backs have also received criticism for the lackluster running game, but all three backs haven't seen much success, so this feels like a scheme/talent issue on the line. In fact, the Texans' two biggest runs on Sunday came after the backs had to make a defender miss in the backfield.
Houston had a great opportunity to run the ball against one of the worst run defenses in the league against Carolina. But even that matchup couldn't get the Texans run game on track. So where do they go from here? Maybe being less predictable and throwing more on first down could help Stroud and the offense. How they shuffle the line when Scruggs returns could also be an option.
Either way, be sure to watch the video above as we examine all the possibilities to get the ground game going, and protect Stroud in the process.
Subscribe to SportsMapTexans on YouTube for our latest videos.
SportsMap Emails
Are Awesome