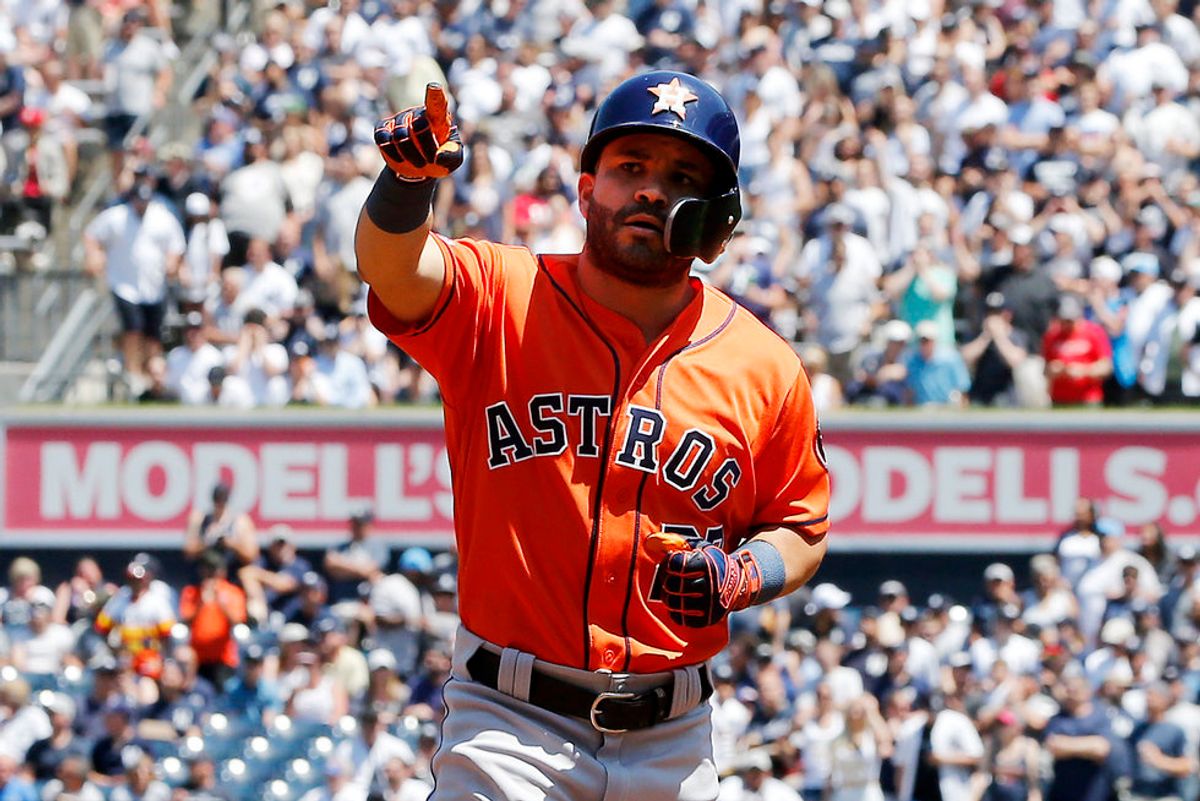 Photo by Jim McIsaac/Getty Images
I believe it started in 2012, maybe 2013. Admittedly, I wasn't really paying too close attention when Jose Altuve made his debut in 2011. What I remember most was the moment my daughter asked "Dad, who's that little guy for the Astros?" "Baby, that's Jose Altuve. He's their best player." Back then, they were losing 100 games a year on a fairy regular basis. I got the kids tickets to a game in 2014. They were really excited. My daughter wore her Jose Altuve t-shirt. My son had on his Astros hat. We were all in. When we got to our seats and they looked over the program, I remember my son randomly asking how tall was he. He was about 5'5 or so at the time. My daughter immediately replied "You're about as tall as Jose Altuve!" He felt like he was on top of the world, and my daughter was excited to know her brother was about the same height as her favorite player. As she put it "short people rule!" Now, he's my height, she's about 5'7, and the wife is the shortest person in the house. Here are a few more reasons why Altuve became my favorite player of all time:
Humble
No matter what he's accomplished, the stage he's done it on, or how often he's had successes, Altuve has remained humble. Whether it's in television, radio, or print interviews, his humble spirit has come across time and time again. It's not a phony act that's been debunked either. Others who've had countless interactions with him have all said the same thing. He's the kind of guy that you would want dating your daughter/sister (if he wasn't married).
Hard worker
The story of Altuve refusing to give up when turned away at tryouts in his home country of Venezuela is remarkable. If you don't know: he was turned away because of his size, came back the next day with birth certificate in hand, didn't take no for an answer, and the rest is history. He's continued to work to make himself into an AL MVP and one of the most feared and respected hitters in the game today. Oh, and he's also a hell of a second baseman.
Clutch
His home run to send the Astros to the World Series this year was just one of his many clutch moments. Altuve is tied with teammate George Springer as the team's all time leader in potseason home runs with 13. He's a career .315 hitter with a career .827 OPS. All that is great, but he does it when it counts most. He never acts as if the moment is too big for him. Most times, you'll see him with that infectious smile on his face, or his trademark scowl. He takes everything in stride and never acts like the moment is too big for him.
Fun-loving
If you've never seen the video of Altuve singing "I Want It That Way" by the Backstreet Boys, you're missing out. He also has countless videos and GIFs out there in which he's dancing and having fun. His HEB commercials are gold as well. He seems like one of those guys that you can't help but have a good time if he's around. Other teammates have said as much. Even opponents root for him because he's such a good guy.
Family and faith
When he's rounding the bases, Altuve told his teammates not to tear his jersey off. Why? He didn't want to upset his wife. After the game, he was most happy when he was holding his daughter and hugging his wife. The way he honors them and respects his wife are truly admirable. He's also a man of faith. One of the first things he did was thank God when he was interviewed, something he's done often.
Fred Faour said it on The Blitz that "if you don't like Jose Altuve, well then you hate puppies." I'm a firm subscriber to that theory. The guy gives you no reason to hate him, unless you're one of those dumbass Yankee fans who chanted "bleep Altuve." The guy is a treasure. Whenever he decides to hang it up, I'm sure he'll have a statue outside whatever stadium the Astros are playing in at the time. Charlie Palillo and Fred both have him ranked highly in their all-time Houston sports greats patheons. In my humble opinion, he's my favorite baseball player of all time. Given all the reasons I've listed, and add to that the fact that he's done all this thus far without the hint of PEDs. So yes, I'm taking him over Ken Griffey Jr, Greg Maddux, Barry Bonds, and all the others. He's now my No. 1, and I don't see that changing. Ever.
Astros GM Dana Brown has recently discussed how the club is going to approach free agency on the team's flagship station, and based on his comments, it doesn't sound the Astros are going to spend a lot of money.
He mentioned being "creative" with their strategy and maybe exploring some trade possibilities. Which is why we were surprised to hear from Jon Heyman that the Astros may have interest in Japanese pitcher Yoshinobu Yamamoto, or another "elite" starting pitcher.
Phillies are still looking at top starters after bringing back Aaron Nola. They have company, as at least the Red Sox, Cardinals, Braves, Dodgers and Astros are looking for an elite starter (and many more than just those teams are on Yamamoto, who's only 25).
— Jon Heyman (@JonHeyman) November 20, 2023
With the team right up against the tax threshold, a signing like this would certainly push them over, unless they find a way to dump some salary that's already on the books.
But the report that Houston is looking for an elite starter, certainly caught our attention. Mainly, because Dana Brown's comments about backup catcher and bullpen help being the priority, with starting pitching being more of a pipe dream considering the budget constraints.
A move like this would likely require someone like Alex Bregman being traded to make the money work. So is Jon Heyman off the mark with this report, or is Dana Brown quietly looking to add an elite starter?
Plus, just this week the Phillies signed Aaron Nola to a 7-year $172 million contract. Framber Valdez is looking for a long-term deal with 2 years remaining of club control. Will Framber's agent use this contract as a benchmark for what is client is looking for?
Don't miss the video above as we make sense of these recent reports!
If you enjoy the videos, subscribe to SportsMapHouston on YouTube for our latest content.
SportsMap Emails
Are Awesome