4th and a Mile With Paul Muth
How Korean baseball came to save me. Again.
May 6, 2020, 11:15 pm
Korean Baseball is a welcome sight for sports fans. Photo by Paul Muth.
On Monday ESPN announced that they would begin broadcasting games from the Korean Baseball Organization. With COVID-19 under greater control in the country, it was deemed okay for baseball to begin without fans. For the sports deprived fan worldwide, this became a welcome, if not unexpected reprieve.
This, however, was not the first time the KBO saved me.
So no joke there I was, 7000 miles away from Houston in The Land of the Morning Calm. I was six months into my one year of being stationed in Seoul, South Korea when I decided I wanted to go branch out into the local sports culture.
I explained to my Korean soldier roommate that I was interested in seeing a local soccer game, blindly assuming that because I wasn't in America that everyone would be really big into it.
"Do not go to football," he instructed.
"You will fall asleep."
Oh. Well then.
"I guess in that case, I was also kind of interested in checking out a Korean baseball game?" I acquiesced.
"YOU WILL LOVE KOREAN BASEBALL," he declared.
My interest was piqued. It was spring of 2011 and I hadn't seen an Astros game since the summer of 2009. I was overdue.
"Ok. Sell me"
"The tickets are cheap, and you can bring your own beer," he explained.
"SOLD. Who's your favorite team?" I asked.
"The LG Twins."
"And their rival?"
"The Doosan Bears."
That was the moment I became a Doosan Bears fan.
Soldiers are obnoxiously notorious homebodies for the most part, so finding someone willing to make this maiden journey and take the subway with me across town on a weeknight to go check out this suddenly intriguing event was no easy task. When my buddy Ricky agreed to go, we were off.
We stopped at a convenience store and bought one liter bottles of Powerade, dumped a quarter of it out and refilled it with Korea's devilishly sneaky native liquor known as soju (think a 30-proof vodka. Doesn't seem like much, but she creeps up on ya). Even with the full go ahead from my roommate to bring in booze, our American stadium-going brains just couldn't process the idea of walking it in without sneaking it or making it at least somewhat inconspicuous.
From there we hopped on the subway and made the hour long ride across the Han River to Jamsil Stadium, whose stopping point on the rail was cleverly identified as "Baseball Stadium."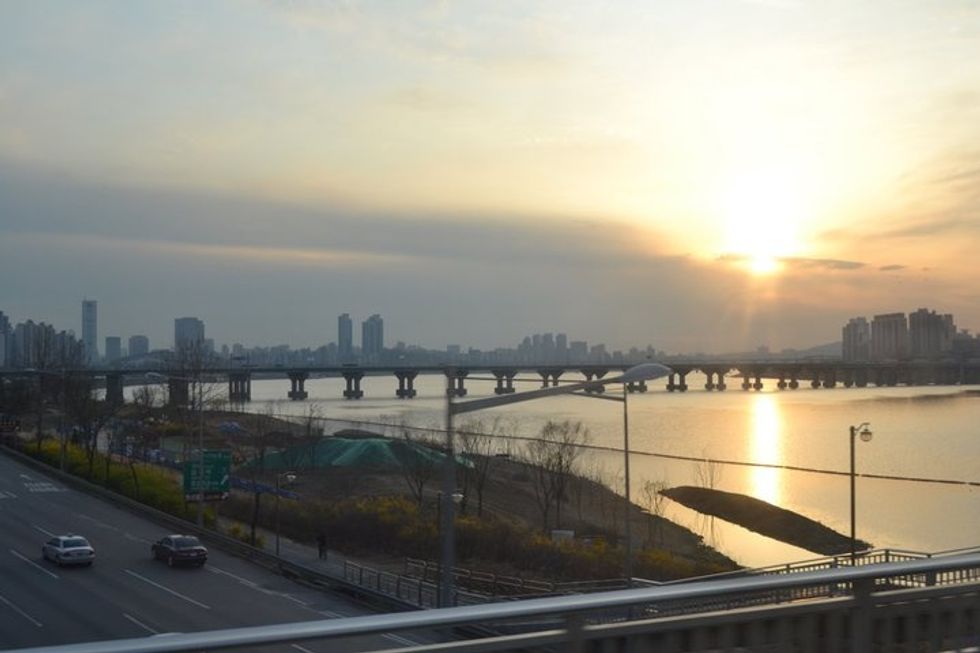 Traveling over the Han River on the way to the game. Photo by Paul Muth.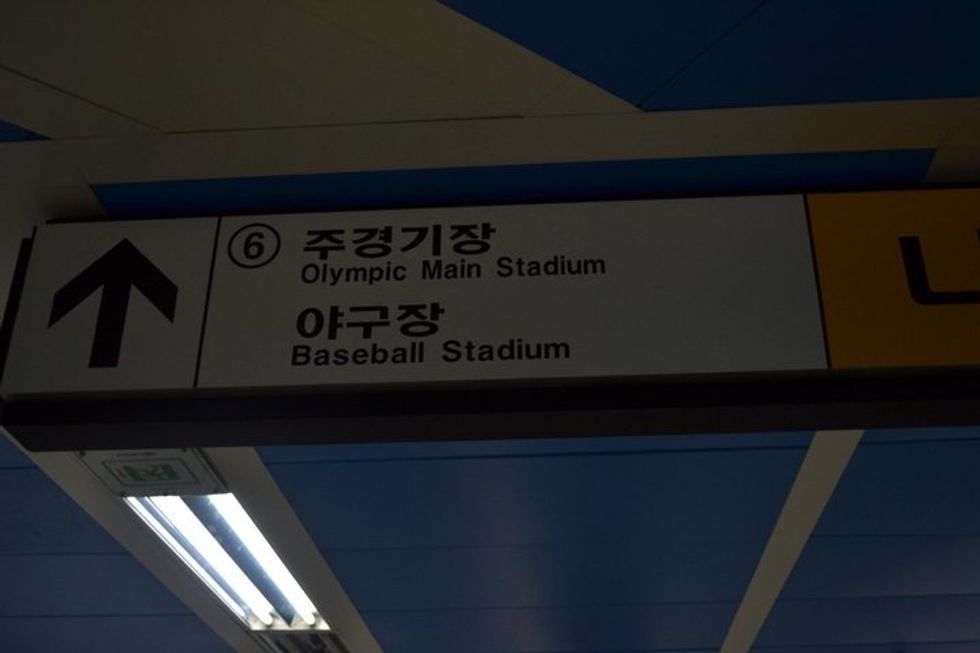 Very clever station name. Photo by Paul Muth.
We exited the subway, and soon approached another convenience store at the foot of the staircase leading up to the stadium. As we continued discretely drinking in public, we watched and witnessed as groups of obviously well seasoned college-aged Korean fans instinctively headed straight to the store from the subway car. As six pack after six pack of Cass beer (essentially Korea's Bud Light) were scanned, they were immediately dumped into previously empty backpacks. These guys knew what they were doing, and my roommate was very obviously telling the truth. You can literally bring whatever you want into these games.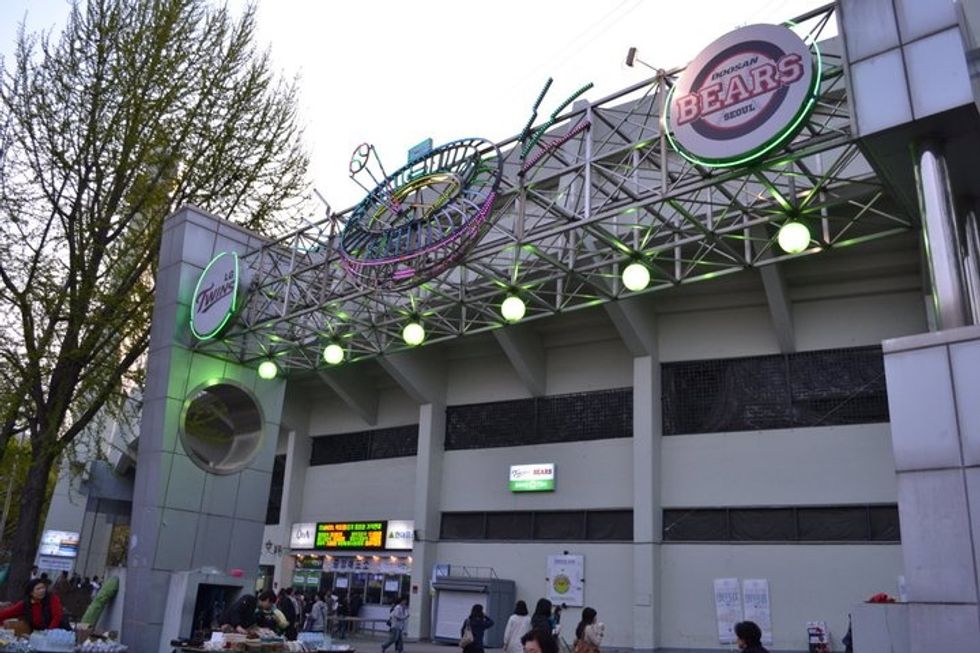 Jamsil Stadium entrance. Photo by Paul Muth.
The next step was to actually get some tickets. We waited in line and found row 5 field level seats along the first base line for a whopping 12,000 won. I'll save you the math; it was about $11 each.
Heading into the stadium itself we weren't exactly greeted with peanuts and cracker jacks as we had been raised on at the ball park. Instead, we were offered an enticing spread of dried squid jerky and fish cakes.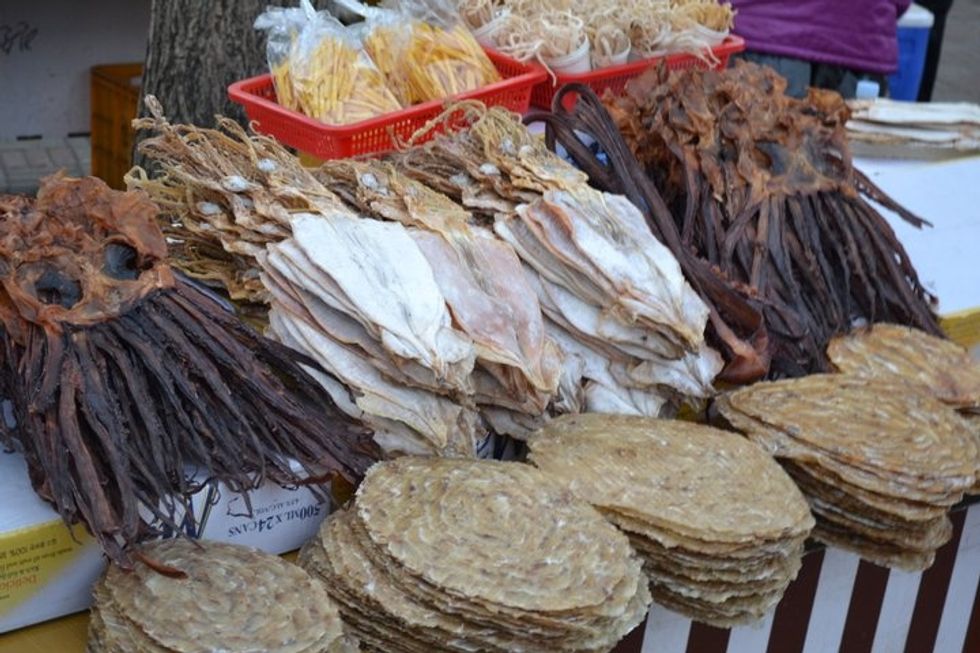 You know, normal baseball treats. Photo by Paul Muth.
Suffice it to say, we passed on the concessions and headed to our seats.
The stadium was by no means packed out for the weeknight game, but those who were there made their presence felt. Led by a male MC and five cheerleaders of sorts, the entire crowd joined in in unison, performing chant after chant as raucously as possible. It was a baseball game with a crowd that was simultaneously reminiscent of something you would hear during a Premiere League match. We had no idea what they were saying, but the environment and the energy was incredible.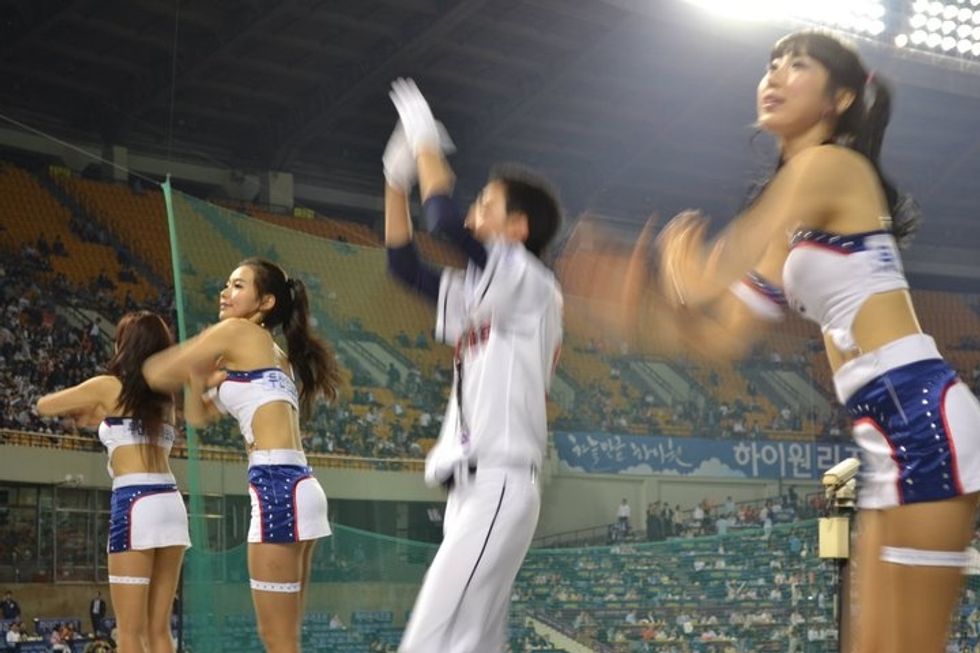 Blurry Doosan Bears cheerleaders. Photo by Paul Muth.
To be honest, I couldn't tell you who won the game that night. I was too drunk off of soju and euphoria to even care. My roommate had vastly undersold the product he had introduced me to, partly because he didn't know what he was selling. I was hooked, and would continue going to games for the rest of the summer.
Much like it was nine years before, Korean Baseball -- as foreign and odd as it may seem -- represents today that shockingly scarce feeling of normalcy that has practically evacuated our lives. Back then I didn't care who the players were, or what their record was. I was content just being in a stadium, hearing a crack of the bat, and spending time with friends in the muggy spring and summer nights. Those three or four hours every other week or so were the closest I could get to a home that was on the other side of the planet.
That's what it continues to do. In two days of play, friendly wagers have already been made. My friend and I somewhat satirically created a Facebook group for ourselves and our fellow baseball starved degenerate friends (aptly named KBO (baseball starved) DIEHARDS). Team allegiances have been formed, and trash talking has commenced. It's a familiar attempt at finding that same sense of normalcy I had been trying to find once before.
So lean into it. Even if it seems weird, just let yourself be a fan again. Give yourself the opportunity to escape everything going on. Get your friends in on it. Names and stats and scores be damned. Sports are an escape, and for the first time in what seems like an eternity, if we allow ourselves to give something all too familiar -- and yet equally alien -- a shot...we might find just that once more.
Go Bears.
For a quick rundown of how the KBO works, how to pick a team, and when to watch the play, check out ESPN's KBO primer.
ESPN will be broadcasting one game daily. Local Korean broadcasts for each game can be found in the links below on Twitch and can be rewatched on demand: