Texans try to avoid going down 0-2
How these 3 major factors will determine the outcome of Texans-Ravens
Sep 17, 2020, 11:16 am
Photo by Rob Carr/Getty Images
The Kansas City Chiefs held a 17-7 lead over the Houston Texans with 11:03 left in the third quarter. Patrick Mahomes completed an inside handoff to rookie running back Clyde Edwards-Helaire on 2nd-and-3. A missed tackle by Benardick Mckinney, Justin Reid and later Jacob Martin in desperation led to a 27-yard touchdown run from Edwards-Helaire.
The first career touchdown by the LSU and Baton Rouge product was a prime example of the Texans' inability to stop the run during their 34-20 defeat to the Chiefs inside Arrowhead Stadium. Following the game, a visually frustrated J.J. Watt took to the podium to express the importance of stopping the run.
When the 0-1 Texans welcome Lamar Jackson and the 1-0 Baltimore Ravens to NRG Stadium this Sunday, an impressing streak that began two years to the date on Wednesday is in jeopardy of coming to an end. Houston has not lost two consecutive games since September of 2018 and has gone 9-2 since when coming off a loss.
The 10-day layoff period between games is enough time to improve on the fallacies from Thursday's season opener. But the extra time given to the Texans may not be enough to record their first victory of the 2020 season against the Ravens.
"He [Edwards-Helaire] played a good football game," Watt said. "We have to play our assignments better — myself included. We didn't play well to win. We have to stop the run a lot better and put ourselves in better situations on third downs to get off the field."
What adjustment can the Texans make to their run defense?
Stopping the run could possibly be the Texans most vulnerable part of their defense, which could lead to a field day for the Ravens.
In 2019, Baltimore led the league in total rushing yards with 3,296 — averaging 206.0 yards per game. Houston experienced the Ravens' dynamic running game last season during a Week 11 blowout loss at M&T Bank Stadium. Led by their running back Gus Edwards — who totaled 112 yards on eight carries — the Ravens recorded 235 yards on the ground with Jackson adding 79 yards on 10 attempts.
Having Watt activated this time around will help diminish some of the damage caused by the Ravens' running game, but the addition of the five-time Pro-Bowler will not be enough to maintain Baltimore's speed. Watt missed their previous contest last November due to a torn pectoral muscle.
After the performance from last week, Houston should call upon defensive end P.J. Hall to assist their front seven in stopping the run. While appearing in 17 defensive snaps, the Texans limited the Chiefs to 50 rushing yards when Hall took to the field. He may not be inserted in the starting lineup (yet), but Hall may have bought himself more snaps this Sunday based on his performance against the Chiefs.
"P.J. did some good things," head coach and general manager Bill O'Brien said. "Let's see how it goes this week. P.J. definitely showed up on Thursday night and made a few plays. That was good to see. Let's see if we can build on that this week in practice and just keep going."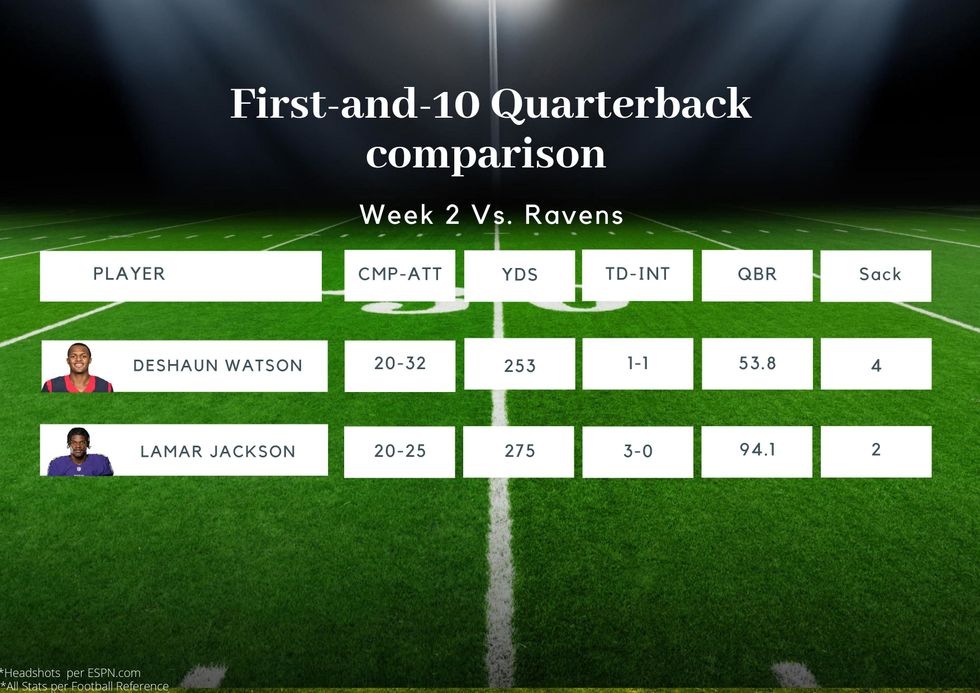 How can the Texans contain MVP Lamar Jackson?

Lamar Jackson put on a clinic against the Texans during their 41-7 victory last season. He led the Ravens to their sixth straight win with four touchdowns — going 17-for-24 through the air. Jackson's performance was one of several that justified him earning MVP honors in just his second season in the league.
Preparing for any MVP caliber quarterback can be a challenge for the Texans on any given week, but Jackson may be the worst possible match for Houston. Even more so than Mahomes.
Jackson's skill-set as the NFL's top dual-threat quarterback can leave the Texans' defense in a snafu state. His improvements as a pocket passer can carve up Houston's defense through the air. It's unenviable for the Texans to put pressure on the 23-year-old quarterback, because Jackson could use his legs to create plays outside the pocket.
The best way for the Texans to contain Jackson is by utilizing their offense as defense. If Houston can muster out a way to win the time of possession, the greater their chances will become at recording their first win over Baltimore since December of 2014. The more time Jackson spends on the sideline the better.
"Their scheme in the running game is very unique," O'Brien said before Wednesday's practice. It's just the way they use their tight ends, their blocking schemes, their backs and then obviously Lamar. Obviously, he's an excellent passer, so it's very unique."

Will the Texans see their receivers in full force against the Ravens?
Against the Chiefs, Will Fuller pulled down eight catches for 112 receiving yards. He ended the night as the only receiver who recorded over 40 yards in the loss. The trio of Randall Cobb, Brandin Cooks and Kenny Stills totaled a combined 43 yards on four receptions — Stills failed to complete a single catch.
A great deal of the Texans' lack of production coming from their receiving group was the result of a shortened offseason affected by COVID-19. The chemistry between Deshaun Watson and his new receivers seemed fictitious. Although their performance should be better with one game under their belt, the comradery between Watson and his receivers will be tested against one of the best secondaries in the league.
Last season, the Ravens' secondary played a prominent role in their success on the defensive side of the ball — only allowing 3,315 passing yards (6th) in 2019. The last time these two franchises squared off, Baltimore held Houston to 110 passing yards. DeAndre Hopkins only poured in 80 yards on seven catches.
With Pro-Bowlers Marlon Humphrey and Marcus Peters leading the way, the Texans should rely on their run game in hopes of pulling out a victory. Houston's backfield may be a little feeble due to Duke Johnson's ankle injury, but this would be the perfect game to utilize David Johnson's talents at its full potential.
"He played well. He did a good job. I think that he's a guy that worked hard in the offseason. Came back in good shape. He's an excellent player. He's a good route runner. It's always good to have him out there. When he plays at a high level it really helps our offense. We've got a lot of receivers. I think guys are feeling better from a health standpoint this week so we'll see how it goes." — Bill O'Brien
Prediction:
Ravens 34 Texans 23
Coty M. Davis is a reporter for ESPN 97.5 Houston/SportsMap covering the Houston Texans. He is also the co-host of Locked On Texans, a part of the Locked On Podcast Network. Follow Coty on Twitter @CotyDavis_24.