AND THE HOUSTON TEXANS SELECT...
Josh Jordan's mock draft 4.0: The Oliver twist
Apr 24, 2019, 9:54 am
Photo via: University of Houston football/Facebook
Okay, so I'm not going to try to predict all the possible trades that may go down. My mock draft is more about showing where I anticipate players to be selected, which positions teams are looking to fill, and what the player's perceived value is. There were seven trades on the first day of the draft last year, and it won't surprise me if it happens again.
This mock draft is mostly about the Texans and I think the majority of the early trades in the 1st round for QBs, won't impact the Texans all that much. I will say, the more QBs that go in the 1st round, the better for the Texans. If 4 QBs get taken before the Texans pick at No. 23, that means Houston gets a Top 20 non-QB prospect. Texans fans have to love that.
Let's take a look at how the draft board might stack up.
1. Arizona Cardinals- Oklahoma QB Kyler Murray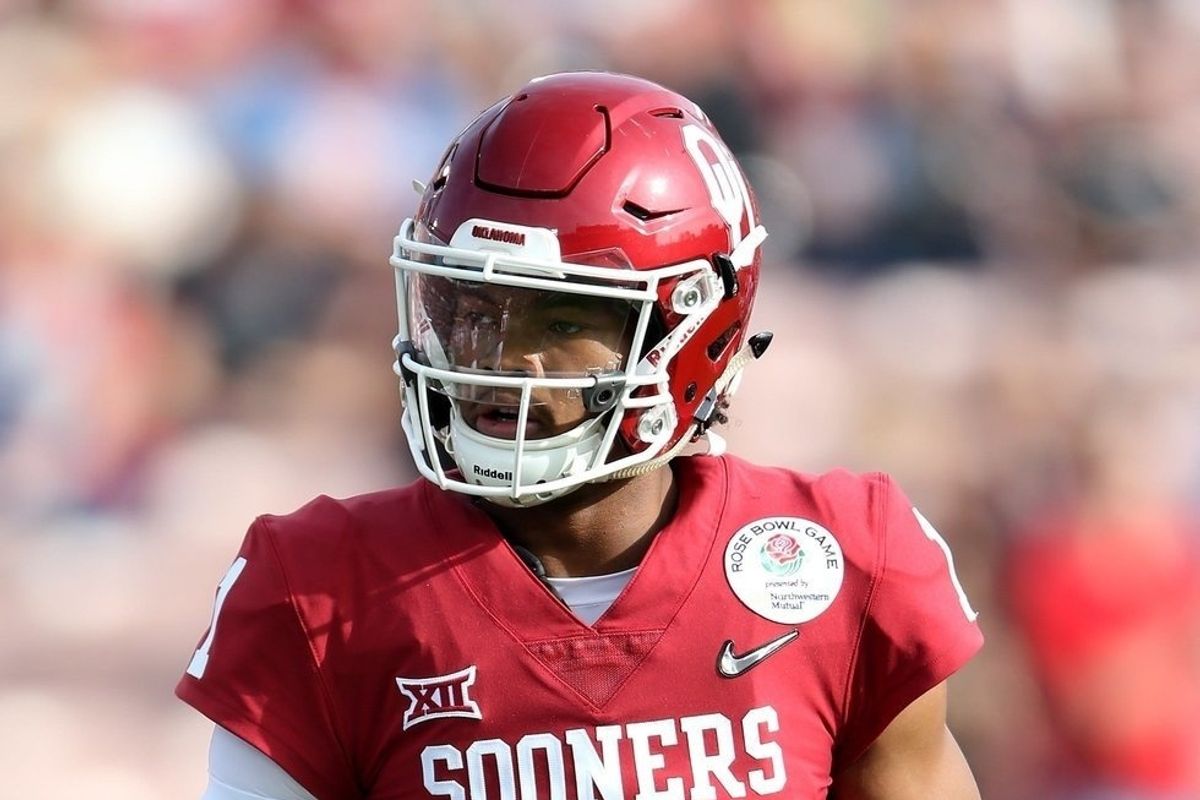 Matthew Stockman/Getty Images
There are some rumblings that Murray may not be the pick, but if the Cardinals don't trade out, I think they draft Murray.
2. San Francisco 49ers- Ohio State DE Nick Bosa
The 49ers take the best player on the board despite trading for Dee Ford.
3. New York Jets- Kentucky Edge Josh Allen
The Jets need somebody that can pressure the QB. Allen is that somebody.
4. Oakland Raiders- Alabama DL Quinnen Williams
This pick could also be Ed Oliver, he's shooting up draft boards. But I'm still gonna predict they take Williams.
5. Tampa Bay Buccaneers- Houston DL Ed Oliver
I'm buying into the hype. I had Oliver going No. 12 to the Packers in my last mock, but this time I think he goes Top 5 and Top 3 would not shock me. One way to improve the Bucs' secondary is to get more pressure on the QB. Oliver can do that and then some. I'm hearing the Bucs may trade out of this spot, so that is something to look out for.
6. New York Giants- Michigan DE Rashan Gary
I had the Giants taking a QB in this spot in my last mock, but Gary was already off the board. The Giants also have another pick in the 1st round, so they can address QB there if need be. There is some concern over Gary's shoulder, so if he falls on Thursday night, that's probably the reason.
7. Jacksonville Jaguars- Florida OT Jawaan Taylor
Nothing changes here. The Jags take Taylor to pair with Cam Robinson at tackle. As long as Robinson recovers from his ACL injury, they should be set at tackle for years to come.
8. Detriot Lions- Mississippi State DE Montez Sweat
Matt Patricia is all about defense, and they have to get pressure on Aaron Rodgers. Trubisky and Cousins aren't too shabby either. This could change if teams are concerned about Sweat's heart condition.
9. Buffalo Bills- Washington State OT Andre Dillard
The Bills offensive line is awful. Time to add a tackle and protect Josh Allen. Being able to run the ball in December is a must in Buffalo. Dillard can help with that.
10. Denver Broncos- LSU LB Devin White
The Broncos had an elite defense the last time they won a Super Bowl. Devin White will make an immediate impact and I think the Broncos roll with Flacco this year and wait on QB.
11. Cincinnati Bengals- Missouri QB Drew Lock
Time to move on from Andy Dalton and get a QB will some serious arm talent.
12. Green Bay Packers- Alabama OL Jonah Williams
Great value and he protects Rodgers who has been injured quite a bit the last couple of years.
13. Miami Dolphins- Clemson DL Christian Wilkins
The Dolphins are rebuilding and Wilkins is a nice piece for their d-line.
14. Atlanta Falcons- Oklahoma OT Cody Ford
This may be a little early for Ford, but a big tackle makes sense.
15. Washington Redskins- Ohio State QB Dwayne Haskins
The Redskins need a QB and if Haskins falls, they should grab him.
16. Carolina Panthers- Clemson Edge Clelin Ferrell
The Panthers need a pass rush with Peppers retiring.
17. New York Giants- Duke QB Daniel Jones
It looks like the Giants will pass on Haskins at No. 6, and Daniel Jones already has a relationship with Eli and will be the QB in waiting for New York.
18. Minnesota Vikings- NC State C Garrett Bradbury
Vikings really need help on the o-line and Bradbury can step right in and make an impact.
19. Tennessee Titans- Iowa TE T.J. Hockenson
Hockenson is a steal at No. 19 and Delanie Walker is 100 years old and coming off an injury.
20. Pittsburgh Steelers- Michigan LB Devin Bush
The Steelers will have a party in the draft room if they get Bush at No. 20. Bush can replace Ryan Shazier in the middle of the Pittsburgh defense.
21. Seattle Seahawks-Florida State Edge Brian Burns
Seattle can address receiver later in the first round after trading with the Chiefs.
22. Baltimore Ravens- Ole Miss WR D.K. Metcalf
I'm sure the Ravens would like to take a pass rusher here, but they also need receiver help desperately.
23. Houston Texans- Greedy Williams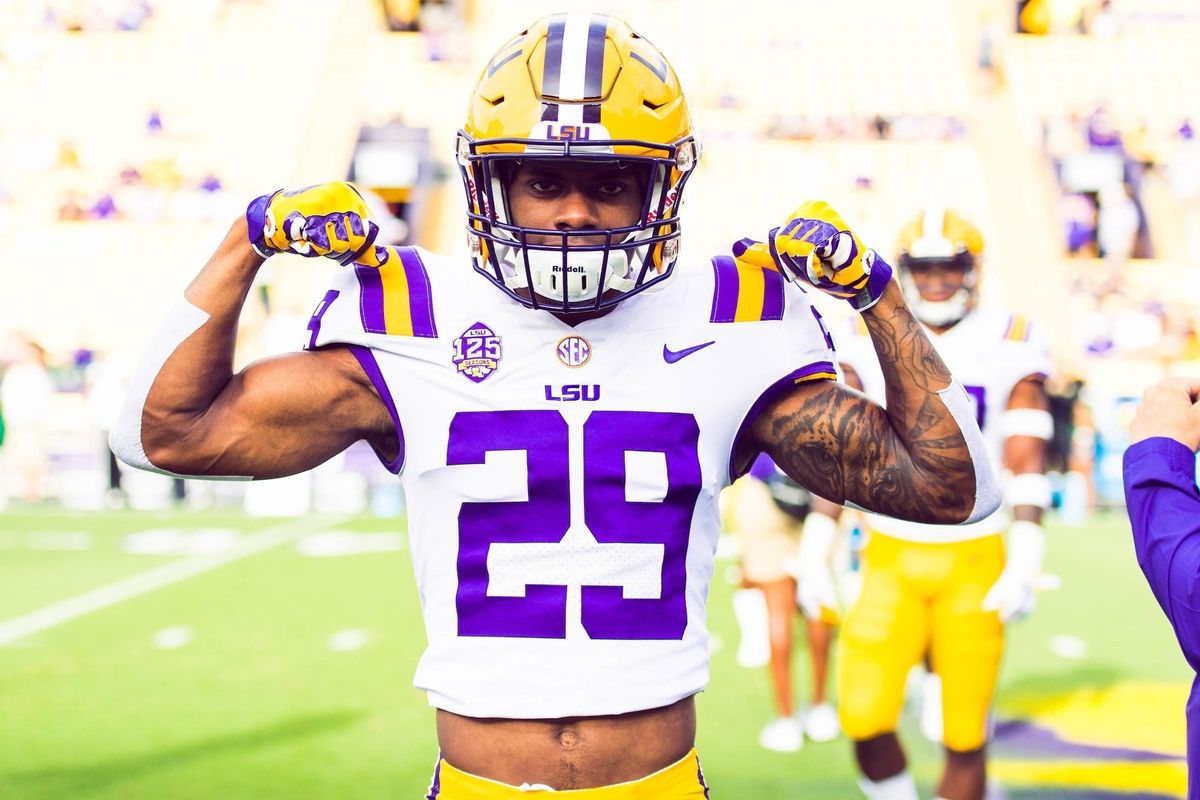 Photo via: LSU Football/Facebook
I know it seems crazy that Williams would fall this far, and the questions about his football character don't exactly scream Texans worthy, but they need a starting corner, and he has the physical traits GM Brian Gaine desires. SPEED! Plus, LSU is known for having great DB play. The Texans say they want to get faster and Williams running a 4.37 forty certainly qualifies as fast.
Ideally I would like to put a tackle here, but that would mean reaching for Ole Miss OT Greg Little or Kansas State OT Dalton Risner. I'm cool with them taking either one of those guys, but Brian Gaine seems to be a GM that takes the best player available. We saw that when he took safety Justin Reid last year.
Oklahoma's Cody Ford would be a good pick, but I have the Falcons taking him earlier in the first round. Don't rule out the Texans trading back and picking up some extra picks. Drafting one of these tackles in the late first or early second round, and picking up extra picks, would be a nice way of navigating the draft.
24. Oakland Raiders (via Bears)- Iowa TE Noah Fant
The Raiders replace Jared Cook.
25. Philadelphia Eagles- Washington CB Byron Murphy
The Eagles have to fix the secondary.
26. Indianapolis Colts-Mississippi State S Johnathan Abram
Chris Ballard can hold tight and improve the safety position.
27. Oakland Raiders (via Cowboys)- Alabama RB Josh Jacobs
Great value pick for Mike Mayock.
28. Los Angeles Chargers- Clemson DL Dexter Lawrence
Great pick for the Chargers.
29. Seattle Seahawks via (Kansas City Chiefs)- Oklahoma WR Marquise Brown
Doug Baldwin is getting older and always hurt.
30. Green Bay Packers (via Saints)- Mississippi State DL Jeffery Simmons
Watch out when he's healthy.
31. Los Angeles Rams-Notre Dame DL Jerry Tillery
The Rams continue to be strong on the d-line.
32. New England Patriots- Alabama TE Irv Smith Jr.
Gronk's gone, so the Pats get a brand-new TE.