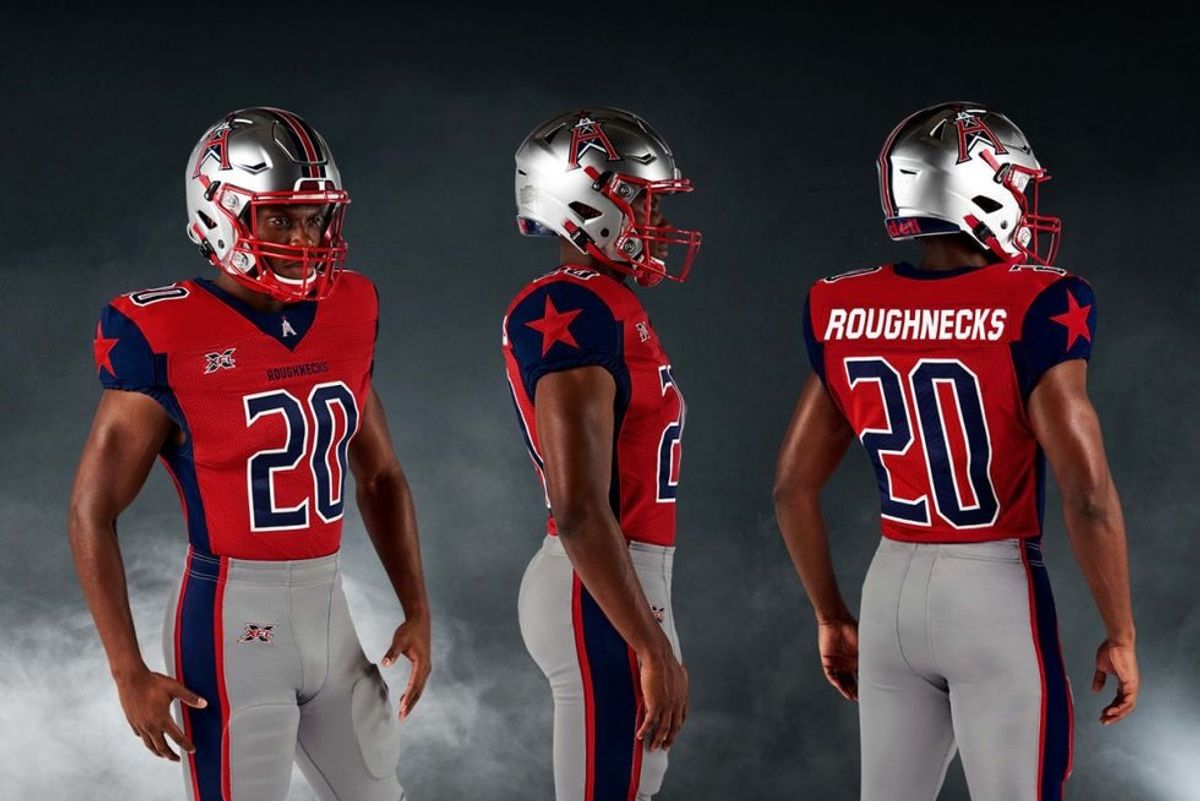 Photo courtesy of Houston Roughnecks
This article originally appeared on CultureMap.
The Houston Roughnecks begin their debut season in the XFL (2.0) on Sunday, February 9, at TDECU Stadium on the University of Houston campus. Their first opponent is the dreaded L.A. Wildcats with kickoff at 4 pm. Tickets, starting at $24 for the lower bowl, are available online.
The game will be televised nationally on FOX (that's Channel 26 in these here parts). But even better, this game and the entire 10-game season will be broadcast on ESPN 97.5 FM. The station's morning host John Granato will handle play-by-play duties. Here are 10 questions for the radio voice of the Houston Roughnecks.
CultureMap: What will be your main challenges in calling XFL play-by-play?
John Granato: I don't foresee much in the way of challenges. Meeting with XFL people, they're doing everything to make it a first-class presentation. We'll have everything we need. I haven't done play-by-play in a while but I'm very confident in my ability. It's always been a dream of mine to be the voice of a team so it's more exciting than anything.
CM: How did you get the job? Did you audition?
JG: Actually, I got a call out of the blue from team president Brian Michael Cooper. He said they wanted me to do it and I said yes. I'm thrilled they had this kind of confidence in me.
CM: The press box is pretty far up and away at TDECU Stadium. Will you have a spotter in your ear?
JG: Not in my ear. There'll be someone sitting with us up there working stats and making notes but no one in my ear. It's on me to know the players and the situations.
CM: When was the last time you did play-by-play?
JG: I did a lot of stuff when I was at Channel 51. We produced UH and Rice football, basketball, and baseball games. It was a while ago, but I haven't forgotten.
CM: Have you memorized the rules that are different from the NFL, for example extra points and the kicking game? What do you think of the different rules?
JG: We've gone over them, but it'll definitely be different. I like a lot of the stuff. The games will go faster. There'll be more offense. Kicks and punts are way different and that will take some getting used to, but just because it's not traditional doesn't mean it's bad. I hope everyone keeps an open mind. Who knows? Some stuff might be better and adopted by other leagues.
CM: Are you going to practices to get to know the players?
JG: Yes. I'll be there a lot.
CM: Is June Jones good for quotes and easy to work with, or is he a [New England Patriots head coach] Bill Belichick mumbler?
JG: He's not Belichick, thank goodness. He's been very receptive to helping and promoting the game and the team. We all have to do our part to get the word out. That's why I'm essentially writing this column for your lazy ass. (Ken's note: that's 1, Granato.)
Continue on CultureMap to learn how an XFL broadcast differ from a typical NFL broadcast, and more.
Coming off a huge upset win over the Bengals this Sunday, CJ Stroud is now firmly in the MVP conversation with the team at 5-4, one game behind the Jaguars in the AFC South.
Stroud also leads the NFL in passing yards per game, and TD to Int ratio. And man is this offense fun to watch. Nobody pushes the ball down the field more effectively than Stroud and the Texans. So let's give some credit to the pass catchers.
With wide receiver Nico Collins missing the game due to injury, Stroud connected with Noah Brown 7 times for 172 yards. Brown's performance over the last 2 weeks has been incredible.
In fact, the Texans have 2 of the top 3 receivers when it comes to yards per catch. Brown is first with 20.9. Nico Collins is third at 17.5. Brown is also 10th in the league when it comes to yards per game (87.8).
One of the other factors that helped the Texans secure a victory this Sunday was their improvement in the running game. The Bengals struggle to stop the run, and Devin Singletary was able to capitalize with 150 yards on 30 attempts.
Finally, let's discuss the defense that was able to go into Cincinnati and beat Joe Burrow and Ja'Marr Chase. DeMeco's crew was able to sack Burrow 4 times, and Sheldon Rankins had three of those sacks. He also just missed another with about 3 minutes left in the first quarter.
The game actually shouldn't have been this close, as Stroud made a big mistake trying to force a ball to Tank Dell late in the fourth quarter, which resulted in an interception.
Thankfully, the Texans were able to keep the Bengals out of the end zone as Tyler Boyd dropped a touchdown, which led to a Bengals field goal.
It sure is nice to be able to learn from mistakes while still winning the game. And without that poor decision, we don't get to see Stroud finish another game-winning drive, leading his team to victory in back-to-back weeks.
Be sure to watch the video above as we break down what this win means for Stroud and the Texans moving forward.
Subscribe to SportsMap Texans on YouTube for our latest content.
Watch Texans on Tap (a Texans podcast) every Monday on YouTube.
SportsMap Emails
Are Awesome