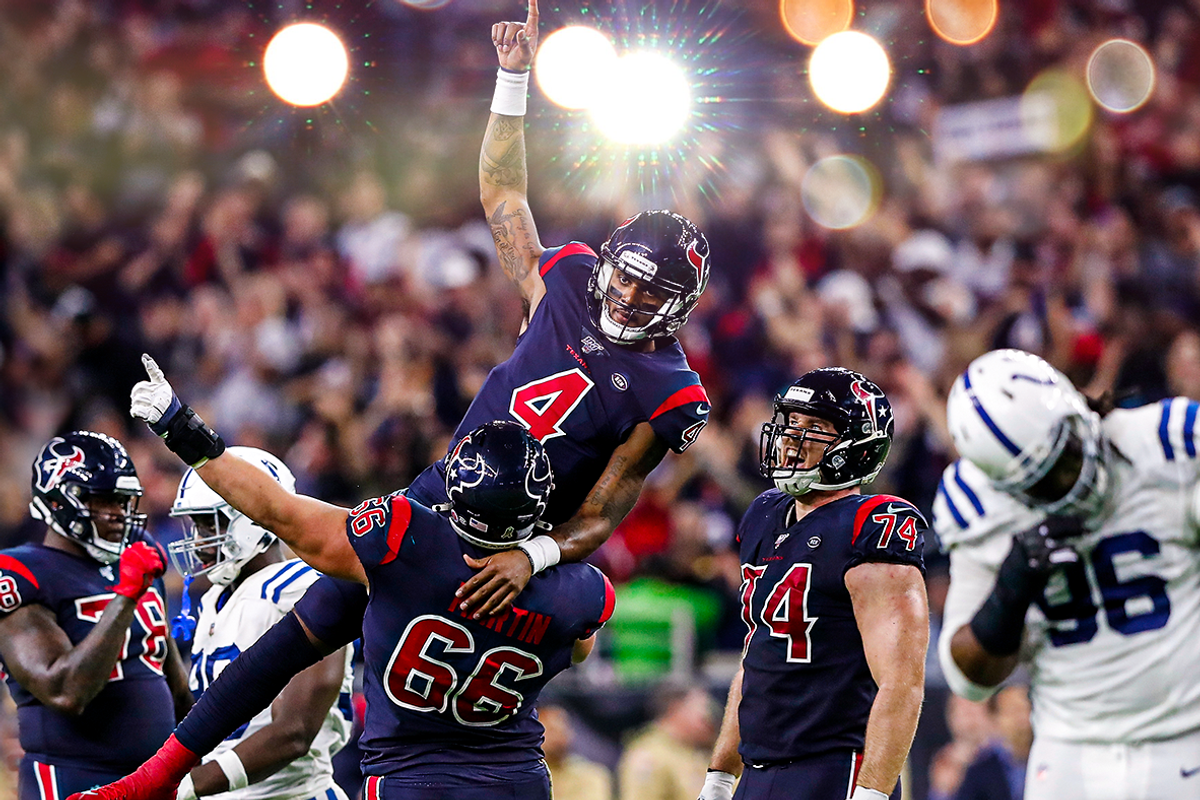 Composite image by Brandon Strange.
It's finally here! Football season is upon us! We've all been waiting around like kids impatiently waiting on Christmas. The NFL will kick off it's 2020 season on Thursday when the Texans visit the Super Bowl champion Chiefs in Kansas City. The Thursday Night Kickoff Special is one of highlights of the NFL season. This will also serve as a test run for fans in stadiums since the Chiefs say they'll have around 20,000 or so fans in Arrowhead. There's a lot riding on not only this game, but the upcoming season. Here's my preview and some thoughts:
The Texans have a significant advantage at QB based on their schedule
With franchise quarterback Deshaun Watson now extended, the Texans can now concentrate on the business at hand: the upcoming 2020 season. Facing the last two league MVPs in the first two games of the season is tough, but the rest of their schedule looks much more manageable. The only other upper echelon quarterback they face after week two is Aaron Rodgers of the Packers in week seven. Ryan Tannehill and Philip Rivers are in their division, but those guys are more Pippen than Jordan. Kirk Cousins and Ben Roethlisberger are the other "close, but no cigar" quarterbacks that the Texans face this season. Watson is better than every quarterback they face except a couple. I can see a 13-3, no less than a 10-6 record from them this season if all goes well. Watson will always make sure the offense will click, but the defense is a bigger question mark. If JJ Watt can stay healthy, McKinney and Cunningham live up to their extensions, and the secondary lives up to their potential, we could be looking at a contender.
NFL preview
The rest of the league will be interesting to watch as well. Can Pat Mahomes and the Chiefs repeat? Will Lamar Jackson and the Ravens take the next step? Which future HOF quarterback will rule the roost in the NFC South? These are all questions we will see play out. However, one of the biggest questions I have is whether or not the NFL will be able to navigate a full season without the hiccups MLB has had as far as the pandemic is concerned? MLB has had several interruptions due to positive coronavirus tests. The NFL is scheduled to play their season as planned, but they canceled the preseason. Also, with the lack of fans (or fans being limited in some stadiums) how will players react? Which rookies, or young players, will step up and make names for themselves? I believe the 49ers will fall victim to the Super Bowl loser trend we've seen over the last few years. Joe Burrow will look better than expected in Cincinnati, if AJ Green stays healthy. Defensive Player of the Year will be a pass rusher. Offensive Player of the Year will be a running back. League MVP won't be a quarterback. This season will be atypical just like everything else. I won't be surprised if a team outside the usual suspects wins the Super Bowl.
There's so much going on right now, it's hard to predict what things will look like. We didn't have a preseason and training camp coverage was limited. There was no fanfare around cut day when teams got down to the 53-man roster. The Texans are in a space in which they could contend for a spot in the Super Bowl if they can get past the boogeymen at the top of the AFC. The team I see surprising people this year is the Browns because I feel they will live up to last year's hype this season. I think we'll see offenses explode given that they tend to get off to better starts than defenses. Could Watson win MVP? Yes, but only if his receivers stay healthy. He has his extension done so that's out of the way. There's nothing holding him back now. Unless you count his head coach. Football is back and I'm ready for it!
One of the big factors that led to the Texans' loss to the Jaguars on Sunday was the secondary. Multiple flags for pass interference gave Jacksonville more opportunities to pick up first downs and score points.
Can confirm #Texans backup CB Shaq Griffin was cut.

Griffin started 6 games this year when Derek Stingley was out with a hamstring.
— DJ Bien-Aime (@Djbienaime) November 29, 2023
So it's no surprise that DeMeco Ryans is making some changes to his defense this week. According to several reports, Texans corner Shaq Griffin has been cut.
Nickel corner Tavierre Thomas was flagged for PI more than once on Sunday, and was burned badly by Jaguars receiver Calvin Ridley for a touchdown.
DeMeco was asked after the game if he considered replacing Thomas with Desmond King or Shaq Griffin. Ryans didn't give a definitive answer, but it looks like we got one today.
One has to wonder if Desmond Kings' experience playing nickel was the reason for his promotion to the active roster and why Griffin was released. If Thomas continues to struggle, King looks like the next man up to replace him.
#Texans activate Denzel Perryman, promote Desmond King to active roster, release Shaq Griffin, sign Matt Ammendola and Garret Wallow to practice squad, released Gerrid Doaks from practice squad and placed Tytus Howard (knee-patellar tendon surgery pending) on injured reserve https://t.co/knyyoqo7yC
— Aaron Wilson (@AaronWilson_NFL) November 29, 2023
The Texans also made some other adjustments to their roster on Wednesday, per Aaron Wilson. Linebacker Denzel Perryman returns from suspension, kicker Matt Ammendola and linebacker Garret Wallow join the practice squad. They also released Gerrid Doaks from the practice squad.
The other big piece of news involves left guard Tytus Howard. He heads to injured reserve, ending his season after hurting his knee against Jacksonville.
SportsMap Emails
Are Awesome