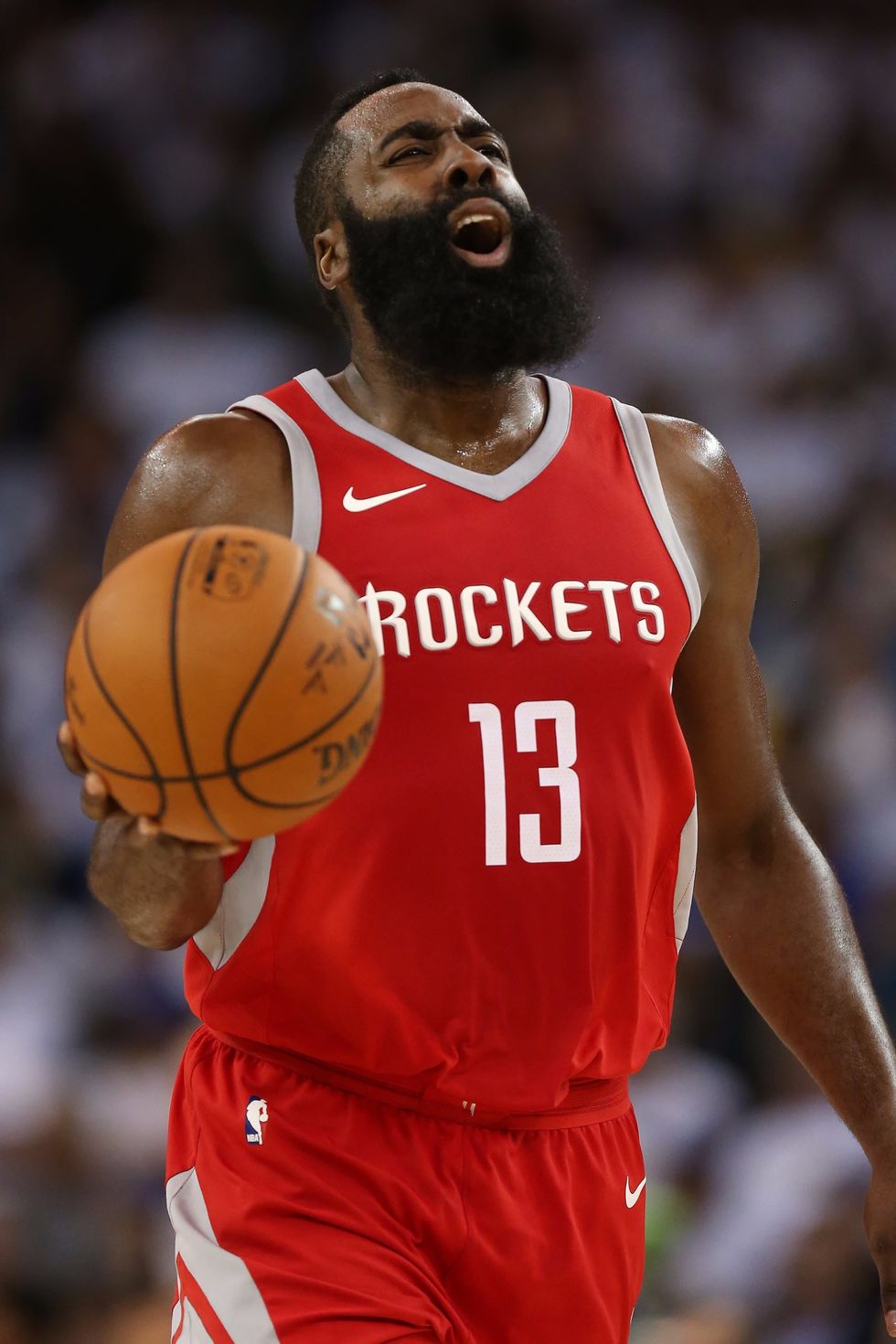 The weekly look at James Harden and the Rockets. Ezra Shaw/Getty Images
With everything going on with the World Series, I'll be the first to admit that the Rockets have taken a bit of a backseat at the moment. Just about every game I've caught has been thanks to game replays from my NBA League Pass. This Astros run has consumed me. Work? Distraction. School? Distraction. Friends that don't watch baseball? Distractions. I've invested far too much into this baseball season to be sidetracked by anything else now.
This month of intense, high-pressure baseball has left me physically and mentally broken. I never could have predicted how much of a toll the stress of a championship run this tight would have taken on me. I love baseball, but it's killing me. I'm ready to focus on some stress free Rockets action.
I did promise Rockets updates though. I said we'd get through this together, and I'm a man of my word.
Game Four: Rockets vs Memphis Grizzlies (L, 90-98)
As soon as I suggest that the Rockets could go undefeated for a week, they lose the very next game. Of Course. In one of the rare Rockets games that didn't cross the 100-point threshold, James Harden and company seemed in control throughout. Marc Gasol was nearly unguardable throughout the first quarter, even with the stockier Nene brought in to slow him down. Both teams beat each other up inside with very little resistance, with Harden and Eric Gordon leading the charge. The Rockets built up a lead as high as 12 points in the third, however Memphis stormed back and grabbed the lead with three minutes left to go in the fourth. Trevor Ariza and Nene each left the game with injuries, and the Rockets dropped their first game of the season to the notoriously defensive-oriented Grizzlies. Harden finished with 22 points and 8 assists, while Gordon lead the charge with 27 points and 7 assists.
Game Five: Rockets at Philadelphia 76ers (W, 105-104)
With Ariza out due to a left knee sprain, Luc Mbah A Moute was given his first shot in the Rockets starting rotation. The 76ers jumped out to an early lead with the help of their two prized players, Joel Embiid and Ben Simmons. First impressions? Those kids are good, and play well together. The Rockets simply do not match up well with Embiid, who bullied Tarik Black all night to the tune of 21 points, 2 blocks, 1 steal, and 6 rebounds. It was a close game throughout. Clint Capela turned in another outstanding night on the boards with 20 rebounds, and the Rockets would cap a spectacular fourth quarter rally with a last second buzzer-beater from Eric Gordon. He would finish with 29 points. Harden ended the night with 27 points and 13 assists.
Game Six: Rockets at Charlotte Hornets (W, 109-93)
Fueled by a 29-16 second quarter, a 31-19 fourth, and Harden's first triple-double of the season (27 points, 10 rebounds, and 11 assists), the Rockets left Charlotte with a victory Friday night. It was moonshots all night, as Gordon and Ryan Anderson alone combined for 31 of the team's 57 three point attempts. Ariza and Nene sat out once again. Gordon and Anderson finished with 26 and 21 points, respectively.
Game Seven: Rockets at Memphis Grizzlies (L, 89-103)
In a less than encouraging second round against a divisional opponent, the Rockets turned in a dud. Gordon sat out with a stomach illness Saturday night and the Grizzlies cruised to a win, fueled by former Rocket Chandler Parsons and his 24 point showcase. Ryan Anderson lead the team with 22 points on a great shooting night for him, however the lack of scoring support outside of Harden proved to be too much. After Harden's 20 points, the Rockets' next highest contributor was Capela with 12. None of the Grizzlies' starters scored in double digits, but the bench shouldered the load with the help of Mario Chalmers (15 points) and Tyreke Evans (14 points).
Game Eight: Rockets vs Philadelphia 76ers (L, 107-115)
In another quick rematch, the Rockets took on the 76ers for the second time in less than a week. The original matchup required a Gordon buzzer-beater to steal a win, but this time the Philly's young duo would not be denied. Embiid dominated once again inside with 22 points, while Ben Simmons poured it on with an unexpected mid-range shot. He would finish with a career high 24 points to go with 9 assists and 7 rebounds. Gordon and Harden shouldered as much of the load as possible, shooting a combined 16-39 from three point range, finishing up with 25 and 29 points each.
Takeaways:
Harden and Gordon need help. Together, they are accounting for almost 50% of the team's points each night. When Gordon was out against Memphis, the Rockets suffered their biggest defeat of the young season. A healthy Chris Paul will be a welcome addition.

Capela has been dominating the boards so far. At 11.3 rebounds per game, Capela is tied for 10th in the entire league as a glass cleaner. He's also averaging 13.5 points per game with a 72.3% field goal percentage.

As productive as Capela has been, the Rockets seem to have the most issues with teams that have dominant post players. Nene was tagged as a priority to resign in the offseason to help push back against the bruisers. Tarik Black was picked up as insurance in case Nene was injured. All three centers have shown an inability to contain the likes of Embiid and Gasol.
Rockets Player of the Week (not named James Harden):
Eric Gordon. Week one was a miserable 3 point showing, but he's since raised his 3P% from 20% to 30%. He's the only other reliable scoring threat on the team at the moment that can create his own shot, and he's made it a point to be more aggressive at driving the lane. Until Paul returns, the Rockets are going to continue to lean on Gordon as a starter.
Looking Ahead:
Wednesday the Rockets take on the Knicks in New York, followed by the Hawks at Atlanta and a home tilt against the Jazz later this week. The Rockets will have to figure out how to stop Kristaps Porzingis if they're to avoid a similar fate dealt by Memphis and Philly's big men. Atlanta should be an easy win, before taking on the Jazz on Sunday. This past week has been a stumble, but I see the Rockets taking at least 2 of the next three games and heading into next week at 7-4.
All of a sudden, the Houston Texans have won three straight and host the Jacksonville Jaguars for a highly anticipated game this weekend
If the Texans come away victorious, they will take possession of first place in the division, and be in position to host a home playoff game for the first time since 2019.
Which got us thinking, is this the best version of the Texans we've ever seen? Many would say the best Texans teams were the ones coached by Gary Kubiak with Matt Schaub at QB. Or some may say it was the Bill O'Brien 2019 team with Deshaun Watson pulling the trigger at QB.
Regardless of which era of the Texans you believe was the best, one thing is for sure. This year's team has us optimistic on several levels. Ownership seems to have figured things out with the Easterby days behind us. Nick Caserio is a serious candidate for Executive of the Year, CJ Stroud is a favorite for Offensive Rookie of the Year, and has a chance to win MVP. And DeMeco Ryans has a legit shot at Coach of the Year.
But let's go even further. Has DeMeco done enough already to be considered the franchise's best coach? Many would say these questions are entirely premature, but are they really?
We could also make the argument that Tank Dell is already the third-best receiver in franchise history behind Andre Johnson and DeAndre Hopkins. He already has as many touchdowns (6) as Dre and Hopkins combined in their rookie seasons.
And let's make things even more interesting. Is CJ Stroud the best Houston QB since Warren Moon?
Be sure to watch the video above as we answer all these questions!
SportsMap Emails
Are Awesome