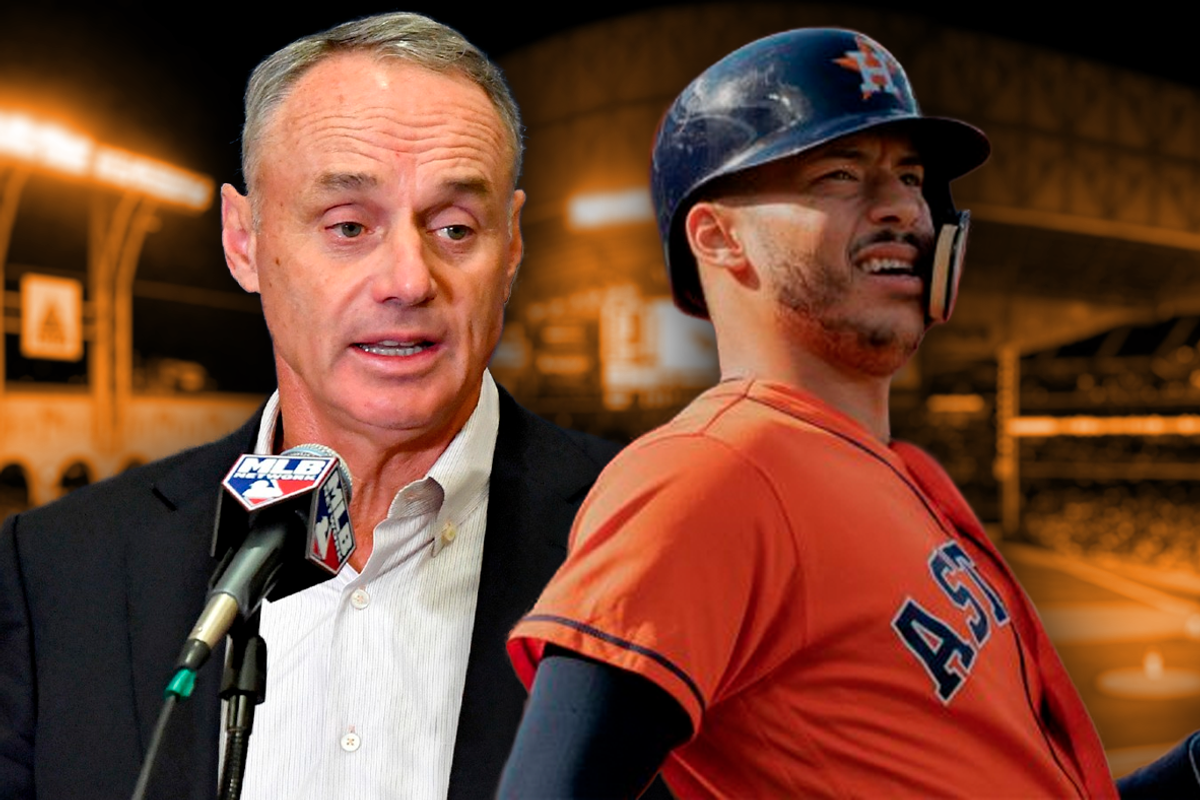 The Astros are the best thing we've got going. Composite image by Jack Brame.
Monday's threatened deadline for baseball owners and players to reach a new collective bargaining deal before regular season games would be canceled came and went without a deal.
So both sides agreed to extend the deadline until 5 p.m. today. That's 5 p.m. in zany Florida, where stupid is a lifestyle. Or 4 p.m. our time, where normal rational people – you may call them baseball fans – are being held hostage while owners and players engage in what's become a quadrennial poop-throwing contest.
Extending the baseball deadline is the doctor who gives his patient six months to live. When the patient still hasn't paid his bill, the doctor gives him another six months to live.
The patient still dies. Get it, baseball?
March is here. Spring training should be in full swing. The season is supposed to start later this month. But the only games being played are by MLB and players union negotiators.
Has baseball taken a good look in the mirror recently? Fans have had just about enough of baseball. Attendance is down. TV ratings are down. Baseball used to be America's national pastime, now it's pretty much a regional sport, woefully behind football and slipping into third behind basketball in some markets. What more do fans have to do to scare baseball straight?
Houstonians don't get a realistic picture of baseball's descent into irrelevancy because our owner appears to be a decent guy who actually wants the team to win, and the Astros are the best thing we've got going. The team is lovable.
The message coming out of baseball's negotiations seems to be that the owners wouldn't mind the season being delayed until May. Early season games, after the romance of Opening Day dies (usually on the ride home), are poorly attended, especially in the cold weather north where most teams call home.
You try sitting in the stands at open-air Target Field in Minneapolis on April 7, the Twins' tentative home opener. Your hot chocolate at the concession stand turns into a Wendy's Frosty before you get to your seat. The weather almanac says the temperature in Minneapolis in early April "rarely falls below 20 degrees."
Rarely? That's not good enough. I'll wait until the snow melts in June. By the way, the foreign city with weather most similar to Minneapolis is Volgograd, Russia – formerly called Stalingrad. There isn't a sun-baked Hedonism clothing optional resort in Volgograd. It's not much warmer in Cleveland, Boston, Pittsburgh or Chicago. I lived in Detroit for a year – baseball in April isn't a day at the beach there, either.
It's cheapskate owners vs. money-grubbing players. Who are you rooting for?
Supposedly there's an algorithm, the baseball schedule can be trimmed to 140 games and the owners don't lose any money on the season. The players get paid by the number of games played, however, so a reduced season would cut into their salaries. Maybe that's why two-time MVP Bryce Harper, who makes $26 million a year from the Phillies, is charging fans $900 to send them a one-minute happy birthday video on Cameo. Poor guy needs a side hustle.
Perhaps if MLB owners and the players union, instead of holding negotiations in Jupiter, met on Planet Earth they'd see that they're playing chicken with baseball's legacy. It's the bottom of the ninth, it's almost 5 p.m., and fans are leaving the stadium.
Rockets' Alperen Sengun recently was a guest on Paul George's podcast and spoke about a conversation he had with James Harden.
He said Harden told him he was proud of him. This led George to saying he thinks this means the torch has been passed from Harden to Sengun.
Which made us wonder, is this now Sengun's team? Or is that a little premature and the true leader of the team is head coach Ime Udoka or Fred VanVleet?
Plus, Jalen Green has responded positively from being benched. Is this proof that Ime Udoka has the team taking more accountability and heading in the right direction?
Be sure to watch the video above as we break it all down!
If you enjoy the videos, subscribe on YouTube for our latest content.
Related Articles Around the Web
SportsMap Emails
Are Awesome