Lonnie Johnson and Max Scharping are the newest Texans
Needs addressed with corner and tackle for Texans in second round
Apr 26, 2019, 9:40 pm
University of Kentucky Athletics
The Texans had needs and they continue to fill those needs with the 2019 NFL draft. Thursday it was offensive lineman Tytus Howard and he is now joined by a pair of need-based selections in Lonnie Johnson a cornerback from Kentucky and Max Scharping.
Johnson ended up at Kentucky after being recruited by Ohio State and failing to qualify academically. He ended up at Garden City Community College before being recruited by Georgia and Kentucky. He ended up at the Wildcats and now he is in the NFL.
"It basically shows that I work hard," Johnson said about his issues in the classroom. "Everything that it took to get here, just everything that I've been through I'm lost for words right now.
Johnson said he almost quit football in junior college due to his hard time off the field.
The big challenges he overcame has the big corner ready to attack the NFL. Johnson is almost 6 feet 2 inches with long arms. He said he prefers to play press man coverage because he likes to "get down there and get gritty" with wideouts.
"He can play perimeter press coverage, can play man coverage. We're excited to have him," said Texans general manager Brian Gaine.
He also joked since he formerly played wideout he just does his job backwards.
Johnson joins a rebuilt cornerback room that has new faces Bradley Roby and Briean Boddy-Calhoun along with holdovers Johnathan Joseph, Aaron Colvin, and Johnson Bademosi. Last year's seventh round selection Jermaine Kelly is still on the team after missing last year's team.
He also joins a team with J.J. Watt and Jadeveon Clowney up front. Johnson expects to buddy up with the fearsome pass rushers.
"They're gonna be my best friends," Johnson said with a laugh. "They help me make plays and I'm going to help them."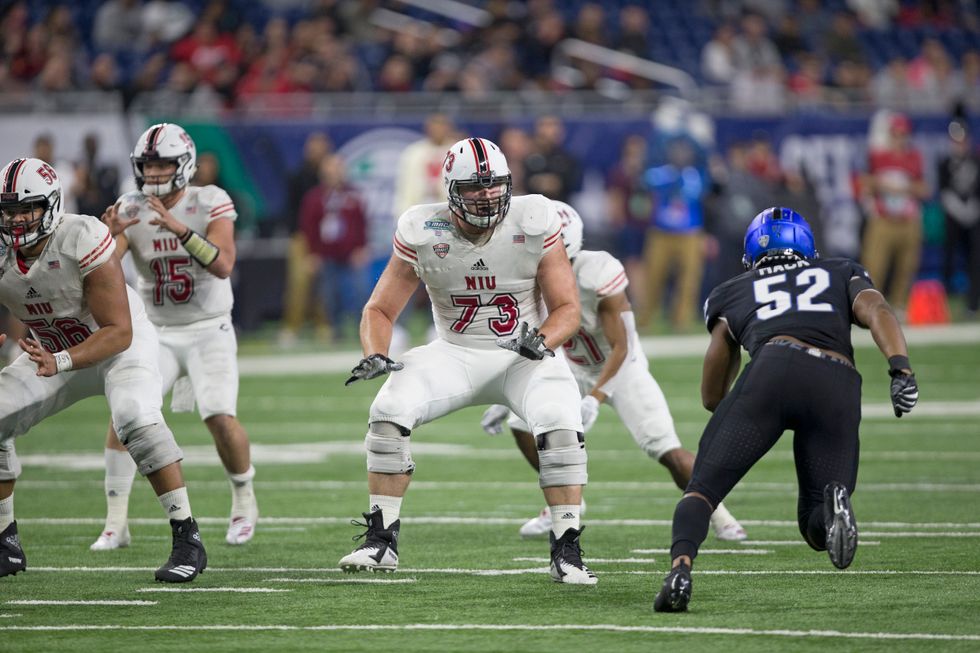 Nothern Illinois University Athletics
It was a private workout with Texans offensive line coach Mike Devlin that tipped off Max Scharping he might be a member of the Houston Texans. Weeks later Houston turned his name in as they continue their quest to remake the offensive line and protect Deshaun Watson.
"Max Scharping, very versatile offensive lineman," said Gain. "Starting left tackle, team captain material, outstanding football character, big man, fits our parameters – the height, weight, speed."
Scharping played mostly tackle but said he worked at guard early in his college career and has been working with a coach preparing to play guard saying he is "comfortable with both." He played mostly tackle, but he played every game of his career. 53 straight.
"I feel like durability is one of the best aspects of my game," he said.
Scharping didn't miss a game and didn't miss many answers on his tests in the classroom either. He boasts a 3.99 GPA with only a slip in a freshman year English class he joked. He has a Masters in Exercise Physiology.
The Texans will hope he earns a degree in keeping Watson, a quarterback he calls one of the best in football, upright.
Hailing from Green Bay, Wisconsin he gets an early treat as the Texans will practice with the Packers up North early in the preseason. He also gets to play with fellow Badger State fan.
"I grew up watching [J.J. Watt] at Wisconsin," he said. "It's going to be amazing to be on the same team. You're going against the best defensive line in the country. You got him. You got Clowney. Blocking those guys in practice every day you're going to be going up against the best so games should be a lot easier."