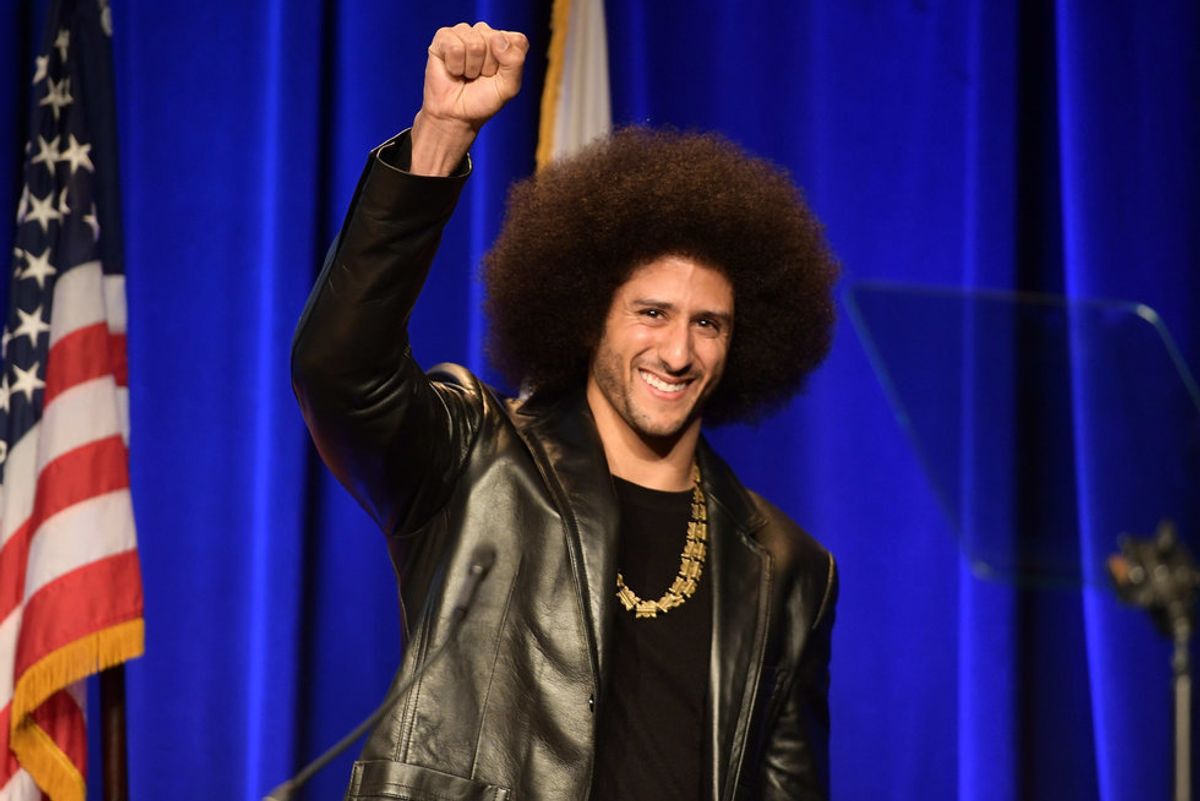 Photo by Matt Winkelmeyer/Getty Images
In a sharp, sudden twist to this saga, the NFL and Colin Kaepernick's attorney announced that they had reached a settlement on his case on Friday. The NFL had backed down.
Make no mistake about it; this is surrender by the NFL, as shocking as it is sudden. The league that gave no quarter to its biggest star ever in Tom Brady, the league that showed it could bully its players in court vs. Ezekiel Elliott and neutered one of the then-most powerful owners in its group in Jerry Jones, just sat in the corner, and faced the wall while wearing the "Cone of Shame" for Colin Kaepernick.
Less than 24 hours after the Alliance of American Football (which desperately wants to be bought by the NFL) decided to leak what it felt was highly negative information about Kaepernick and his refusal to play in the AAF for less than $20M (which reportedly turned out to be completely false information on the monetary demand), the NFL reached a settlement with the man most known as the face of the social justice demonstrations during the anthem. For my money, that is far too much of a coincidence to be an actual coincidence.
Just take a minute to think about the significance of this decision by the NFL. For a long time, Kaepernick has held the position that if the NFL wanted him to withdraw the case, it would require a substantial amount of money. The league has always basically maintained the idea that Kaepernick can go to hell and there's no way he could beat them in an arbitration hearing or in court because the NFL with their army of high priced lawyers and unlimited funds doesn't lose.
The NFL could have reached an agreement with Tom Brady, but they refused. Despite spending some $5M on the Wells Report only to see it be incredibly flawed and debunked by both the American Enterprise Institute and an MIT professor, insisted on suspending Brady. They went to several court cases vs. Brady, including the US District Court & US Court of Appeals. Deflategate raged on for over a year over very shoddy evidence that the balls were even deflated, let alone connected to Brady. The NFL never backed down. They could have reduced Brady's suspension but they absolutely refused to give an inch.
The NFL also sent their investigators out onto Ezekiel Elliott, after an ex-girlfriend made accusations of domestic violence against him. After a year-long investigation, the NFL's lead investigator reported that she recommended no suspension for Elliott, as the woman in question lied on multiple occasions, admitted to lying on multiple occasions, had asked others to lie on her behalf (with an electronic chain of the requests) and was found to be generally unreliable. The NFL suspended him the maximum six games anyway. Again the league went to multiple court cases with Elliott, rather than reduce his suspension and put the matter behind them because they wanted to make an example of him, and that example was so important that no lessening of Elliott's suspension could be negotiated.
Now we come to Kaepernick's collusion grievance, one that came with a very high standard to prove. The NFL had mocked Kaepernick's accusations, decried he just wasn't a very good football player and that was why he didn't have a job (and they went on to hire dozens of QBs who were absolutely terrible, or had no experience, and were clearly inferior players to Kaepernick, which caused an uproar each and every time).
The NFL tried to bully Kaepernick with the arbitrator, Stephen Burbank, when in August 2018 they requested that the case be dismissed for lack of evidence. The arbitrator disagreed and allowed the case to move forward. Owners had to give depositions and some of those depositions were startling.
According to the Wall St Journal, Cowboys owner Jerry Jones deposition showed how the owners feared the President on the protest front, saying the President told him in a phone conversation that "This is a very winning, strong issue for me" and that Jones should "tell everybody, you can't win this one. This one lifts me." Further conversations with Dolphins owner Stephen Ross and Patriots owner Bob Kraft further showed the league succumbed to its fear of the President in dealing with Kaepernick and the social justice demonstrations.
Owners felt emboldened by the stance of the President when it came to Kaepernick. Considering their previous actions vs Brady and Elliott, clearly the league thought it would garner a victory over Kaepernick.
Then Friday happened.
Why would a league that is so steadfast in their determination to demonstrate their power over players suddenly heel to a player who hasn't played in 2 years? Perhaps more importantly, why was the cloak of secrecy needed in relation to its agreement?
The NFL came to heel vs a player it clearly blackballed out of the league in flamboyant fashion. Why?
With the confidentiality agreement as part of the settlement, we may never know all the reasons the NFL pulled a 180 on Kaepernick's grievance, but certain things stand out as obvious identifiers.
For one, the confidentiality agreement keeps all the depositions and statements, all the evidence Kaepernick's attorney Mark Geragos has acquired in discovery and in his own investigations secret. We may never know just how grimy the league was in its dealings with Kaepernick. We may never see the 'smoking gun' Geragos claimed to have (although there have been reports of email exchanges among owners discussing blocking Kaepernick from getting a job in the NFL in evidence). The NFL clearly felt it was in their greater interest to keep all of that information private forever than to have it come out in court regardless of the arbitrator's decision on the matter. That speaks massive volumes.
Additionally, had Kaepernick been successful in his grievance, the NFL would have had another massive crisis on its hands, because a decision that the NFL had colluded vs a player would have rendered the league's current CBA null and void. It would have forced them back to the table in an environment where the players may have had an advantage at the table and in the realm of public opinion, one that could have resulted in the owners having to give concessions to the players for being found guilty of collusion. No CBA would mean a high likelihood of a work stoppage, and if the league had a lockout because it was grimy and colluded vs a player, violating the previous CBA, it would mean a lot of negativity for the league and its owners and support for players.
Clearly the league felt very threatened that it would lose the case vs Kaepernick to reach this level and fold its cards. While the settlement amount is undisclosed and part of the confidentiality agreement, reports have indicated it could be as high as $80M to Kaepernick (Thankfully the Green Bay Packers are a publically held entity and their financials have to be released, so we will see what the club had to contribute to the Kaepernick settlement and we will know the true value of it at that point if not sooner).
While the league admits to no wrongdoing as part of the settlement, the optics are very clear. If they weren't scared to death of being exposed, they would have continued the fight, just as they did vs Brady and Elliott, where they did have some losses in court before ultimately winning at the appellate level. That indicates this settlement may not have been about just winning and losing, but more about protecting the inner workings and secrecy of their actions, and the dirty laundry they've accumulated as a result.
That dirty laundry must be an incredible pile, because it's forced the league to do something it hasn't done before.
It forced the NFL to kneel down.
As much as the league wants to put this issue behind them, this moment will never be forgotten.
Patrick Creighton is heard locally in Houston as the host of "Late Hits" on ESPN Houston 97.5 weeknights 7-9p, and nationally as the host of "Straight Heat" on SB Nation Radio weekdays 9a-12p CT. Follow him on Twitter: @PCreighton1
One of the big factors that led to the Texans' loss to the Jaguars on Sunday was the secondary. Multiple flags for pass interference gave Jacksonville more opportunities to pick up first downs and score points.
Can confirm #Texans backup CB Shaq Griffin was cut.

Griffin started 6 games this year when Derek Stingley was out with a hamstring.
— DJ Bien-Aime (@Djbienaime) November 29, 2023
So it's no surprise that DeMeco Ryans is making some changes to his defense this week. According to several reports, Texans corner Shaq Griffin has been cut.
Nickel corner Tavierre Thomas was flagged for PI more than once on Sunday, and was burned badly by Jaguars receiver Calvin Ridley for a touchdown.
DeMeco was asked after the game if he considered replacing Thomas with Desmond King or Shaq Griffin. Ryans didn't give a definitive answer, but it looks like we got one today.
One has to wonder if Desmond Kings' experience playing nickel was the reason for his promotion to the active roster and why Griffin was released. If Thomas continues to struggle, King looks like the next man up to replace him.
#Texans activate Denzel Perryman, promote Desmond King to active roster, release Shaq Griffin, sign Matt Ammendola and Garret Wallow to practice squad, released Gerrid Doaks from practice squad and placed Tytus Howard (knee-patellar tendon surgery pending) on injured reserve https://t.co/knyyoqo7yC
— Aaron Wilson (@AaronWilson_NFL) November 29, 2023
The Texans also made some other adjustments to their roster on Wednesday, per Aaron Wilson. Linebacker Denzel Perryman returns from suspension, kicker Matt Ammendola and linebacker Garret Wallow join the practice squad. They also released Gerrid Doaks from the practice squad.
The other big piece of news involves left guard Tytus Howard. He heads to injured reserve, ending his season after hurting his knee against Jacksonville.
SportsMap Emails
Are Awesome