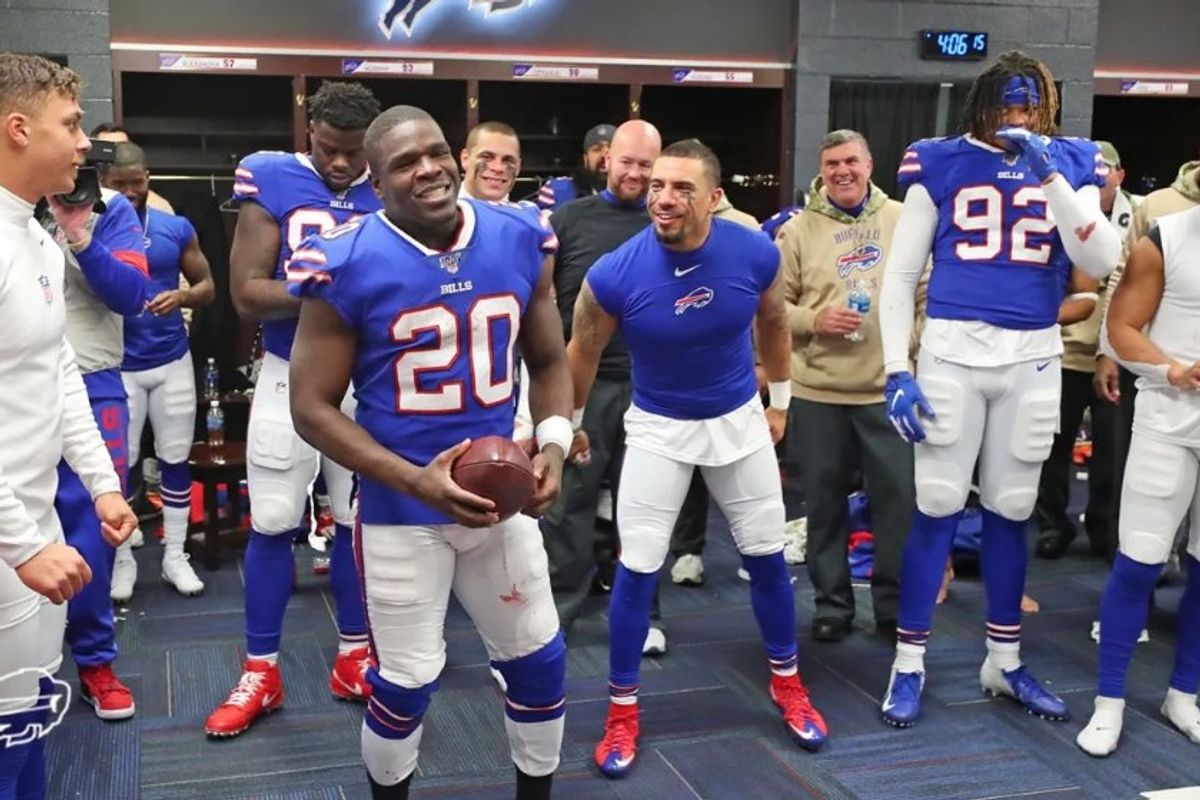 The playoff picture is getting clearer in the NFL. However, the MVP race is now over. Week 12 in the NFL was another one all over the map. Here's some of my observations:
The Good
-Ravens quarterback Lamar Jackson should be given the MVP award now. Against the Rams on Monday Night Football, he went 15/20 for 169 yards and five touchdown passes. He also added 95 rushing yards on eight carries. One of those runs should've been a touchdown had he not tripped. He's part of the reason my column this week is about putting to bed sports stereotypes.
-We all love when we see the big guys from defense on offense. Usually it's a run play and he's going to be a human plow either running the ball or clearing a path for a runner. Tampa lined up Vita Vea, it's 3457lb defensive tackle, at fullback. After a play action by Jameis Winston, he threw a one yard touchdown pass to the big fella who was wide open (pun intended). Name something more fun in football, outside the celebrations, than seeing a big fat guy catch a touchdown pass. You can't!
-I can't say enough about Frank Gore. The guy overcame a learning disability, two ACL injuries in college within an 18-month span, and often questioning whether or not he should keep playing, by himself and others. The Buffalo Bills running back is now the third all-time leading rusher in NFL history with 15,289 after passing Barry Sanders, and is fourth on the yards from scrimmage list with 19,154 after passing Marshall Faulk. The 15 year vet is a testament to hard work, never giving up, and believing in yourself. We're all privileged to have seen his story play out.
The Bad
-Eagles quarterback Carson Wentz threw one of the worst passes I've seen this year. On 3rd&9 from the Seahawk 10 yard line, running back Miles Sanders was wide open but Wentz threw the ball about five yards in front of him and way over his head. Wentz was closer to throwing a pick six to the Seahawk defensive back on that side of the field. They settled for a field goal on the next play and went on to lose at home 17-9.
-The Packers were thoroughly beaten in their 37-8 loss to the 49ers. Much has been made of the relationship between Aaron Rodgers and head coach Matt LeFleur. They managed to put a lot of it to bed with a 8-2 start. They're now 8-3 after this loss in which they averaged a putrid 2.8 yards per play. The only thing worse than that is the fact that they now have -11 punt return yards...ON THE ENTIRE SEASON!
-The Raiders' nice run was abruptly halted with a 34-3 drubbing at the hands of the hapless Jets. Thing got so bad, Jon Gruden pulled Derek Carr and inserted Mike Glennon. Glennon returned the favor by fumbling twice in his first three snaps! Backups are put in these situations to help save the starters from getting hurt in a game that's out of control. They aren't expected to lead a comeback, but they aren't expected to make things worse either.
The Ugly
-On a key 3rd&1 while down 13-9 to the Patriots, the Cowboys' offensive lineman Travis Frederick was called for a tripping penalty. They went from converting a crucial 3rd down, to a 3rd&11 that eventually turned into a turnover on downs when they couldn't convert. The call itself was absurd and was only outshadowed by the league coming out and saying the call shouldn't have been called. This literally could've cost a team a shot at the playoffs all things considered.
-Speaking of officiating, am I the only one who thinks CBS rules analyst Gene Steratore slurps the refs a bit too much instead of calling things the way he sees them? I almost hate watching games on CBS because he will defend the most egregious calls and/or explain why it's the "right" call. He has to realize he isn't a ref anymore so defending their stupidity isn't necessary. Call it straight jackass!
-Eagles right guard Brandon Brooks left the game due to an illness related to anxiety. People often like to make fun of others suffering from things they know nothing about. As someone who suffers from anxiety, it's no joke. While mine isn't nearly as bad as others, it still can cause issues. Kudos to him for being so forthcoming about his illness and why he left the game. Talking about it and being honest is the only way to get the word out and start to kill the stigmas associated with it.
Half of the 14 games played were decided by one score. In the AFC, the Patriots and Ravens are ahead of the pack, while only one gae seperates teams in the final wildcard spot from 10th place. In the NFC, there are five teams with three or less losses. The Cowboys (the current NFC East division leader) are the only team in the playoffs with more than three losses and Jerry Jones has already put the word out that he's disappointed in his coaching staff. The Buffalo Bills are 8-3 and firmly in control of their destiny as the lead wildcard team in the AFC. Who would've thought that would be possible outside Bills fans? The Steelers are in the final wildcard spot in the AFC after losing Ben Roethlisberger and trading their first round pick for Minkah Fitzpatrick. These last few weeks will have some meaning because nobody is running away with homefield advantage in either conference and teams are fighting to either make the playoffs, or save their asses.
All of a sudden, the Houston Texans have won three straight and host the Jacksonville Jaguars for a highly anticipated game this weekend
If the Texans come away victorious, they will take possession of first place in the division, and be in position to host a home playoff game for the first time since 2019.
Which got us thinking, is this the best version of the Texans we've ever seen? Many would say the best Texans teams were the ones coached by Gary Kubiak with Matt Schaub at QB. Or some may say it was the Bill O'Brien 2019 team with Deshaun Watson pulling the trigger at QB.
Regardless of which era of the Texans you believe was the best, one thing is for sure. This year's team has us optimistic on several levels. Ownership seems to have figured things out with the Easterby days behind us. Nick Caserio is a serious candidate for Executive of the Year, CJ Stroud is a favorite for Offensive Rookie of the Year, and has a chance to win MVP. And DeMeco Ryans has a legit shot at Coach of the Year.
But let's go even further. Has DeMeco done enough already to be considered the franchise's best coach? Many would say these questions are entirely premature, but are they really?
We could also make the argument that Tank Dell is already the third-best receiver in franchise history behind Andre Johnson and DeAndre Hopkins. He already has as many touchdowns (6) as Dre and Hopkins combined in their rookie seasons.
And let's make things even more interesting. Is CJ Stroud the best Houston QB since Warren Moon?
Be sure to watch the video above as we answer all these questions!
SportsMap Emails
Are Awesome