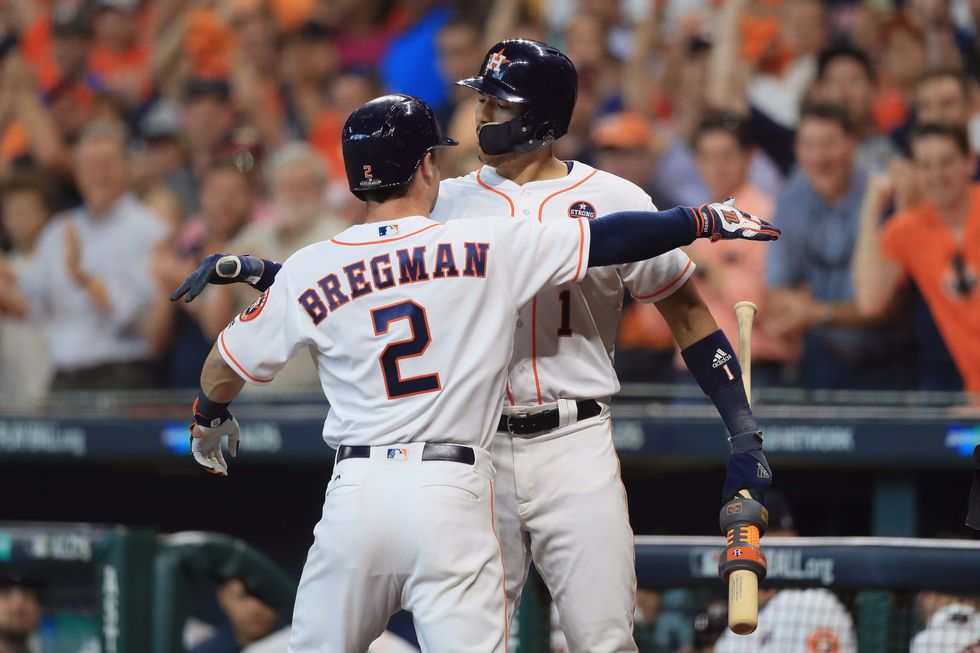 Young starst Alex Bregman and Carlos Correa helped get the Astros here. Photo by Ronald Martinez/Getty Images
Offense sells tickets. Defense and pitching wins you games. Or in the Astros case, a trip to the World Series for the second time in franchise history.
Catches by George Springer and double play were just part of the outstanding play in the field.  But the one that will be etched in the minds of baseball fans for ages came in the top of the fifth. With the Astros leading 1-0, the Yankees put runners on first and third to threaten against Charlie Morton, who had been dominant for the first four innings. Morton got Todd Frazier to hit a weak grounder to the third baseman Alex Bregman, slow enough that it seemed certain to score Greg Bird from third base.
But Bird had ankle surgery this summer, and runs like he is carrying a sack of concrete on his back. Bregman had the presence of mind and stones to throw home, without any hesitation, instead of going for a sure out at first or second. The uber confident third baseman with  great hands, made a perfect throw to Brian McCann who tagged the runner out, getting spiked in the arm.
In the wet and wild clubhouse the former first round pick from LSU said he had no doubt that throwing home and eschewing the sure out at first was the right move.
"I knew if it wasn't a missile, or a ball I could turn two on, I was going to the plate immediately," Bregman said. "It was huge. It gave us some momentum."
The Yankees went 0-4 in Minute Maid, scoring just three runs.
Owner Jim Crane and the  Computer Chip GM Jeff Luhnow, deserve huge props, along with Hinch. It was not just for drafting the young talent, but signing veterans like McCann, Carlos Beltran and Josh I will hit against my former Dodger teammates Reddick.
But the last second deal near midnight Aug. 31 to land Verlander put the Astros in the World Series was off the charts. It tops the Randy Johnson trade orchestrated by GM Gerry Hunsicker, now a Dodger consultant.
Unbeaten as an Astro, the former Tiger was brilliant. starting twice and coming up huge both times. In Game 2 on Oct. 14, he threw a 124-pitch complete game as the Astros won 2-1 to take a 2-0 series lead.
And then in Game 6, with Houston facing elimination, Verlander threw seven shutout innings as the Astros beat the Yanks, 7-1, to even the ALCS at three victories apiece and force Saturday's Game 7. Morton and Lance Mc Cullers combined for a three hit shutout, To sum up Verlander's contribution check out the numbers. Two ALCS starts: two victories, a 0.56 ERA, 21 strikeouts and just two walks in 16 innings.
Verlander waived his no-trade clause to come to the Astros because he saw it as a chance to join a team that had an opportunity to win a championship. So far, so good. He said he'll remember Friday's game for a long time.
"Yesterday was one of the best moments of my career, plain and simple," said Verlander, who will get the ball in Game 2 of the World Series on Wednesday night. "To come back home after being on the road, and to be able to keep these guys off the board for seven innings and be able to come away the winning pitcher ...
"When you're in the backyard as a kid, those are the moments that you create in your head. And to be able to succeed in those moments, I mean, it's the most fulfilling thing you can do."
Verlander finally got the meet Nolan Ryan, his boyhood hero. Then in the locker room celebration, picked up the MVP Award for the series.
 I texted Crane after the game to congratulate him on getting to the World Series. His response "thanks but four more to go then we will have done something,"speaks loud and clear to the laser focus of winning for the Houston Strong Fans.
The Houston Astros, the butt of every baseball joke just a few years ago, are going to the World Series. There are a lot of reasons for this. They had to lose so many games that they were able to draft Carlos Correa before anyone else. They had to scout, secure, and develop Jose Altuve. 
The storied Dodger franchise has not been to a World Series since 1988.  Houstonian Andrew Friedman who as a teenager waited outside Galleria hotels for autographs, went from Wall Street to the Tampa Rays.  He left the lowest payroll for the highest in the majors.  Like Luhnow, he is a big on Moneyball and relies heavily on analytics. His bold move was the deal with the Rangers for Yu Darvish
There is good news and bad news as I look at the series.  First, the bad news for Astro fans.  There will be no celebration at Minute Maid.
In the words of former Rocket coach Rudy T "never underestimate the heart of a champion."
The good news, they will win in Game 7 in Chavez Ravine.
Chirp!
One of the big factors that led to the Texans' loss to the Jaguars on Sunday was the secondary. Multiple flags for pass interference gave Jacksonville more opportunities to pick up first downs and score points.
Can confirm #Texans backup CB Shaq Griffin was cut.

Griffin started 6 games this year when Derek Stingley was out with a hamstring.
— DJ Bien-Aime (@Djbienaime) November 29, 2023
So it's no surprise that DeMeco Ryans is making some changes to his defense this week. According to several reports, Texans corner Shaq Griffin has been cut.
Nickel corner Tavierre Thomas was flagged for PI more than once on Sunday, and was burned badly by Jaguars receiver Calvin Ridley for a touchdown.
DeMeco was asked after the game if he considered replacing Thomas with Desmond King or Shaq Griffin. Ryans didn't give a definitive answer, but it looks like we got one today.
One has to wonder if Desmond Kings' experience playing nickel was the reason for his promotion to the active roster and why Griffin was released. If Thomas continues to struggle, King looks like the next man up to replace him.
#Texans activate Denzel Perryman, promote Desmond King to active roster, release Shaq Griffin, sign Matt Ammendola and Garret Wallow to practice squad, released Gerrid Doaks from practice squad and placed Tytus Howard (knee-patellar tendon surgery pending) on injured reserve https://t.co/knyyoqo7yC
— Aaron Wilson (@AaronWilson_NFL) November 29, 2023
The Texans also made some other adjustments to their roster on Wednesday, per Aaron Wilson. Linebacker Denzel Perryman returns from suspension, kicker Matt Ammendola and linebacker Garret Wallow join the practice squad. They also released Gerrid Doaks from the practice squad.
The other big piece of news involves left guard Tytus Howard. He heads to injured reserve, ending his season after hurting his knee against Jacksonville.
SportsMap Emails
Are Awesome