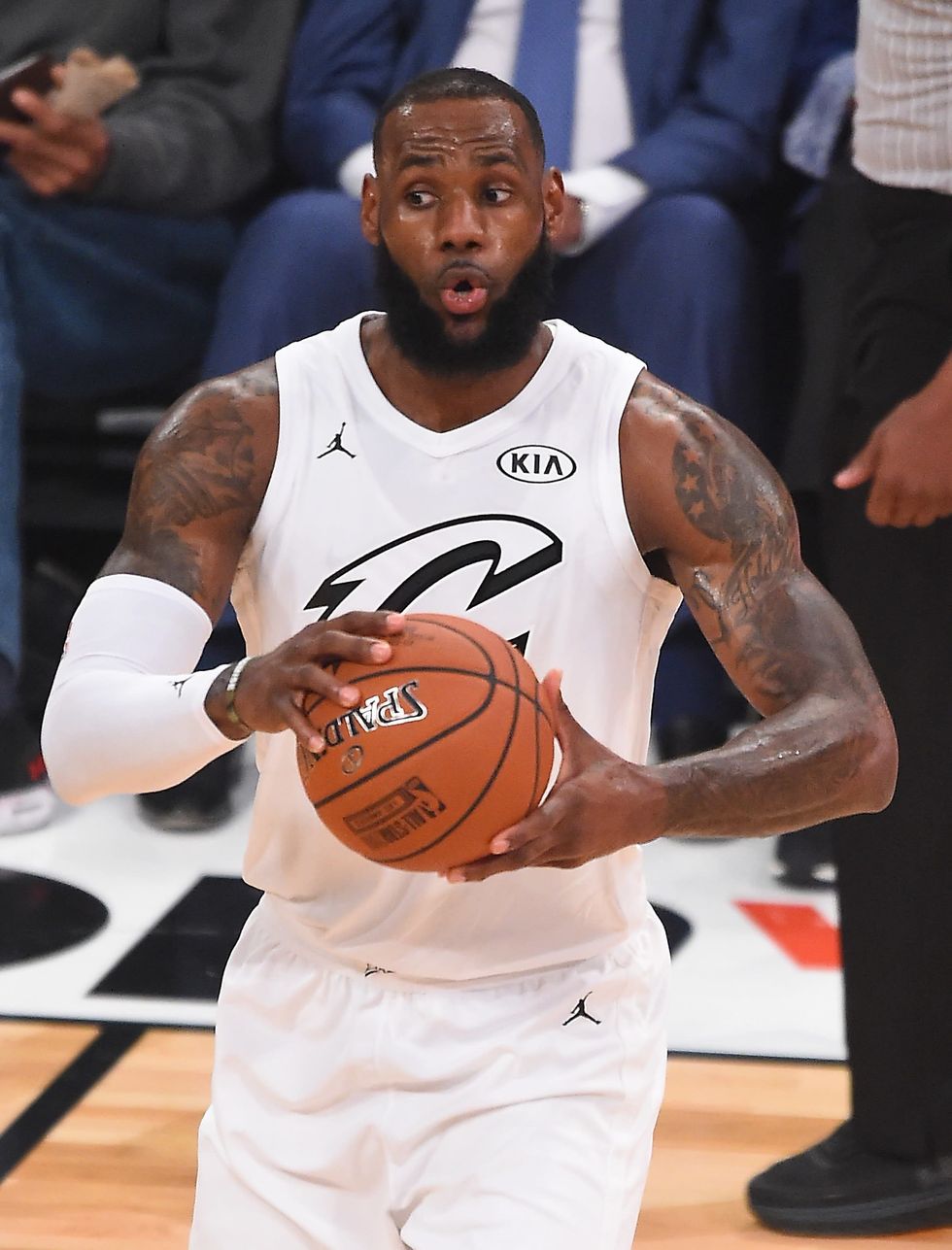 Lebron James would look good in Rockets red. Jayne Kamin-Oncea/Getty Images
After the Cavaliers got embarrassed in the NBA Finals, there should be no doubt that LeBron James is on his way out the door.  The only questions are where to and for how much.
The three teams most linked to James are the Lakers, the Sixers and the Rockets.  The Lakers and Sixers both have cap space to sign James outright, but that doesn't necessarily mean they fit LeBron's wish list.
What we know about LeBron is that he wants to win championships, and win them now. The Lakers and Sixers offer lots of young talent, but young talent that isn't necessarily ready to challenge the Warriors this coming season.  James isn't looking to wait, nor is he looking to raise a bunch of kids and hope they get where he wants them to be.
LeBron would be the only veteran star in Philly, alongside a talented but injury prone Joel Embiid, a good young player in Ben Simmons who can't shoot, and a big unknown in Markelle Fultz. Also, the snafu involving former team president Bryan Colangelo can't be in their favor, as head coach Brett Brown is now interim president.
The Lakers also offer young talent, but it's VERY young, and not likely ready to combat the Warriors.  Lonzo Ball and Brandon Ingram are only 20 years old, and Kyle Kuzma is 22. While LeBron may be able to take a second star with him (Paul George or Boogie Cousins?) that's a lot of child raising for James, who has always been more interested in veterans than kids.  Add in LaVar Ball's constant commentary, and it's not hard to see the downsides to LA for LeBron.
All of this brings us to the Rockets. Houston already has one superstar locked up in James Harden, and has Bird Rights on Chris Paul making it most likely he re-ups in Space City (as president of the NBPA who just got the Over-36 Rule changed to the Over-38 rule so he could get one last max deal, bank on it).  Houston is the only one of the three teams where LeBron knows he doesn't have to carry the load for the duration of the regular season. Houston has an established head coach & general manager, which neither of the other two teams can offer. Rockets new owner Tilman Fertitta will pay the dollars to bring a title to Houston.
Without a doubt, LeBron's best chance to beat the Warriors is in Houston.
Now, the only way James makes it to Houston is by opting in to the final year of his deal, and the Cavaliers trading him to the Rockets. While it seems like this would be the most complicates route, it's also the route that makes the most sense for Cleveland.
Rather than lose LeBron for nothing to the Sixers or Lakers, the Cavs can get assets from the Rockets to assist in their newfound rebuild.  A package built around Eric Gordon and PJ Tucker makes the most sense for Cleveland, as both of those players have reasonable contracts and have value – the kind of value that nets a first round pick in a trade by the deadline.  Any deal would also likely require two first round picks from Houston (2019, 2021), the inclusion of young developmental bigs Chinanu Onuaku and Zhou Qi, and some salary filler (Nene?) to make sure that both teams comply with the 25% rule since they are both salary cap taxpayers.
That creates a potential of four first round picks plus two young bigs for losing LeBron to jumpstart the rebuild.  Even if they are later 1st round picks, four first round picks > no first round picks, every single time.
As an added bonus, by flipping Gordon and Tucker for picks by the deadline, and presuming that Kevin Love would also be dealt for draft assets, the Cavs could reduce their cap not only out of taxpayer status, but completely under the cap to about $78M.  George Hill could also be dealt for draft assets because he's in the final year of his deal, but worst case scenario is that he plays the year out in Cleveland, the Cavs renounce his rights at the end of the season, and they remove another $19M from the cap, bringing their cap down to approximately $59M after one season from over $130M.  When you consider that massive change in cap allocation plus the 6-7 first round draft picks they could realistically acquire, this is an absolute no brainer for The Land.
LeBron gets to the best team to help him win in Houston, Cleveland gets jumpstarted on their rebuild with tons of picks and loses a boatload of salary in one season.  This is what we call a win-win.
The only #NewMath required will be the money you need for your season tickets, which will be going up if the Rockets are paying James ($35.6M), and re-signing Paul & Clint Capela with Bird rights to cover that massive salary and tax bill.  
Having LeBron with Paul and Harden will be worth it.
Patrick Creighton hosts "Late Hits" weeknights 7-9p on ESPN 97.5 Houston, and "Straight Heat" weeknights 9p-12a CT on SB Nation Radio & SportsMap 94.1 Houston. Follow him on Twitter: @pcreighton1
When Bryce Young and CJ Stroud were drafted with the first two picks of the NFL Draft, we knew they would be compared to one another for years to come.
And here we are just 11 games into the season and one quarterback has already seen his head coach fired. Panthers owner David Tepper spoke to the media on Wednesday and discussed his decision to fire Frank Reich, and also set the record straight on how they arrived at the decision to draft Young.
In so many words, Tepper basically blamed the Texans for how the top of the draft played out. He mentioned Stroud by name and said the Panthers were ready to draft him at No. 2 overall until the Texans backed out of the three-team trade with the Bears.
Tepper made a point of saying everyone in their building had Bryce Young as the top player on their draft board, despite rumors about Frank Reich preferring Stroud.
CJ Stroud and the Texans have been so much better than Bryce Young and the Panthers that Tepper clearly felt it was necessary to defend himself, and the decisions he's made for the organization.
In the end, the person that gets the worst end of the deal is Bryce Young. Coaching changes can be very difficult on young quarterbacks. And it looks like he'll have to learn a new offense in his second year when the Panthers hire a new coaching staff.
How fortunate we are as Texans fans to have DeMeco Ryans and CJ Stroud leading the team moving forward.
With all of this in mind, is there a reason Texans fans haven't fully bought in to the new-look Texans? JJ Watt was a guest on The Pat McAfee Show this week and was asked about the team's inability to fill the stadium on Sundays.
As a former player for the Colts, McAfee always thought Houston had the loudest and best fans in the NFL. And while the Texans are 9th in attendance this year according to ESPN, even CJ Stroud has asked for the fans to fill the stadium.
So there is something to it. You can see the empty seats in photos. So why aren't the Texans packing NRG with a shiny new franchise QB?
We believe the recent history of the team is why fans are slowly coming back. McAfee wasn't here for:
Bill O'Brien cussing at fans during games
Trading DeAndre Hopkins away for next to nothing
The Jack Easterby disaster
Deshaun Watson allegedly blaming ownership for why he wanted out
The Deshaun Watson scandal
Firing back-to-back coaches after one season, and the list goes on.
Don't miss the video above for the full conversation!
If you enjoy the videos, subscribe to SportsMapTexans on YouTube!
SportsMap Emails
Are Awesome