Speedgolf: The new revolution to traditional golf
Oct 1, 2019, 6:50 am
---
Jovan Abernathy is an international marathoner and owner of Houston Tourism Gym. To claim your free tour, contact her at info@tourismgymhtx.com. Follow her on Twitter @jovanabernathy. Instagram @TourismGymHtx. Facebook @TourismGymHtx
So remember my first SportsMap article? Where I said that I met a pro golfer when I ran the Honolulu marathon? He was such a cutie. Of course, when I came back to Houston, I had to try my hand at golf. I was always intrigued by the sport. I had to give it a try.
I would go to Memorial Park and go to the range and whack some balls, but I could never get into it. There were three main reasons why.
It took too much time. I once clocked myself. It took 7 hours from start to finish to drive to the course, warmup, do a whole 18 holes, and of course have post food and drinks, and then drive back home.
It cost too much. I did some calculations. After everything, that's the green fees, cart rentals, buying and maintaining clubs, the bag, the balls, the glove, the shoes, stylinsh apparel, and of course lessons, and whatever else. It came out to $15,000 for a year.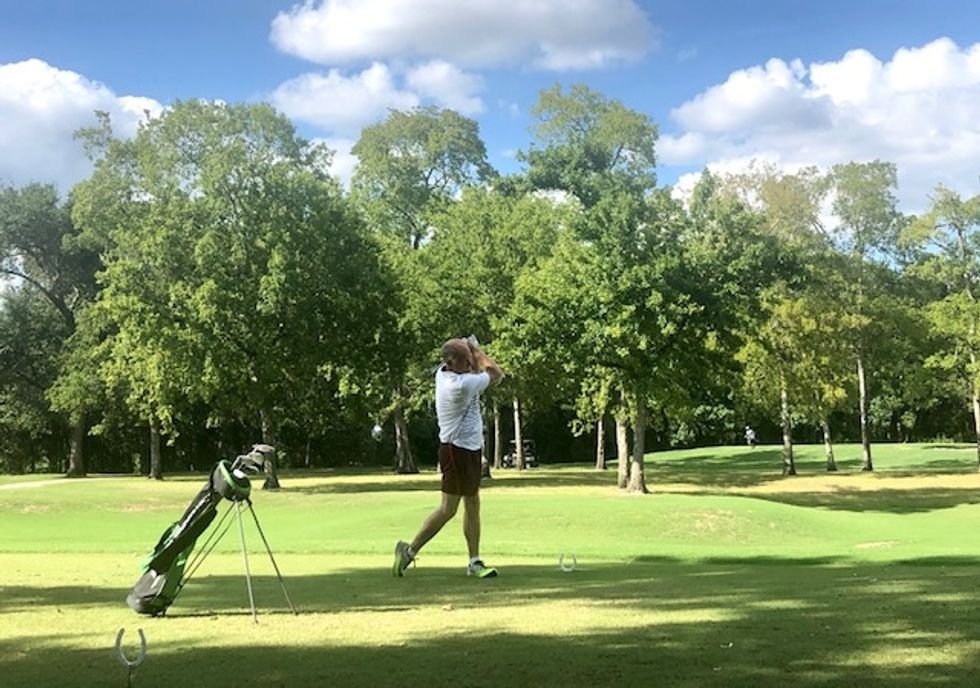 David Harding from Oregon taking a swingAuthor's own
And it was kind of, well boring. You had to wait so long to get your turn. That was at least 4 of the 7 hours. I would get so antsy from standing still that long. Instead of relieving stress, it was causing stress. Instead of looking like Tiger Woods, I looked more like Charles Barkey.
At that time, I was running so many races that required a lot of time to train and lots of money. By the way, running allowed me to let my mind go because I was in constant movement. Then, I heard about this new thing (well new to me) called speedgolf. It seemed like the answer to my golf problems. Let me tell you about it.
Speedgolf is the funner, faster, and more fitness oriented format of the traditional game of golf. It was believed to be started in the 1970's in California when Steve Scott ran 18 holes in 29 minutes and 33 seconds holding only a 3-iron and finishing with 99 strokes. Basically, it is golf and running mixed. There's no golf cart. You are jogging to each hole as fast as you can. You carry one club or 4 clubs in a light weight golf bag.
I have to admit that I only have played one game of Speed golf. In that one game , I had more enjoyment that regular golf and it was really exciting. It took less time. I'm not even the fastest runner, but I finished 18 holes in half the time as a regular round of golf . Better than that....I burned 800 calories while I did it. The next day, I ran my regular route and I finished the 3-mile Memorial loop in 26 minutes instead of 29:30:00, so I got over 3 minutes faster.
The thing that really sold me is the imagination that Speedgolf sparks. The picturesque green is really inspiring. I hate getting up early to play, but I love seeing the dew dripping from the moss that is hanging from the trees. You can see the previous runners footprints in the dewy, manicured grass. I imagined myself at MacAllen Scotch Distillery in Ireland. See what I mean.
So, how do you play? So, basically, your score is comprised of your running time added with your number of strokes. So, if you had a count of 80 strokes and a running time of 60:00:00, you would then add them together. The strokes + time = Speedgolf score. So, 80 + 60:00:00 is 140. The lowest score wins. I highly recommend it. Be ready to get up early. Most golf courses want Speedgolfers to go first because they are faster than everybody else.
If you are a golfer looking to jazz it up, try Speedgolf. If you are a runner trying to mix it up, try Speedgolf. If you are looking for a cool sport to get into and you like taking pictures, get into Speedgolf. And if you want to save money, try Speedgolf. See you on the Green at the finish line!
To learn more about Speedgolf, visit SpeedGolfUSA or listen to Scott Dawley, founder of Speedgolf USA, on his podcast Pace of Change which can be downloaded from iTunes.