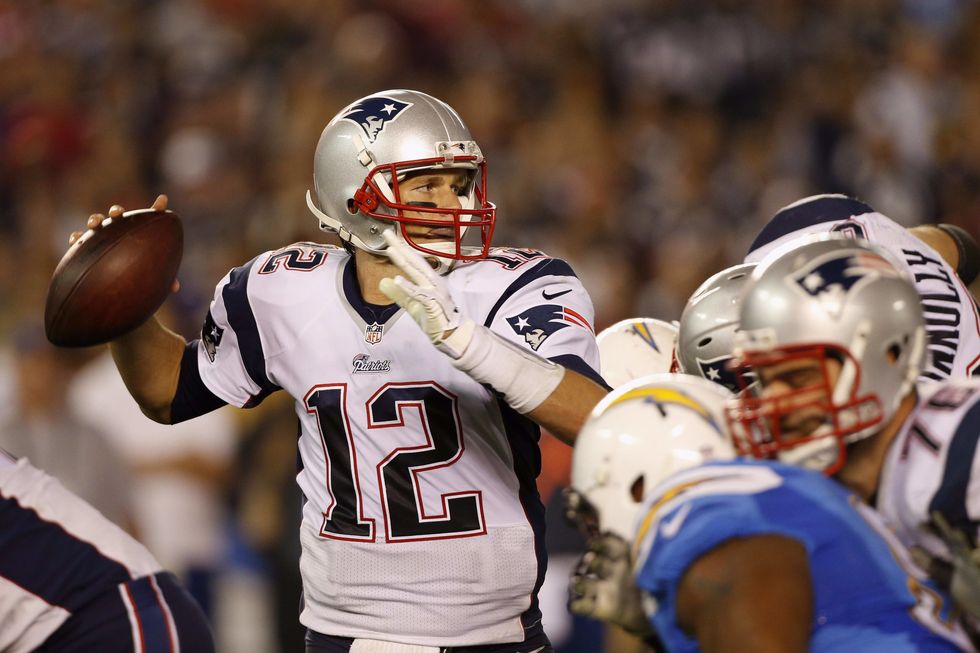 Tom Brady is your MVP favorite. Photo by Todd Warshaw/Getty Images
With the year coming to a close, the last dance gives us a chance to cut loose some. It empowers us to go outside the box and wager on things you regularly wouldn't be able to touch. With the world watching, family and friends gather around to watch the spectacle that comes with the season finale.

For degenerate gamblers (like myself), it gives us a chance to have action on the unimaginable. While your friends are discussing the halftime show and laughing at the commercials, you're focused on the over or under 12.5 times "Dilly Dilly" is said and trying to count over the shouting and laughing.

Some gamblers like to get their betting started as early as possible, and two bets allow us to do that.

Coin Toss
HEADS-105 TAILS -105
Self-explanatory, a 50/50 bet. The odds are even, and over a large sample size the results have been similar.
Tails 27
Heads 24
Last 4 Super Bowls have been tails.
 
Will the team guess Heads/Tails correctly? YES -105 NO -105
Teams that won the coin toss the last three years lost the game.
In all of the Patriots Super Bowl wins, they lost the coin toss.

National Anthem
Over/Under 120 second OVER-180 UNDER +140

In the last 12 years, the average is 118 seconds for the National Anthem in the Big game. Thats two seconds under this years total; 4 of the last 5 have gone over 2 minutes.

Longest ever: Alicia Keys 156 seconds
Shortest Ever: Billy Joel 90 seconds

Will Pink wear an Eagles hat or shirt? YES +170 NO -250
Pink is an Eagle Superfan! When the Eagles won in the Championship round, she tweeted how excited she was to be able to sing in the game her team was playing in. Value on +170

Will Pink make an error/ omit any part of the National Anthem? YES +300 NO -500

What color will Pink's hair be?
White/Blonde +125
Red/Pink +250
Blue/Purple +500
Green +500
Brown/Purple +700

That's a lot to keep up with before kickoff, but that when the fun really begins. There are hundreds of in-game team and player props to wager on, but commercial props always seem to draw attention. This year the popularity of the "Dilly Dilly Commercials has grown, and that gives us an opportunity for a wager.

"Dilly Dilly"
Over-Under 12.5 total broadcast YES -115 NO-115
Anheuser Busch has confirmed one: 60-second spot in this years SuperBowl.
In 2015 they had five different :30-second spots, but some were bought in the week of the final game, so there could be value if they purchase more.
In 2016, they only had one spot that was :60 seconds.

About a month ago, Anheuser Busch announced they would release three more of the medieval-themed commercials.
1st- Aired on Christmas 8X "Dilly."
2nd- Aired in the Conference Championship games 8X "Dilly."
3rd-Will air during the Super Bowl
I wanted to dig a little deeper and went back to the Bud-Weis-Er frog's ad in the 1995 Super Bowl. I counted 13 Bud's, is it ironic that this year's total is set to 12.5?
Another Prop bet that gets a lot of action is the color of the Gatorade which the winning team throws on their coach.
Color of the Gatorade on winning coach
Lime/Green/Yellow +225
Orange +250
Red +275
Clear/Water +375
Blue +1000
Purple +1000
No shower Push

Going back to Super Bowl 35, only four teams have had no Gatorade shower at all.
In the Last 10 years:
Orange 4
Clear 2
Purple 1
Yellow 1
Blue 1
None 1

You would be inclined to think maybe the winning team will have their team color of Gatorade poured on the coach, it makes sense. But since Super Bowl 35, it's only happened twice. Once with the Steelers and the other with the Patriots in 2015.

Speaking of the Patriots, since they are favorites and have won multiple times, let's look at what they have done historically in their victories.
Super Bowl
36-none
38-none
39-clear
49-blue
51-none

Is it a preference now for Bill Belichick to not get anything thrown on him post game?

Super Bowl MVP
Tom Brady -110
Nick Foles +325
Rob Gronkowski +900
Dion Lewis +1800
Danny Amendola +1800
Jay Ajayi +1800
Zach Ertz +2000
LeGarrette Blount +3300
Fletcher Cox +3300
James White +4000
Rex Burkhead +6600
Stephen Gostkowski +6600

Quarterbacks have been the MVP 28 total times; 6 of the last 8 have been a QB.
Running Backs 7 times
Wide Reciever 6 times
Never a Tight End
Defensive Player 10 times - Last one was Von Miller at 18-1

Highest Scoring Half  1st HALF +150 2nd HALF -130

Historically, the Patriots have struggled to score in the first quarter. In seven appearances, they have managed to score a total of 0 points in the opening 15 minutes. NONE. Luckily their defense has been able to keep them in games, only allowing a total of 15 points in those seven contest -- 9 of them coming in 2011 vs. the Giants.

This year in the regular season the Patriots scored an average of 6.2 points in the first quarter. In the postseason, they have scored a total of 3 points in their two games.

The individual highest scoring quarter odds typically have the same odds for the 1st and 3rd quarters and the same for the 2nd and 4th quarters. With the slow starts to New England's previous Super Bowl appearances, there's a great amount of value betting the second half to be the highest scoring of the two.

There are hundreds of props to pick from; these tend to be some of the more popular ones.

The Big game preview and picks coming Friday!!
FYI: Earlier this week, I joined the In the Clutch podcast to talk about the Super Bowl and props bets. Here is a link to the audio.
For any questions or comments reach me at @JerryBoKnowz on Twiiter
Rockets' Alperen Sengun recently was a guest on Paul George's podcast and spoke about a conversation he had with James Harden.
He said Harden told him he was proud of him. This led George to saying he thinks this means the torch has been passed from Harden to Sengun.
Which made us wonder, is this now Sengun's team? Or is that a little premature and the true leader of the team is head coach Ime Udoka or Fred VanVleet?
Plus, Jalen Green has responded positively from being benched. Is this proof that Ime Udoka has the team taking more accountability and heading in the right direction?
Be sure to watch the video above as we break it all down!
If you enjoy the videos, subscribe on YouTube for our latest content.
Related Articles Around the Web
SportsMap Emails
Are Awesome