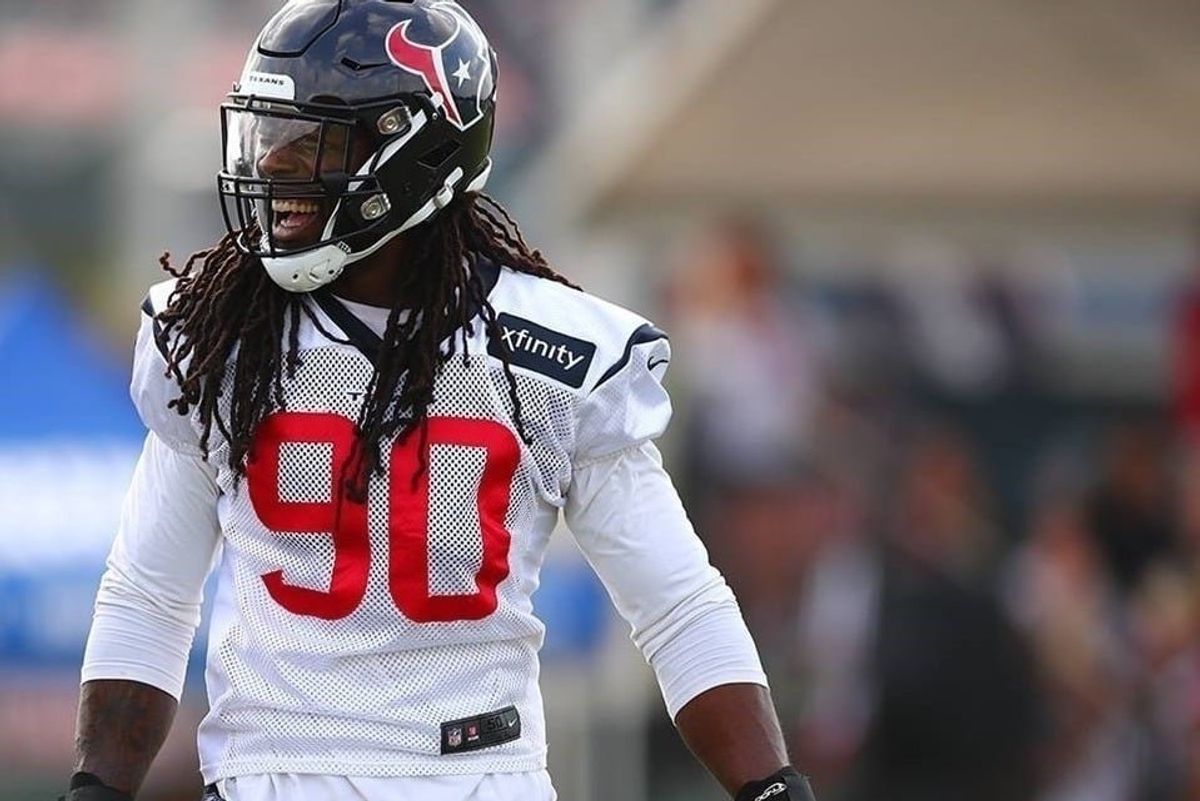 If you want the Texans to sign Le'Veon Bell I also assume you would like Jadeveon Clowney to get a long-term deal with the Texans close to what Aaron Donald and Khalil Mack earned last offseason.
I feel that way because logically there is no way to desire a Bell signing and want the Texans to franchise tag or move on from Jadeveon Clowney. The logic doesn't exist.
Each player's potential, how easy it is to replace them, and the example it sets for the team are all reasons why if you want Bell you have to want Clowney too.
We have seen the best of Le'Veon Bell in the NFL. He isn't getting any better. While he is amazing, three seasons as one of the best offensive weapons in football, there's no chance he's going to get better. There is also some concern about the ability for Bell, after a year away, to replicate his consistent greatness.
Clowney is getting better. He has improved his pass rush success every year as well as his run-stopping ability. The positions age differently too. While most running backs earn their best seasons in their initial time starting there are plenty of examples of elite edge players growing into the position as they age. Ravens defensive standout Terrell Suggs played some of his best football after he turned 26 (Clowney turned 26 this year) and so did Cardinals stud Chandler Jones and former Cardinals now Jaguars presence Calais Campbell. There just aren't many running backs playing deep into their thirties with huge success. There are plenty of pass rushers.
Should either of these players get injured it is far easier to replace Bell than to replace Clowney. Both players have played five seasons in the NFL and missed 18 games. Clowney has missed three of his games in his past three season while Bell has missed 15 in the past three seasons he has played, not to mention sitting out a whole year as well.
Almost every big running back contract has had time where he has been out and someone else has admirably filled in for the big money back. Just this past year Todd Gurley was dinged up and C.J. Anderson filled in off the street. Devonta Freeman has seen injuries give way to Tevin Coleman success (currently a free agent might I add). Jerick McKinnon filling in for the injured Adrian Peterson and it earned him a huge deal in free agency last year, and then he got hurt.
As an example when an elite defender misses look no further than Eric Berry's loss affecting the secondary on the Chiefs. For a bit more appropriate positional comparison the Broncos led the league in sacks in 2012 and when Von Miller missed seven games they were 13th in sacks the following year. I know Clowney isn't Von Miller but his snaps are much harder to replace. It literally took Clowney playing at a high level to attempt to replace Watt's snaps. The bigger contract that Clowney would command also adds to the unlikely ability to pay a replacement. The difficulty of replacing a player demonstrates his value.
The message it sends to the team if you sign Bell but not Clowney is the wrong message you want to send. Clowney has been a team player from the start for the Texans. He recovered faster from micro fracture surgery than almost any player in the history of the NFL. He has never held out. He hasn't outwardly voiced his displeasure with the team. Meanwhile, Bell had his offensive linemen, and it seems most of the rest of the Steelers, turn on him in the midst of a holdout that cost him $12 million. Why would any player in the future have faith in the Texans and they way they operate if they rewarded a player like Bell and not a player like Clowney?
Signing Bell and not signing Clowney is a disaster waiting to happen. Signing Bell and not giving Clowney a new contract in lieu of the franchise tag is also the wrong way for the Texans to run the business. So if the opinion is the team needs Bell at whatever he would cost it would then be automatic they need Clowney at what he costs. You can't do Bell business without taking care of Clowney businees.
One of the big factors that led to the Texans' loss to the Jaguars on Sunday was the secondary. Multiple flags for pass interference gave Jacksonville more opportunities to pick up first downs and score points.
Can confirm #Texans backup CB Shaq Griffin was cut.

Griffin started 6 games this year when Derek Stingley was out with a hamstring.
— DJ Bien-Aime (@Djbienaime) November 29, 2023
So it's no surprise that DeMeco Ryans is making some changes to his defense this week. According to several reports, Texans corner Shaq Griffin has been cut.
Nickel corner Tavierre Thomas was flagged for PI more than once on Sunday, and was burned badly by Jaguars receiver Calvin Ridley for a touchdown.
DeMeco was asked after the game if he considered replacing Thomas with Desmond King or Shaq Griffin. Ryans didn't give a definitive answer, but it looks like we got one today.
One has to wonder if Desmond Kings' experience playing nickel was the reason for his promotion to the active roster and why Griffin was released. If Thomas continues to struggle, King looks like the next man up to replace him.
#Texans activate Denzel Perryman, promote Desmond King to active roster, release Shaq Griffin, sign Matt Ammendola and Garret Wallow to practice squad, released Gerrid Doaks from practice squad and placed Tytus Howard (knee-patellar tendon surgery pending) on injured reserve https://t.co/knyyoqo7yC
— Aaron Wilson (@AaronWilson_NFL) November 29, 2023
The Texans also made some other adjustments to their roster on Wednesday, per Aaron Wilson. Linebacker Denzel Perryman returns from suspension, kicker Matt Ammendola and linebacker Garret Wallow join the practice squad. They also released Gerrid Doaks from the practice squad.
The other big piece of news involves left guard Tytus Howard. He heads to injured reserve, ending his season after hurting his knee against Jacksonville.
SportsMap Emails
Are Awesome