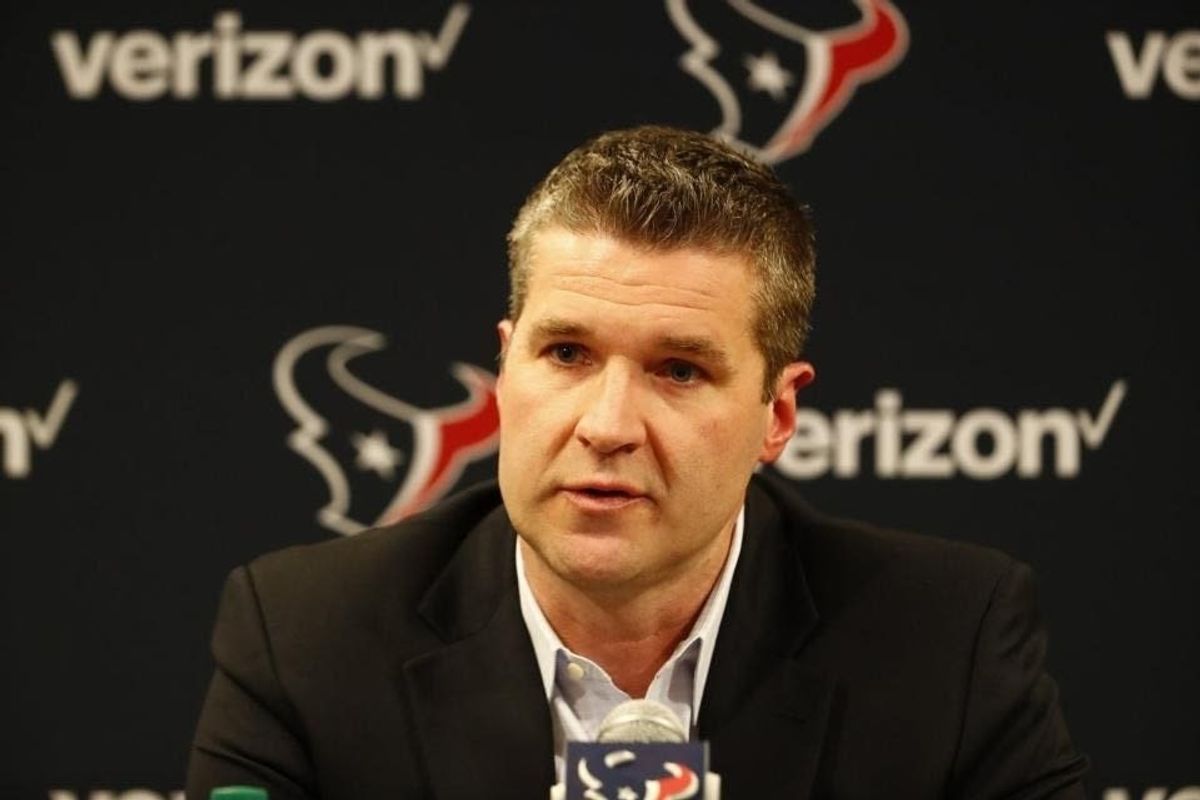 Brian Gaine and his staff have work to do at the combine. Houstontexans.com
SportsMap is live at the NFL Scouting Combine this week. Here's a look at the stories swirling around the Texans at the combine.
Is blocking help on the way?
The Texans offensive line had disappointed for a couple of seasons now and this class is loaded with linemen set to go in the top three rounds. ESPN 97.5 and SportsMap's own Lance Zierlein has five tackles rated as immediate starters.
A personal favorite of mine is Washington State's Andre Dillard who has held down the left side of Mike Leach's impressive Washington State offense.
Offensive linemen went fast and furious last year with six going in the first round. With offense being the trend in today's NFL protecting quarterbacks will be of high importance. This will push linemen up in the draft.
Who can cover?
The Texans also have quite the conundrum at cornerback as well. Johnathan Joseph is set to be back as is Aaron Colvin coming off a season where injury led to a disappointment. Kevin Johnson's future is up in the air. Kayvon Webster played very little due to injury. Johnson Bademosi is primarily a special teams player. Jermaine Kelly Jr. hasn't played a snap in the NFL after being on injured reserve all last year. Shareece Wright didn't play well enough to be back. Kareem Jackson, who was better at safety than corner, is a free agent.
With all those player's situations the Texans have need for some young and talented help at corner. If there isn't an offensive tackle the team is in love with in the first round cornerback could be the move. Certainly it will be on the table with the two selections in the second round.
Michigan State's Justin Layne is a former wide receiver turned cornerback for the Spartans. His interception numbers aren't great but he had some of the best pass deflection numbers in the nation last year.
The Clowney conundrum

Both Texans head coach Bill O'Brien and general manager Brian Gaine will speak this week and it will be a massive upset if they aren't asked about Clowney. They've had a couple months to start thinking about, and maybe even start negotiating, Jadeveon Clowney's next contract with the team.
Depth on defense
While the Texans focus on big holes on the offensive line and the issues at cornerback they also have to find some depth players. Gaine did an excellent job at this last year finding Justin Reid, Jordan Akins, and Jordan Thomas who ended up playing significant snaps for the team. Peter Kalambayi contributed late in the season. Duke Ejiofor and Keke Coutee helped when they weren't hurt.
If Tyrann Mathieu or Kareem Jackson move on from the Texans the safety spot will need some young bodies. The team could use another pass rusher be it from the edge or up the middle on the defensive line. Combine interviews will be important for the Texans as they try to prepare for the free-for-all that is the undrafted free agent market.
Skill positions in play
The Texans have plenty of investment throughout the skill positions on offense, but can you ever have too much? There is a need for another running back to go along with Lamar Miller, who is in the last year of his contract, and D'Onta Foreman. As for wide receiver, someone to push Vyncint Smith on the outside wouldn't be the worst idea but perhaps that is better suited for a free agent.
Tight end isn't out of the equation either. The right draft pick could set the team up at the position for at least the next three seasons.
Texas A&M's Jace Sternberger is a favorite of mine but he might go a little high for the Texans to invest another mid-round pick in the tight end position.
My favorite running back prospect is Devin Singletary.
NFL Storylines
Kyler Murray can dominate the combine this combine if he measures out well on height, weight, and hand size. How he interviews and if he runs will be huge stories around the league. If he decided to skip interviews he would be one of the most polarizing prospects ever.
Remember Oklahoma offensive tackle Orlando Brown?
He had one of the worst combines ever for a top prospect. He fell like a rock in the draft going three picks after Martinas Rankin to the Ravens. He started at right tackle for Baltimore from week seven forward. He ended up with a better Pro Football Focus rating than every Texans offensive lineman.
The combine workouts aren't everything, but they're something. A bad combine performance shouldn't eliminate a prospect from a team's board but it should add extra attention if the team might think he is ultimately worth it.
Ed Oliver's big week is about to start. For Oliver, everything about this week matters. It will be the difference in millions of dollars. I could see him going as high as three to the Jets and as low as the 20's. Oliver going high is one of the coolest potential stories in the draft. He could have gone to a number of different schools but he chose Houston in his own backyard and was every bit the dominant force he was expected to be. He is a freak athlete and should test off the charts in almost every drill. Expect Ed Oliver to be one of the "wow" workouts this week.
This is a monster year for defensive linemen. Ohio State's Nick Bosa and Alabama's Quinnen Williams are the top two names with Kentucky's Josh Allen and Clemson's Christian Wilkins right behind them. If teams covet other positions there could be plenty of movement in the top ten.
The start of trade discussions begins in earnest this week. With so many decision-makers in close proximity the talks around players like Odell Beckham and Antonio Brown will start to heat up. It isn't just the huge names that start making moves though. There are plenty of mid-tier players to be discussed as well. We have seen the trade market be red hot in recent years in the NFL. There is no reason to think it will stop.
One of the big factors that led to the Texans' loss to the Jaguars on Sunday was the secondary. Multiple flags for pass interference gave Jacksonville more opportunities to pick up first downs and score points.
Can confirm #Texans backup CB Shaq Griffin was cut.

Griffin started 6 games this year when Derek Stingley was out with a hamstring.
— DJ Bien-Aime (@Djbienaime) November 29, 2023
So it's no surprise that DeMeco Ryans is making some changes to his defense this week. According to several reports, Texans corner Shaq Griffin has been cut.
Nickel corner Tavierre Thomas was flagged for PI more than once on Sunday, and was burned badly by Jaguars receiver Calvin Ridley for a touchdown.
DeMeco was asked after the game if he considered replacing Thomas with Desmond King or Shaq Griffin. Ryans didn't give a definitive answer, but it looks like we got one today.
One has to wonder if Desmond Kings' experience playing nickel was the reason for his promotion to the active roster and why Griffin was released. If Thomas continues to struggle, King looks like the next man up to replace him.
#Texans activate Denzel Perryman, promote Desmond King to active roster, release Shaq Griffin, sign Matt Ammendola and Garret Wallow to practice squad, released Gerrid Doaks from practice squad and placed Tytus Howard (knee-patellar tendon surgery pending) on injured reserve https://t.co/knyyoqo7yC
— Aaron Wilson (@AaronWilson_NFL) November 29, 2023
The Texans also made some other adjustments to their roster on Wednesday, per Aaron Wilson. Linebacker Denzel Perryman returns from suspension, kicker Matt Ammendola and linebacker Garret Wallow join the practice squad. They also released Gerrid Doaks from the practice squad.
The other big piece of news involves left guard Tytus Howard. He heads to injured reserve, ending his season after hurting his knee against Jacksonville.
SportsMap Emails
Are Awesome