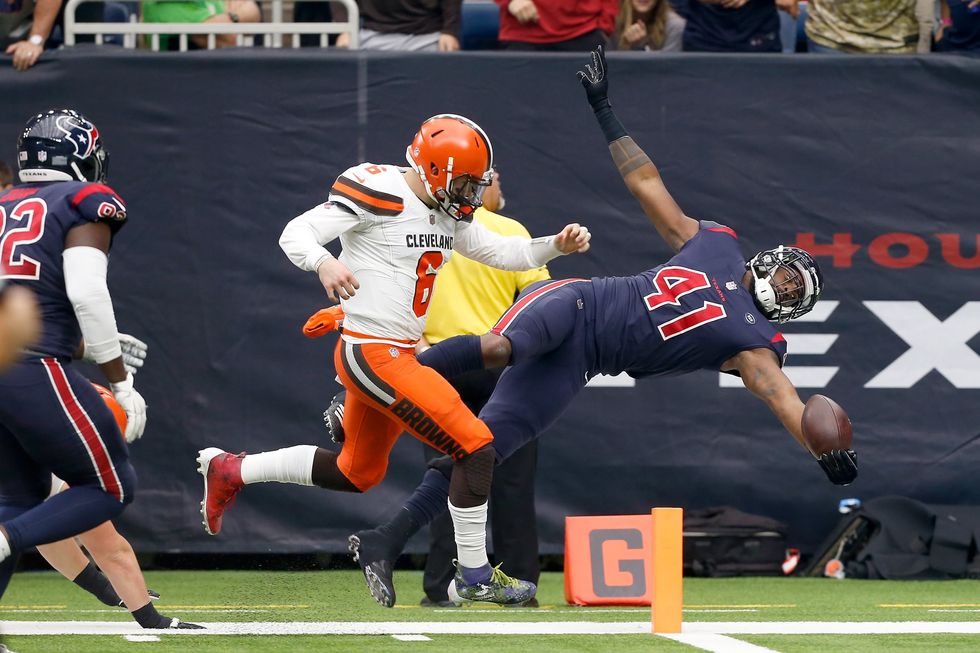 Zach Cunningham scored a touchdown. Bob Levey/Getty images
As the Texans defense continues to get healthy, Zach Cunningham's contribution is clear each week. This week he set the tone early and helped the Texans extend their first-half lead over the Cleveland Browns on their way to their ninth straight win. 
Cunningham in coverage was active, nearly intercepting a pass from Baker Mayfield on the first drive for the Browns. In the second quarter, with the Texans leading by 10, Cunningham got his hands on a Mayfield pass again. This time though he didn't let it hit the ground. Rumbling back 37 yards, and running over teammate Benardrick McKinney in the process, Cunningham dove and extended for a touchdown. Though he was ruled out at the one, the replay review saw he stayed in for the score. 
"It was more of an instinctual play that I felt," Cunningham said. "Getting back on the ball, obviously made an amazing catch, great catch, so it definitely felt pretty good. It was my first pick, first touchdown in the NFL. Definitely felt great for me."
Cunningham joked he knew it was a touchdown and celebrated but had to wait for the official call. He said he knew he was scoring. 
"That means a lot," said DeAndre Hopkins of the Cunningham score. "We know we can go out there and depend on those guys to get the ball. That's championship football."
"The guy made a great play," said Browns quarterback Baker Mayfield on the Cunningham score.
Cunningham was a leader for the defense who slowed down a hot Cleveland rushing attack. Nick Chubb entered the game trailing only Cowboys Ezekiel Elliot for yards over the past four weeks. The game-flow didn't lend itself to rushing a ton as Cleveland trailed big after Cunningham's big play but the defense kept the Browns from getting comfortable. Cleveland managed just 31 rushing yards. 
With a healthy Cunningham, the Texans have one of the most stout rushing defenses in football. Cunningham adds a great element in coverage as well and the defense seems to operate a little smoother with him in there. With injuries to backups in the game, Brennan Scarlett went down with a leg injury, Cunningham is healthy at the right time. 
The Houston Texans may not have come away with a victory over the Jags on Sunday, but they did come away with a ringing endorsement from Skip Bayless.

While that may scare some people reading this, he does make some good points. His two main reasons for backing the Texans over Jacksonville should be no surprise. DeMeco Ryans and CJ Stroud.
Skip loves DeMeco's demeanor on the sideline and how he appears in total control of his team. And with CJ, Skip can't remember a quarterback with this much poise in his rookie season. His ability to use his legs and make accurate throws is something he's never seen. He already looks like a player 10 years into his career.
Plus, Skip says he felt like Stroud outplayed Lawrence even in the loss. Which led him to look up their QBR scores from the game. And sure enough, Stroud had a higher score.
Be sure to watch the video above as the guys discuss Houston's playoff chances, why free agents will want to come to the Texans, and Richard Sherman shares some inside information on DeMeco Ryans.
If you want to jump ahead to Skip's Texans praise, simply hit play on the video below.
SportsMap Emails
Are Awesome