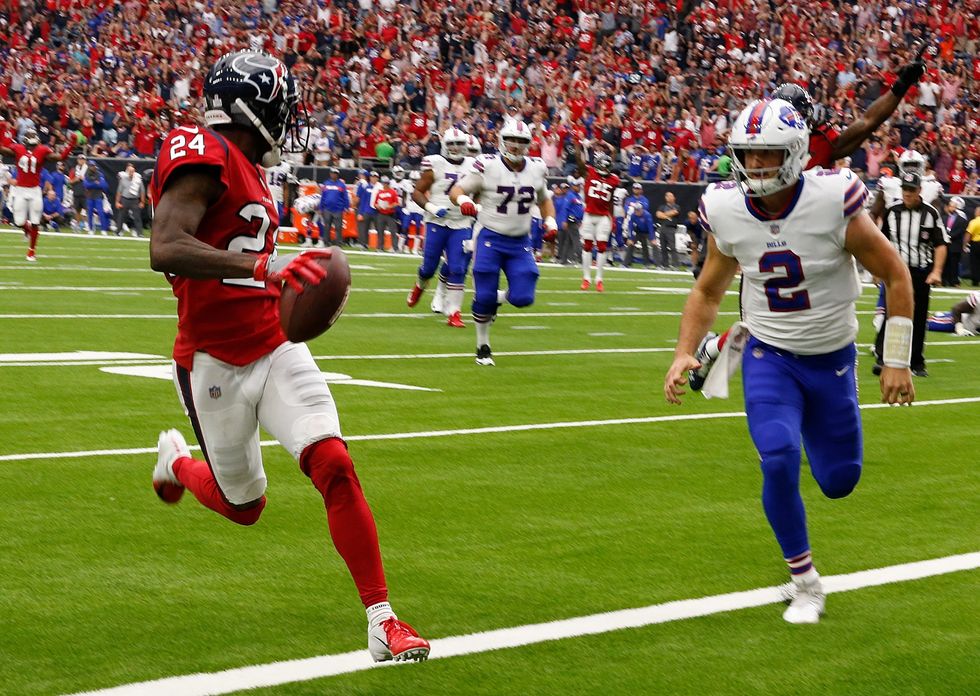 Jonathan Joseph had a big game. Bob Levey/Getty Images
He is one of the elder statesmen of the secondary and with veteran intuition Johnathan Joseph made the biggest play of his season,  picking off Nathan Peterman and taking the lead for the Texans on their way to squeaking out the win on Sunday against the Bills. 
On second and 10 with just under two minutes left, Peterman let one rip towards Kelvin Benjamin but Joseph stepped in front of the Bills pass and returned it 28 yards for the go-ahead score. 
"We had a great call for the defense," Joseph said. "Zone pressure and I think Kareem (Jackson) did a great job all day disguising things and we hadn't called that play all day."
The Texans trailed by three points but had first and goal from the one. Unfortunately, the red zone woes continued. The Texans managed to just tie the game, giving the Bills the ball back with a chance to take the lead. 
With no timeouts and just under two minutes, the Bills were committed to passing with their backup. Joseph made them pay. The ensuing drive saw Kareem Jackson add an interception of his own. 
Jadeveon Clowney joked after the game it was an "old guy" day with two of the longest-tenured Texans making plays in the game. Jackson laughed when he heard that and implored the young guys to play until they have an "old guy" game. 
Joseph was active on the day scoring six tackles and adding a couple of pass deflections to his stat line. He said postgame he hurt his shoulder earlier in the game but stayed in. It was his first interception of the season. Joseph tied Jackson for the Texans career lead in interceptions with his grab making it 14 for his career. Jackson would break that tie with his 15th on the next drive. 
One of the big factors that led to the Texans' loss to the Jaguars on Sunday was the secondary. Multiple flags for pass interference gave Jacksonville more opportunities to pick up first downs and score points.
Can confirm #Texans backup CB Shaq Griffin was cut.

Griffin started 6 games this year when Derek Stingley was out with a hamstring.
— DJ Bien-Aime (@Djbienaime) November 29, 2023
So it's no surprise that DeMeco Ryans is making some changes to his defense this week. According to several reports, Texans corner Shaq Griffin has been cut.
Nickel corner Tavierre Thomas was flagged for PI more than once on Sunday, and was burned badly by Jaguars receiver Calvin Ridley for a touchdown.
DeMeco was asked after the game if he considered replacing Thomas with Desmond King or Shaq Griffin. Ryans didn't give a definitive answer, but it looks like we got one today.
One has to wonder if Desmond Kings' experience playing nickel was the reason for his promotion to the active roster and why Griffin was released. If Thomas continues to struggle, King looks like the next man up to replace him.
#Texans activate Denzel Perryman, promote Desmond King to active roster, release Shaq Griffin, sign Matt Ammendola and Garret Wallow to practice squad, released Gerrid Doaks from practice squad and placed Tytus Howard (knee-patellar tendon surgery pending) on injured reserve https://t.co/knyyoqo7yC
— Aaron Wilson (@AaronWilson_NFL) November 29, 2023
The Texans also made some other adjustments to their roster on Wednesday, per Aaron Wilson. Linebacker Denzel Perryman returns from suspension, kicker Matt Ammendola and linebacker Garret Wallow join the practice squad. They also released Gerrid Doaks from the practice squad.
The other big piece of news involves left guard Tytus Howard. He heads to injured reserve, ending his season after hurting his knee against Jacksonville.
SportsMap Emails
Are Awesome