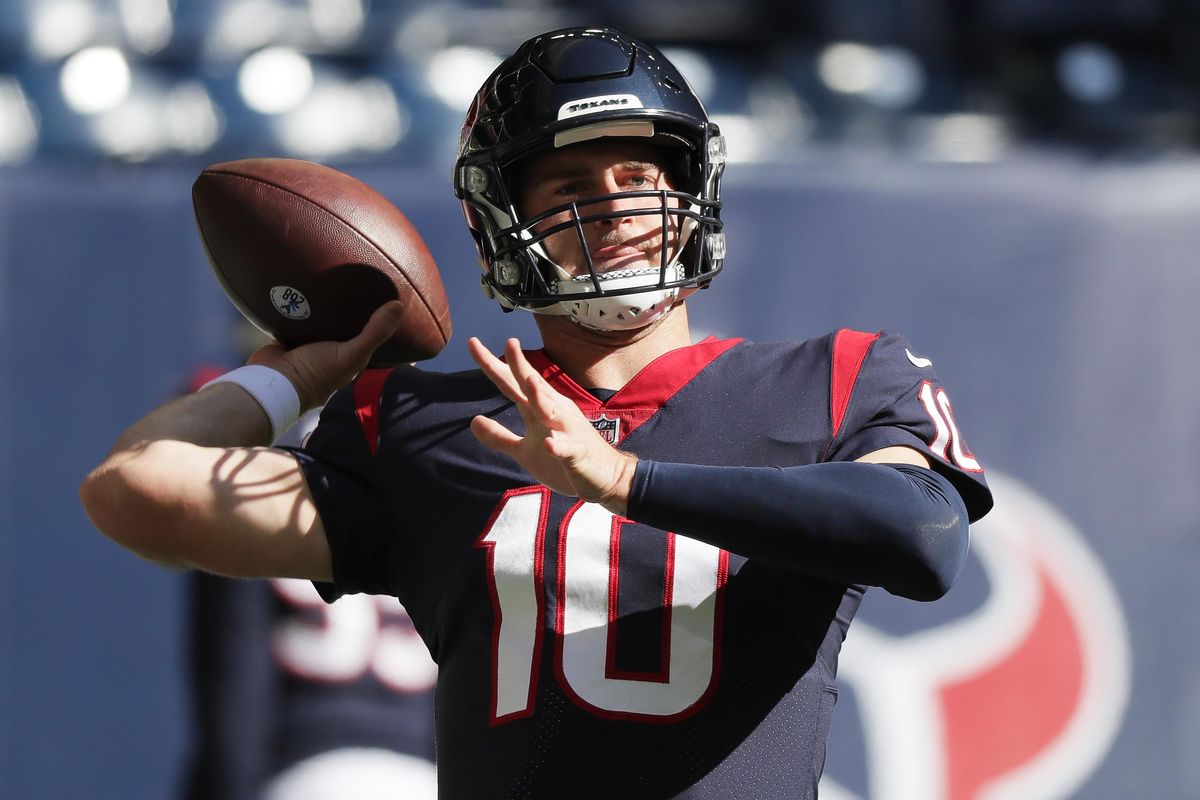 1. Davis Mills had an up-and-down day under center Friday. One play saw Mills drop back and try to get rid of the ball as Jonathan Greenard was rushing him only to have Greenard leap up and intercept Mills for what would have been an interception returned for a score.
2. A few plays later Davis Mills showcased his short memory. Mills surveyed the field, looked off the safety, and pitched a strike to Brevin Jordan over the middle, wide open, for a touchdown.
3. Davis Mills doesn't stack bad plays. It is rare to see multiple bad plays happen in a row and Mills be the cause, or a cause, of the play not working. When he misses something, he usually makes up for it the next play.
4. It was a makeshift offensive line on Friday. Max Scharping played a lot at left guard. Charlie Heck saw some snaps at left tackle while Laremy Tunsil took a breather. Veteran lineman Cedric Ogbuehi played some at right tackle. There was plenty of work emphasized on the rushing attack Friday. The offensive line was fine, nothing special. I would say slight edge to the defense overall.
5. Rookie Kenyon Green didn't practice. Right tackle Tytus Howard didn't practice either. Pro Football Network is reporting Tytus Howard is out with a positive Covid test. Kenyon Green was banged up last practice, but Lovie Smith expects both back in the coming days.
6.The offensive line had its hands full with the defensive line today. Jonathan Greenard made the above-mentioned play of the practice with an interception. It felt constantly like there was some level of success from the defensive line. Not to say they dominated, but I would think the defense is happy with their day.
7. Maliek Collins has been a nice player in camp. He looks a bit quicker than last year. Collins downplayed how many "close" plays he had last year citing that everyone knows the saying "close but no cigar." I asked him if he expected a lot of cigars this year. He chuckled and said yes. Teammate Roy Lopez gushed about what he believes Collins can be for this team and called his teammate one of the best defensive tackles in the league.
8. I almost wonder if quiet Derek Stingley days are good days. Stingley wasn't involved in a lot of plays, but I know Davis Mills saw him on Friday. Mills dropped back on one play and made a read to his left seeing Chris Moore. Stingley darted from coverage towards Moore causing Mills to move off Moore and head to Nico Collins for a score. Yes, the defense allowed a touchdown, but Stingley did his job.
9. Rookie safety Jalen Pitre is a "starting" safety for the team according to Lovie Smith. Pitre had an interception, depending on who you ask, in practice. It is clear the Texans trust him and have put a lot on his plate. I would expect to see a lot of the rookie safety, good or bad, this season.
10. Lovie Smith praised the team's depth at linebacker earlier in camp. I scoffed a little at the notion, but there seems to be a new linebacker making a play each day. Christian Kirksey had a nice stop in the run game today. Kevin Pierre-Louis, who played very little last year, has flashed. There's some depth here, despite my skepticism.
11. Ka'imi Fairbairn doesn't have a challenger in camp this year. I believed this offseason should have seen at the very least someone to challenge the kicker heading into his seventh year in the league. He's been solid in camp so far, but there have been some misses. It is tough to judge distance, but the team clearly has faith in him with no challenger in sight.
One of the big factors that led to the Texans' loss to the Jaguars on Sunday was the secondary. Multiple flags for pass interference gave Jacksonville more opportunities to pick up first downs and score points.
Can confirm #Texans backup CB Shaq Griffin was cut.

Griffin started 6 games this year when Derek Stingley was out with a hamstring.
— DJ Bien-Aime (@Djbienaime) November 29, 2023
So it's no surprise that DeMeco Ryans is making some changes to his defense this week. According to several reports, Texans corner Shaq Griffin has been cut.
Nickel corner Tavierre Thomas was flagged for PI more than once on Sunday, and was burned badly by Jaguars receiver Calvin Ridley for a touchdown.
DeMeco was asked after the game if he considered replacing Thomas with Desmond King or Shaq Griffin. Ryans didn't give a definitive answer, but it looks like we got one today.
One has to wonder if Desmond Kings' experience playing nickel was the reason for his promotion to the active roster and why Griffin was released. If Thomas continues to struggle, King looks like the next man up to replace him.
#Texans activate Denzel Perryman, promote Desmond King to active roster, release Shaq Griffin, sign Matt Ammendola and Garret Wallow to practice squad, released Gerrid Doaks from practice squad and placed Tytus Howard (knee-patellar tendon surgery pending) on injured reserve https://t.co/knyyoqo7yC
— Aaron Wilson (@AaronWilson_NFL) November 29, 2023
The Texans also made some other adjustments to their roster on Wednesday, per Aaron Wilson. Linebacker Denzel Perryman returns from suspension, kicker Matt Ammendola and linebacker Garret Wallow join the practice squad. They also released Gerrid Doaks from the practice squad.
The other big piece of news involves left guard Tytus Howard. He heads to injured reserve, ending his season after hurting his knee against Jacksonville.
SportsMap Emails
Are Awesome