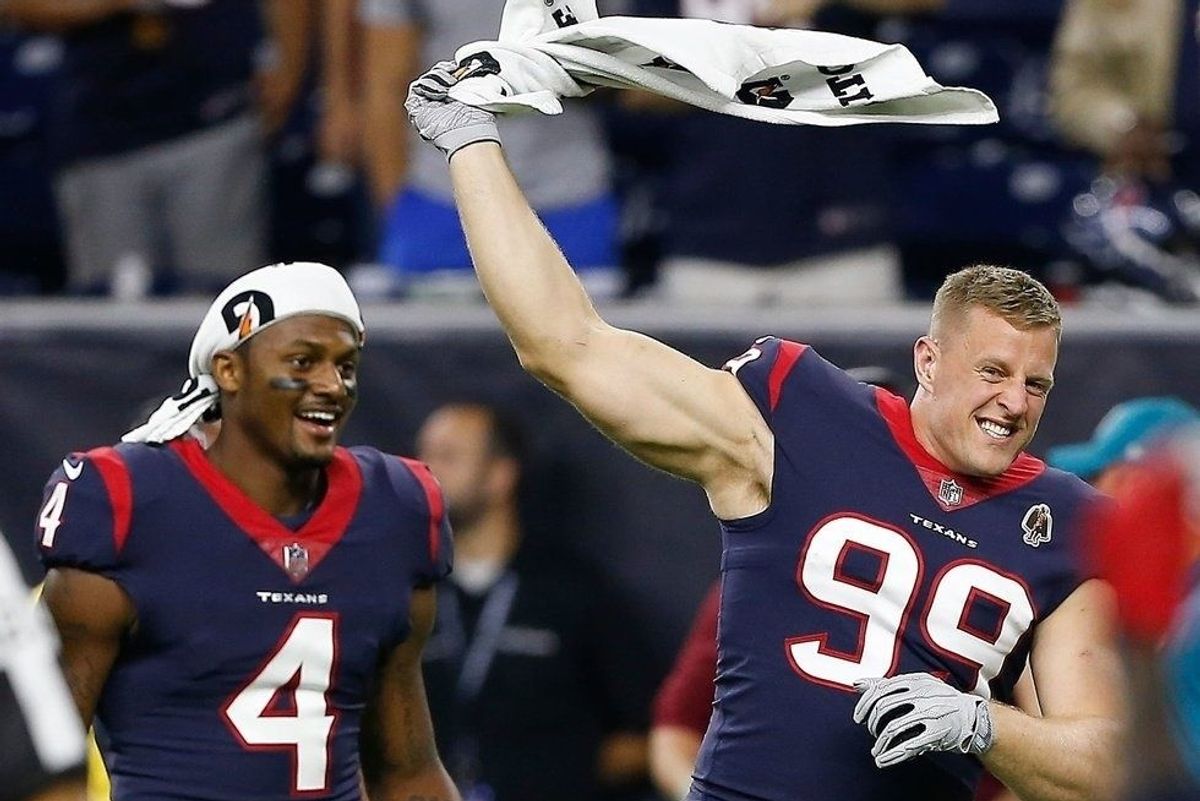 Photo by Bob Levey/Getty Images
When J.J. Watt appeared at his locker Sunday morning, he was greeted with a huge surprise. A box of Shipley Do-Nuts sat at his locker with a note that read, "From the Rook's" was the sight that welcomed the five-time Pro-Bowler back to the field.
After practicing in full pads for the first time on August 14, Watt did not touch the practice field all last week. His absence was the result of a new load management plan implemented by the Houston Texans' coaching staff.
Although he was not present on the practice field, Watt still managed to get some work done by participating in individual workouts inside Houston's Training Center.
"Now, because he has been playing a long time, some of that wear and tear begins to impact your body a little bit — so, we are managing J.J. this year," Assistant Coach Romeo Crennel said on Sunday. "We're not putting him out there all the time, particularly in practice, and try to manage him in practice so that he can be ready for the games and then he will be able to play and produce at a high level in the games. I think that he will do that when we get to the games. He is strong, he is good looking and when he puts that uniform on, he's an imposing figure."
The new load management plan is a strategy by the Texans to keep their star defensive end healthy for the entire 2020 campaign. With the exception of 2018, the 31-year-old prodigy from Wisconsin has dealt with a plethora of injuries that have forced him to miss 32 out of a possible 64 games over the past four seasons.
In 2019, Watt missed half the regular season after he sustained a torn pectoral injury during a Week 8 victory over the Oakland Raiders.
However, with the help of his coaching staff, 2020 has the potential to be one of Watt's healthiest seasons. During his first media session at the start of training camp, Watt stated that the lockdown quarantine period due to COVID-19 gave him a considerable amount of time to get his body ready for the upcoming season.
"I would say that the quarantine situation has given me literally nothing to do but work out every day," Watt said. "It truly has been one of the best off seasons from a workout standpoint that I've ever had and I'm very, very pleased about it. My body feels as good as it's felt since probably 2014, 2015 — somewhere around there. I'm really looking forward to getting into camp and just getting to work."
You know the rookies did something wrong yesterday when this shows up in your locker 😂😂😂 https://t.co/zrr2faVhhJ

— JJ Watt (@JJ Watt) 1598201389.0
It's a competitive situation for the players in line trying to obtain the job as the Texans' third-string running back. Since the start of training camp, Karan Higdon has showcased his potential to upgrade from the practice squad, while Scottie Phillips continues to leave an impression as a rookie.

With the 2020 season set to kick off in less than a month, it appears that the Texans are closing in on their guy. Following Sunday's practice, Houston's Head Coach and General Manager Bill O'Brien said that he expects to have Buddy Howell as the team's third running back.
"I'd say I think Buddy is right there right now," O'Brien said on Sunday. "I think again, special teams come into play there. Buddy is a different type of player, but a really good special teams player."
Unless David Johnson or Duke Johnson's season becomes riddled by nagging injuries, one can assure that Howell will reprise his role on special teams.
Since joining the team in 2018, the 24-year-old running back has appeared in 39 snaps — with 25 coming during the Texans' season finale loss against the Titans last season. For his career, Howell has only recorded 10 yards on five carries.
When Bryce Young and CJ Stroud were drafted with the first two picks of the NFL Draft, we knew they would be compared to one another for years to come.
And here we are just 11 games into the season and one quarterback has already seen his head coach fired. Panthers owner David Tepper spoke to the media on Wednesday and discussed his decision to fire Frank Reich, and also set the record straight on how they arrived at the decision to draft Young.
In so many words, Tepper basically blamed the Texans for how the top of the draft played out. He mentioned Stroud by name and said the Panthers were ready to draft him at No. 2 overall until the Texans backed out of the three-team trade with the Bears.
Tepper made a point of saying everyone in their building had Bryce Young as the top player on their draft board, despite rumors about Frank Reich preferring Stroud.
CJ Stroud and the Texans have been so much better than Bryce Young and the Panthers that Tepper clearly felt it was necessary to defend himself, and the decisions he's made for the organization.
In the end, the person that gets the worst end of the deal is Bryce Young. Coaching changes can be very difficult on young quarterbacks. And it looks like he'll have to learn a new offense in his second year when the Panthers hire a new coaching staff.
How fortunate we are as Texans fans to have DeMeco Ryans and CJ Stroud leading the team moving forward.
With all of this in mind, is there a reason Texans fans haven't fully bought in to the new-look Texans? JJ Watt was a guest on The Pat McAfee Show this week and was asked about the team's inability to fill the stadium on Sundays.
As a former player for the Colts, McAfee always thought Houston had the loudest and best fans in the NFL. And while the Texans are 9th in attendance this year according to ESPN, even CJ Stroud has asked for the fans to fill the stadium.
So there is something to it. You can see the empty seats in photos. So why aren't the Texans packing NRG with a shiny new franchise QB?
We believe the recent history of the team is why fans are slowly coming back. McAfee wasn't here for:
Bill O'Brien cussing at fans during games
Trading DeAndre Hopkins away for next to nothing
The Jack Easterby disaster
Deshaun Watson allegedly blaming ownership for why he wanted out
The Deshaun Watson scandal
Firing back-to-back coaches after one season, and the list goes on.
Don't miss the video above for the full conversation!
If you enjoy the videos, subscribe to SportsMapTexans on YouTube!
SportsMap Emails
Are Awesome