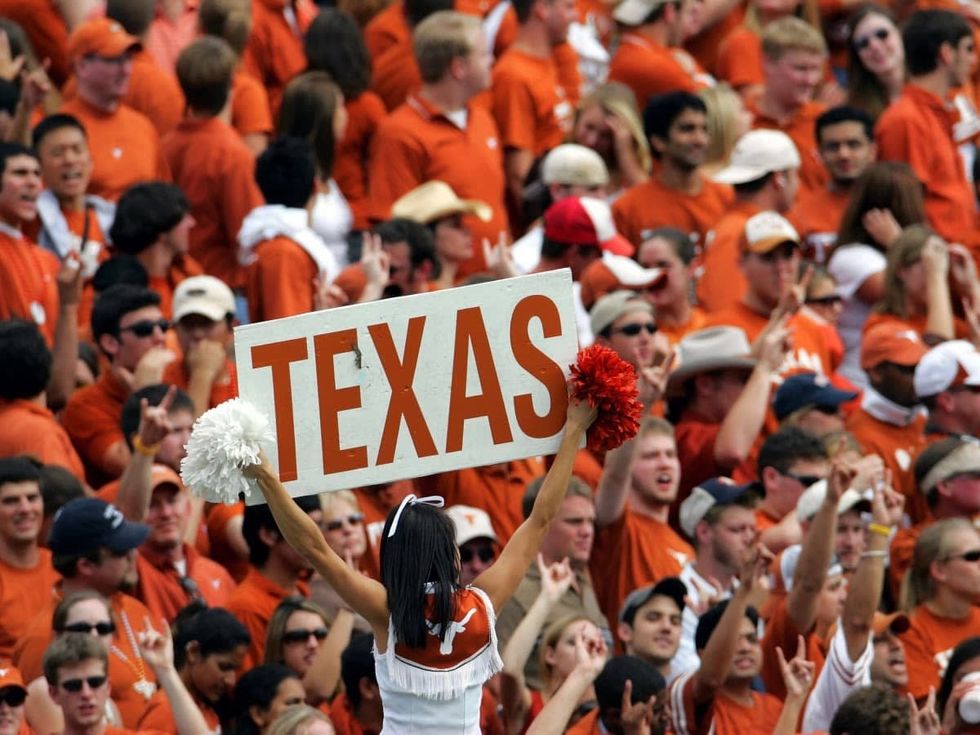 If the Longhorns are truly back, it has great longterm implications for the Big 12. Short term? Not so much. Ronald Martinez/Getty Images
The University of Texas holds the immediate and long-term future of the Big 12 in its hands on Saturday. Not bad for a university that's underperformed to their standards for almost a decade. 
It's simple, really. Texas wins, they're back, and the Big 12 has to realize the burnt orange powerhouse is going again. If the Longhorns lose, well, then the Big 12 can win a national title this year. Both can't happen. 
A win for Tom Herman and company would be the signature win in his short time at the helm of the program. He's likely been disappointing to most in his time at Texas. He's had three really ugly losses, two to Maryland and one to Texas Tech last year, but he's played good teams close. Last year's Texas team loses to USC and to TCU but this year's team handled both of them. Herman turned in the fourth overall recruiting class last year and is on schedule for a top class again. 
There is steam and a win against Oklahoma would show, truly for the first time in the Herman era, Texas is back. A win over the Sooners would also keep them in the hunt for a Big 12 title as well. If you think Texas can beat Oklahoma, they can beat West Virginia at home. Having the burnt orange machine back would be a great development for the conference. Two legitimate title contenders year in and year out hasn't been the case in the Big 12 for a long time. Knowing the winner of the Red River Rivalry game has a shot at the national championship each year is something the conference luminaires have to have been dreaming about. 
Now, about those national title hopes. Texas winning would be a disaster for the Big 12 this year. Oklahoma has the only true shot to make the playoff out of the Big 12. West Virginia and the Sooners play in the final week of the regular season and if both are undefeated they will rematch a week later for the Big 12 championship. Now, the Mountaineers may beat the Sooners once but they aren't beating them two weeks in a row, especially with the championship game in Arlington. So it rests on the Sooners and the Sooners alone because one-loss Oklahoma is out of the picture. So would one-loss Texas and West Virginia. So only undefeated Oklahoma can represent the Big 12 and Texas could ruin all that Saturday. 
Regardless of the outcome. Texas back or Oklahoma still alive for a title, Saturday feels like a big-time matchup again. It feels like the game matters more than just a rivalry game. There are conference-wide and nationwide ramifications from the Texas State Fair this weekend. It's been a while since we could say that. Now, which do you want to see? Texas back or Oklahoma's title hopes to stay alive. 
Luka Doncic had 41 points, nine rebounds and nine assists, and the Dallas Mavericks prevented the Houston Rockets from advancing to the quarterfinals of the NBA In-Season Tournament with a 121-115 victory on Tuesday night.
Kyrie Irving added 22 of his 27 points in the second half for the Mavericks, who had already been eliminated. Their victory allowed the New Orleans Pelicans to win Group B in the Western Conference with a 3-1 record.
Doncic fell just short of his 59th career triple-double. That would have tied him for ninth place all-time with Larry Bird. He shot 15 of 29, 3 of 10 on 3-pointers.
"Sometimes we take him for granted, and we shouldn't," Mavericks coach Jason Kidd said. "He's about winning, but it just so happens he's a walking triple-double.
"The Mavericks, who trailed by nine points in the third quarter, grabbed the lead for good at 99-98 with 6:25 to play on a drive by Irving. Leading 103-100 with 5:25 left, they went on an 8-2 run that included three free throws by Derrick Jones Jr. when he was fouled by Dillon Brooks on a 25-footer with the shot clock about to expire.
Jabari Smith Jr.'s 3-pointer with 8 seconds left pulled the Rockets within 119-115 before Dallas closed it out.
Doncic played after sustaining a low-grade sprain of his left thumb on his non-shooting hand early in Saturday's game. He wore a wrap on the thumb.
Doncic made a hook shot from the free throw line after recovering a loose ball near the baseline.
"I'm 2 for 2 in my career on the hooks," Doncic said, saying the other came while playing for the Slovenian national team against Sweden.
Irving shot 2 for 11 in the first half, 1 for 5 on 3-pointers, with no free-throw attempts. He was 6 for 11 in the second half, hitting 1 of 2 behind the arc, and sank all nine free throws.
"I told the team, 'Played well enough to win, not smart enough to win,'" Rockets coach Ime Udoka said. "We were extra-aggressive, especially at the end of the third quarter. Had multiple players make a few dumb fouls, put Kyrie at the line and got him going when he didn't have a lot going. You can be aggressive, obviously, but slapping somebody on a 3-point shot on the arm is an unintelligent play. It has nothing to do with aggression."
Alperen Sengun had a season-best 31 points for the Rockets, who had six scorers in double figures. Fred VanVleet had 10 points and 12 assists.
The Rockets have lost all six of their road games this season. They went into play leading the NBA by allowing an average of 104.4 points per game.
The Mavericks didn't use the specially built court for either of their home tournament games, citing dissatisfaction with the quality.
UP NEXT
Rockets: Will finish a back-to-back at Denver on Wednesday.
Mavericks: Host Memphis on Friday.
SportsMap Emails
Are Awesome