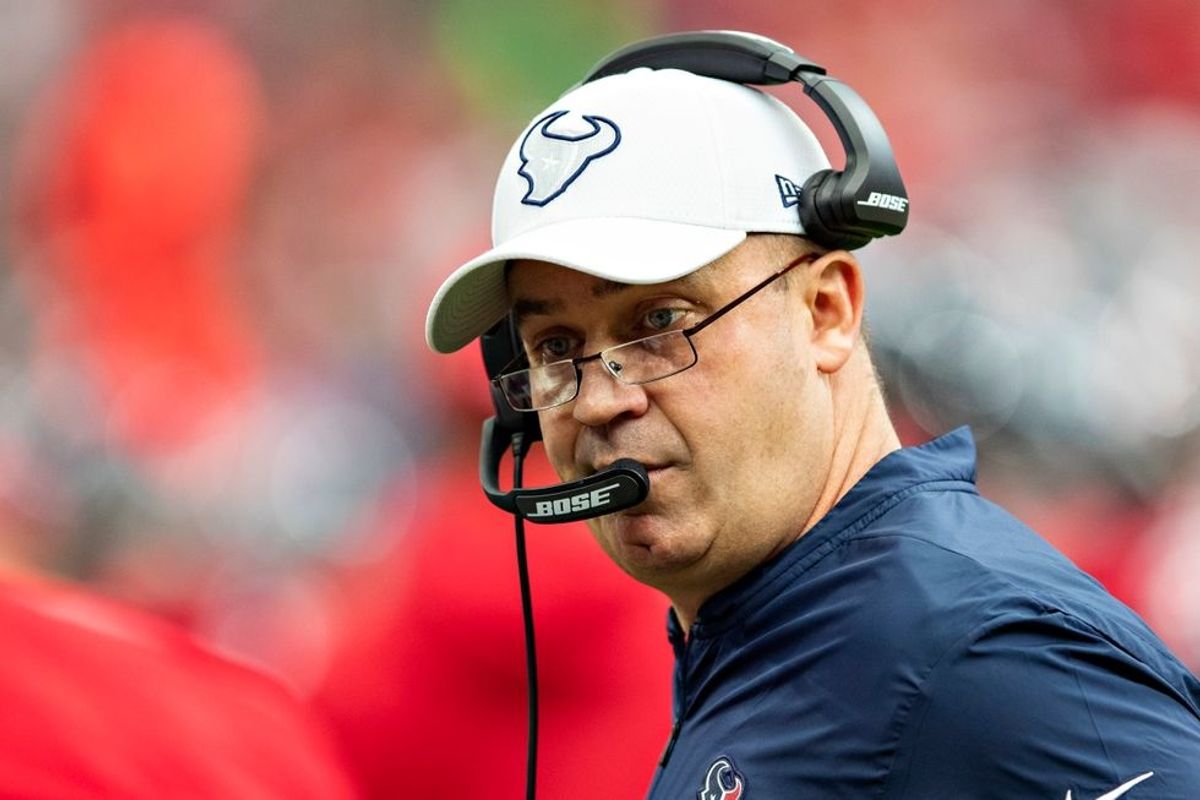 I'm not the best source of consolation after Sunday's disaster up in Kansas City. I might actually be one of the worst. When asked at brunch earlier that afternoon why I wasn't more excited about the Texans' divisional round I calmly explained my relationship with the Texans as loveless, but necessary. I was met with blank stares. We changed the subject.
I've come to realize that the Texans are the embodiment of Albert Einstein's definition of insanity. They are Marvin Lewis' Bengals. They are every Power Rangers episode.
They are the same thing every year. Predictably mediocre with an end result you can see from a mile away.
For everyone that shares my same mindset, this loss was frustratingly validating. There's nothing you can take from it. That's a game film reel that can be tossed in the garbage.
When you look at the Ravens' loss from last week, you can at least look positively on the direction your team is headed. The Texans, however, flew back to Houston with a stack of concerns leading into next season.
To be honest, Rooting for the Texans is exhausting. The Astros are at least either really good or really bad. The Rockets are typically good, always exciting, and generally sputter in the second round. The Texans, however, are true innovators in new forms of heartache.
This year was a historic collapse after an overtime victory. Last year they overcame an 0-3 start to clinch the division, only to be unceremoniously steamrolled by the Colts in round one. The year before? A rookie quarterback showing flashes of brilliance only to be lost early on to a freak ACL injury in practice.
The only way to break out of this perpetual cycle is for the franchise with no GM to have a good draft that they won't participate in until day 2.
I'm not trying to do a deep dive into the offseason woes the Texans are facing, there will be plenty of those articles coming down the pipeline. It's just hard to see the same team that has done the same things do anything different without some sort of substantial change made on the sidelines.
I lost what remaining confidence I had in Bill O'Brien in August of 2017 when he declared "Tom's the starter." Anyone who thought that Tom Savage had any business getting in the way of the development of Deshaun Watson was out of their mind in my opinion. O'Brien's production has remained mediocre while his influence on football operations has only increased. What about that formula suggests a breakout from what we've all grown accustomed to?
Personally I don't know what would be a worse scenario: having a terrible, mismanaged team that cycles through coaches, or a mediocre team that flashes potential that will seemingly never be achieved due to owner complacency? At least the terrible teams get good draft picks. In the meantime, Texans fans will always have their division championships to brag about I suppose. It doesn't seem like there will be much beyond that to celebrate anytime soon.
As Astros fans patiently wait for the club to make some moves in free agency, the Alex Bregman trade talk is picking up steam across several media outlets.
MLB Network Radio's Jim Duquette (also a former MLB GM) believes the Astros are listening to offers for Bregman because the team isn't planning on signing him to a massive contract extension.
The Astros are right up against the tax threshold, and dealing Bregman would give the team more flexibility to maneuver in free agency. He's set to make around $30 million in 2024.
This is certainly something Houston fans are used to. Owner Jim Crane has made a habit of letting his top tier players walk in free agency. They'll likely offer him a contract, like they did with Carlos Correa. But the Astros aren't usually willing to pay market value, and other teams certainly will.
To be fair to the Astros, signing Bregman to an 8-10 year deal probably isn't the best way to spend their money. So if they don't plan on re-signing him, they have two choices. Keep him for one more year, or trade him.
However, this would be a departure from their standard operating procedure. Trading Bregman before his deal expires would at least provide the team some value for one of their best players.
On the flip side, moving Bregman would absolutely weaken the team, and decrease their odds at winning a championship in 2024.
Let's face it, all good things come to an end. And the Astros have been serious World Series contenders for the last seven years. At some point, they'll have to replenish their weak farm system, and trading Breggy could help with that.
When should they trade him?
If they trade him before the season, they'll get a bigger haul than at the trade deadline. Either way, we shouldn't expect a massive return for Alex. Teams don't like trading top prospects AND having to hand out mega contracts.
Astros GM Dana Brown spoke this offseason about being creative. And doing something like this would certainly qualify.
Who would replace him?
We know the farm system is thin, so it could be as simple as playing Mauricio Dubon at third. Grae Kessinger could fill the utility infield role, and the team has plenty of options in the outfield with Jake Meyers, Chas McCormick, Yordan Alvarez, and Kyle Tucker. Corey Julks could also add some depth.
Is there a chance the Astros would consider moving their Gold Glove shortstop to third base?
Be sure to watch the video above as we cover all the angles on a potential Bregman trade!
If you enjoy the videos, subscribe to SportsMapHouston on YouTube!
Presented by Coors Light.
SportsMap Emails
Are Awesome