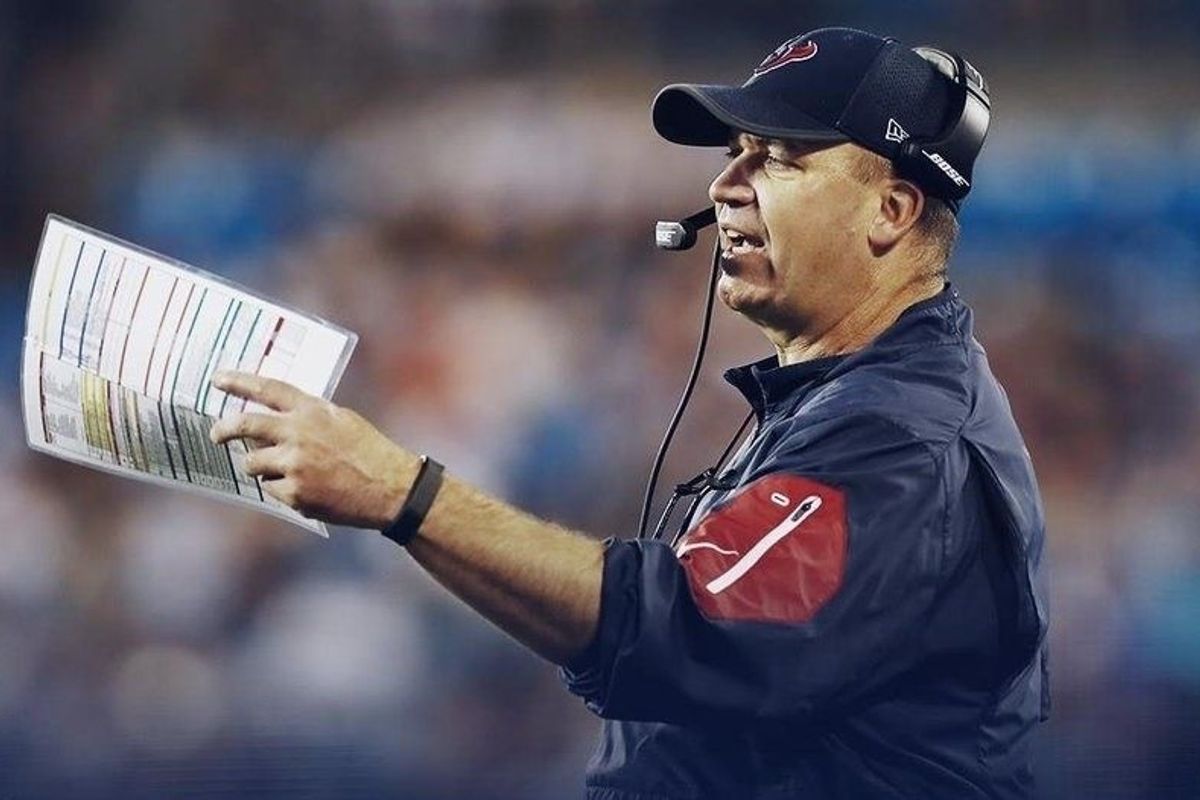 Sunday night, the Texans did something not many truly thought was possible: they dominated the Patriots. I know the 28-22 final score and total yardage differential aren't indicative of domination, but the eye test told a different story. As I stated in my recap of the game, Tom Brady's frustration was visible early on. A ton of credit goes to head coachgeneral manager grand poobah of all things Texans, Bill O'Brien (more on his new title later). The players were so excited about the win and the roll O'Brien played, they gave him the game ball. It felt good to beat Bill Belichick, especially since he gave O'Brien a shot at the NFL level of coaching. This was a big win for this organization and the fans, but there's more to do.
Sure, beating the team that has owned you is a good look, but there's more to achieve. There are several reasons why I believe O'Brien is out of excuses. Here's why I think it's time for him to bleep or get off the pot:
Grand Poobah
News came down on Sunday that the Texans won't be hiring a general manager. This essentially means O'Brien is the Grand Poobah of the Texans. The only people who are more powerful are the McNairs, and they seem OK with giving O'Brien all the stroke he needs to do whatever he feels is necessary to build a winner here. With him as the GM and head coach, he only answers to the McNairs. Bill Parcells once famously stated "If they want you to cook the dinner, at least they ought to let you shop for some of the groceries." O'Brien now has the card, cart, and is all alone in the store.
Deshaun Watson
O'Brien calls the plays, but Watson executes them. Often times when the called play goes awry, Watson improvises and makes chicken salad out of chicken bleep. His ability to extend plays is uncanny. He's enough to cover up some poor play calls and/or accentuate the good ones. O'Brien has the most key piece any grand poobah needs to succeed in football. He even calls certain plays to cater to Watson's abilities. The story about O'Brien and his coaching staff asking Watson what he felt most comfortable running and implementing those plays in his rookie year shows that he has the ability to adapt to Watson. If O'Brien wants to have continued success, Watson will play a very large part.
No one left to blame
Often times when things don't go well, people will blame others around them and absolve themselves of any responsibility. There is literally no one left for O'Brien to blame. He's now taken over the organization and holds all the keys to the kingdom. There's no Rick smith or Brian Gaine to get in his way of doing anything and everything he wants. Anybody with a seat at the table is probably too scared to say anything against him because O'Brien could have them removed. One of my favorite rappers growing up in New Orleans (B.G.) had an album in 1997 called "It's All On U" and this perfectly describes O'Brien's situation off Kirby.
Shooting his shot
After firing Gaine, O'Brien was the de facto GM. He went out and traded a motherload of draft picks for Laremy Tunsil and Kenny Stills. He also traded Jadeveon Clowney for some loosies, a case of quarter waters, a 3rd round draft pick. He then traded another pick for Gareon Conley, and later claimed Vernon Hargreaves off waivers. All these moves were made to fill holes the team has, and to clean up the messes that were made by previous personnel decisions, or lack thereof. The lack of draft capital over the next couple years makes it hard for anyone to come here and think he could turn things around quickly. He decided to go all in, now it's time to produce tangible results.
The win over the Patriots was nice, but let's see long term sustainable success. Winning the division six of the last nine years (if they hold on to win this year, which they should) is somewhat impressive, but the lack of deep playoff runs has been underwhelming. Don't get me wrong, I'm glad to see the team in the position that they're in. However, I'm ready to see them advance beyond their current state of perennial playoff team and ascend into the realm of Super Bowl contender. The only way to do that is to consistently make AFC title games and Super Bowl appearances. That ascension rests squarely on the shoulders of O'Brien. It's time for him to lead this team to the Promised Land, or move along. Either bleep, or get off the pot.
On Thursday Dusty Baker made official what had been speculated for weeks – he will not be returning as Astros manager in 2024.
This was not a retirement announcement. Technically his contract with the Astros had expired. Thank you for a job well done. Good luck with your future endeavors. Don't be a stranger. You'll always be a part of the Astros family.
He wasn't fired for the same reason. You can't fire someone who is no longer an employee of the organization.
He's just not returning. Let's leave it at that.
Basically Baker was just getting in front of the situation. He's smart. He wanted to control, at least appear to control his destiny. By announcing that he won't be back as Astros manager, he saved owner Jim Crane and general manager Dana Brown a possible backlash of dumping a 74-year-old future Hall of Famer.
This way, there is no bad guy. Baker is leaving and it's his choice. He goes out with dignity intact. Now he can return home to Northern California and spend his days hunting and fishing and, as Marvin Zindler used to say, whatever makes you happy.
Baker used the old "you can't fire me, I quit" tactic. At least he didn't tell the Astros to "take this job and shove it."
The first recorded ploy of "you can't fire me, I quit" was in 1964 in, oddly enough, the Rudolph the Red-Nose Reindeer animated TV special. Rudolph performs the song, "We're a Couple of Misfits." The lyrics go "Why am I such a misfit, I am not a nitwit, they can't fire me, I quit!"
In 2023 Dusty Baker was a misfit in the Astros organization.
Reports had circulated for several weeks that Baker would not be invited back for 2024. The decision was inevitable and probably best for both Baker and the team. The Astros were flailing in second place, more threatened by the Mariners creeping up the standings than the Astros overtaking the Rangers for first place in the American League West. Plus there were disagreements between Baker and management over how to award playing time to roster players. Baker clearly had grown tired of being told how to run his business.
There's a saying that a new broom sweeps clean. Earlier this year, Crane hired Brown as the Astros new general manager. One of the key decisions, perhaps the biggest, that a general manager makes is who manages the team. Dana Brown didn't hire Dusty Baker.
Dusty Baker wasn't a Dana Brown guy. While the Astros made it to Game 7 of the ALCS, it was a troublesome regular season. The Astros finished with 90 wins, 16 fewer than their World Series title year in 2022. There are cracks in the team's foundation that must be addressed from a new perspective. This is Dana Brown's team moving forward.
Listen to Baker's carefully chosen words – and what he didn't say - when he broke the news to USA Today that he would not be managing the Astros in 2024.
"What I really appreciate is that Jim (Crane) has been totally honest and transparent with me on all things," Baker said.
That could either mean that Baker read the writing on the wall or was told that a decision had been reached to move in new a direction after the 2023 season.
"I have a lifetime of knowledge, much more than those who have never played the game."
He might be talking about fans and the media, who have been on Baker's back this season for his perplexing lineup choices and other strategy moves. Baker can read the newspapers and he has a radio in his car. He likely recognized that he had lost much of the public's support.
But listen to his closing words.
"I still have a lot to offer, baseball has been my life. I'm gone, but I will be back."
Baker is 74. If the phone were to ring tomorrow and it's a team looking for a veteran manager with playoff experience … "when do I start?"

Remember Daryl Morey's reason for leaving as Rockets general manager on Oct. 15, 2020 after 13 years in Houston. He said he wanted to spend more time with his family.
Seventeen days later he signed to become president of basketball operations with the Philadelphia 76ers.
SportsMap Emails
Are Awesome