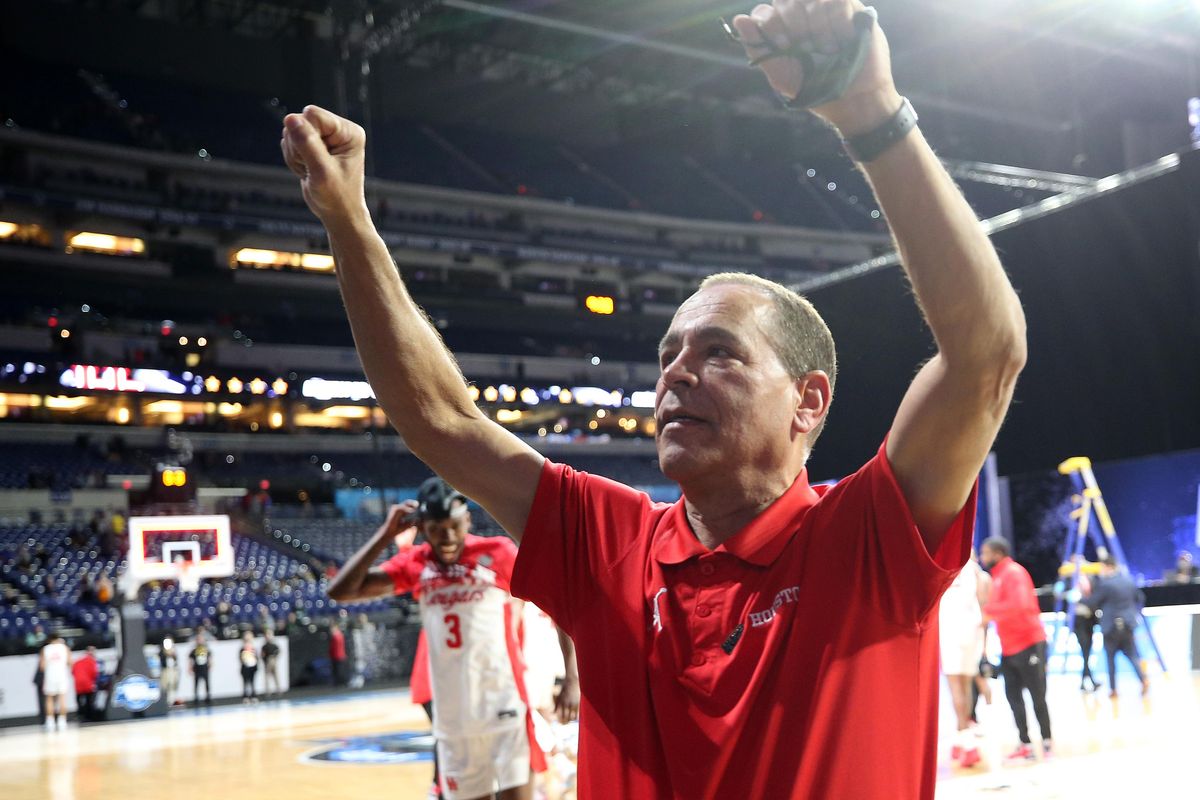 Houston was no match for Baylor.Photo by Jamie Squire/Getty Images
Amid the scoring droughts, overall lack of firepower, and stupid jokes on the set by Charles Barkley, the Cougars were simply outmatched. However, Cougars Nation can hold their heads high. Ignore the scoreboard and the end result of 78-59, the Houston Cougars identity is firmly intact, and they are well positioned for the future. In many ways, the Cougars had already "won" before stepping onto the court Saturday Night at Lucas Oil.
The scoreboard sometimes doesn't matter in the overall picture. The "bigger" storyline is that U of H basketball is "back" at an elite level, generating far more interest in town than even the pro team that takes up residency at Toyota Center. Kelvin Sampson's program will remain in title contention for years to come. They will remain elite, because Sampson doesn't have "quit" in his DNA. During Saturday's blowout loss to Baylor, I thought of Gloria Clemente's character from the movie White Men Can't Jump, played by actress Rosie Perez. Her quote of "sometimes when you lose, you really win." Houston's recent achievements are vast and well documented. (Anyone that can survive three weeks cooped up in hotel rooms in Indianapolis, are stronger than most.)
Give credit to Baylor, especially the depth on their bench. More than anything, the 17-0 point differential in the first half paved the way for the Bears' first half dominance. Aside from Marcus Sasser, the offense really never got on track. Certain stretches reminded me of a decade ago, as I witnessed the offensive futility of a national title game at Reliant. On that particular night, the Butler Bulldogs struggled in putting a meager 41 points on the scoreboard in a loss to U-Conn.
Expect the Cougars to reload. Expect future runs to the Final Four, and if the stars align, they might even cut down the nets in two years at NRG Stadium. The future is bright!
One of the big factors that led to the Texans' loss to the Jaguars on Sunday was the secondary. Multiple flags for pass interference gave Jacksonville more opportunities to pick up first downs and score points.
Can confirm #Texans backup CB Shaq Griffin was cut.

Griffin started 6 games this year when Derek Stingley was out with a hamstring.
— DJ Bien-Aime (@Djbienaime) November 29, 2023
So it's no surprise that DeMeco Ryans is making some changes to his defense this week. According to several reports, Texans corner Shaq Griffin has been cut.
Nickel corner Tavierre Thomas was flagged for PI more than once on Sunday, and was burned badly by Jaguars receiver Calvin Ridley for a touchdown.
DeMeco was asked after the game if he considered replacing Thomas with Desmond King or Shaq Griffin. Ryans didn't give a definitive answer, but it looks like we got one today.
One has to wonder if Desmond Kings' experience playing nickel was the reason for his promotion to the active roster and why Griffin was released. If Thomas continues to struggle, King looks like the next man up to replace him.
#Texans activate Denzel Perryman, promote Desmond King to active roster, release Shaq Griffin, sign Matt Ammendola and Garret Wallow to practice squad, released Gerrid Doaks from practice squad and placed Tytus Howard (knee-patellar tendon surgery pending) on injured reserve https://t.co/knyyoqo7yC
— Aaron Wilson (@AaronWilson_NFL) November 29, 2023
The Texans also made some other adjustments to their roster on Wednesday, per Aaron Wilson. Linebacker Denzel Perryman returns from suspension, kicker Matt Ammendola and linebacker Garret Wallow join the practice squad. They also released Gerrid Doaks from the practice squad.
The other big piece of news involves left guard Tytus Howard. He heads to injured reserve, ending his season after hurting his knee against Jacksonville.
SportsMap Emails
Are Awesome