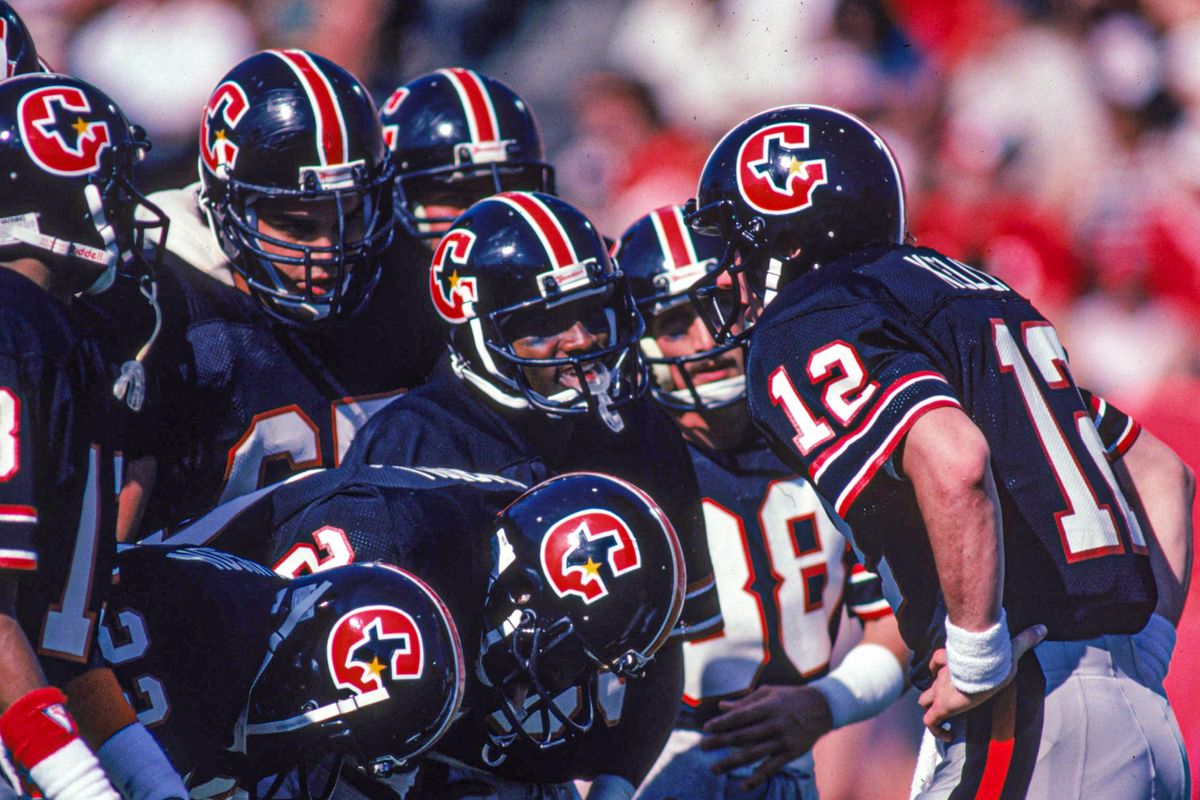 The USFL will return in 2022. Photo by Stephen Dunn/Allsport/Getty Images
Are you ready for some football, lots of it, possibly too much of it, next spring?
Last week the United States Football League, last seen filling the air with long passes and gadget plays between 1983 and 1985, announced plans to relaunch with "at least eight" teams starting next March. Meanwhile the XFL's scheduled return in 2022 is on hold while the league discusses a possible merger with the Canadian Football League.
Houston's chances of landing a USFL team are decent to a lock bet. The Houston Gamblers were a USFL expansion team in 1983-84 and introduced the run-and-shoot offense to pro football. Jim Kelly was the star quarterback. Since the USFL owns the rights to all of its original team names, and Houston has several available stadiums and a growing population, it makes sense for the USFL to double-down on the Gamblers.
Still the USFL is a longshot for long-term success. Since 1960, more than a dozen upstart football leagues have tried and failed to gain a foothold on the American sporting public. Spanish philosopher George Santayana said, "Those who cannot remember the past are condemned to repeat it." English poet Alfred Lord Tennyson put it this way, "In the spring a young man's fancy lightly turns to thoughts of love" – not run-pass options and quarterback sacks.
Here's just a partial list of football leagues that tried to compete or co-exist with the mighty National Football League: Alliance of American Football (2019), Continental Football League (1965-69), Indoor Football League (1999-2001), Professional Indoor Football League (1998), United Football League (2009-12), World Football League (1974-75), XFL (2001), and XFL (2020).
Everything in its place, and football's place might be limited to fall through the Super Bowl in winter. While it's true that the mighty NFL's grip on America may be slipping just a little (attendance hit a 15-year low in 2019, TV ratings were down 7 percent last year), the "shield" still is the most popular sports league by far. Nothing compares.
In 2002, Playboy ran a pictorial, "The Women of Enron," and the magazine's top brass came to Houston for a big publicity blowout. I asked one of Playboy's executives, "is the Internet hurting killing Playboy? I've heard there's free porn on the Internet."
The executive said, "Yes, our sales are down. We like to put it this way, we've fallen all the way to No. 1."
That's the NFL, still the 1.
The USFL's announcement last week did not mention where its "at least 8" teams would be based, who would coach the teams, who would play, in which stadiums or much of anything else. The league did release a promotional video with Doug Flutie, a former USFL star, promising, "The USFL is back. See you in 2022. It's football. It is real football. It's pro football at the highest level. It's just being played in the spring."
While the original USFL was loaded with moneybag owners and could afford to lure coveted NFL prospects like Herschel Walker, Steve Young, Jim Kelly and Reggie White, this new incarnation won't have deep pockets. Teams will not have individual owners, the league will own all the franchises.
The USFL has a TV contract with Fox, which also has a financial stake in the new league. But having a TV deal doesn't guarantee success. The Alliance of American Football had hundreds of millions of dollars invested and TV contracts with CBS, TNT and the NFL Network and barely made it through eight games of its inaugural season in 2019 before declaring bankruptcy. The XFL partnered with NBC for its one-and-done season in 2001. Two decades later, XFL 2.0 games aired on Fox and ESPN and still the league landed in bankruptcy halfway through its season.
Maybe it's just that America is suffering from football fatigue. Depending on your monthly cable bill, you can watch 20 college football games on Saturdays. Last year there were 44 bowl games and five all-star games. Teams with losing records, for Heaven's sake, earn a bowl bid now. Last year, Mississippi State finished its regular season with a 3-7 record and was invited to the Armed Forces Bowl. And won!
Granted 2020 was a weird pandemic year. But other teams with losing records have played in a bowl game since 2015, like Hawaii, North Texas, Nebraska, Minnesota and San Jose State.
With the right cable package, fans can watch every NFL football game all season long – that's 333 games including pre-season, regular season, post-season and the waning Pro Bowl. The NFL is expanding its regular season schedule to 17 games next season. Is more too much?
Flutie promised the USFL would provide football at the "highest level." Some might say that the NFL isn't even doing that. Where will the USFL find those highest-level quarterbacks? Quick, who played quarterback for Denver last year? For Cincinnati after Joe Burrow went down with an injury? For San Francisco after Jimmy Garrapolo was hurt?
For Houston this year? Where is Mitchell Trubisky?
One hope for USFL success lies in gambling, which never goes out of season. Bettors need the action, and it doesn't stop after the Super Bowl. It doesn't matter who's playing. One year I was in Las Vegas during an NFL strike. I bet $100 on the Hamilton Tiger-Cats to cover against I don't remember. I couldn't name one player on the Tiger-Cats then, now or ever. And I won!
Here's something that isn't helping. With social media critically important for sports leagues and teams to stay connected with fans, the USFL does not own usfl.com or theusfl.com. Then again, if you click on whitehouse.com, you won't find the First Family's residence, but rather a gambling site. On second thought, that sounds about right.
The Houston Texans came away with a thrilling win over the Denver Broncos on Sunday and improved their record to 7-5 with the Jets up next on the schedule.
And while Nico Collins had a huge game with almost 200 yards receiving, the big story from Sunday was Will Anderson and the Texans' defense.
Anderson had two sacks and four QB hits, making it a long day for Russell Wilson. Anderson also tipped a pass that was intercepted by Derek Singley. And let's not forget, he also got a piece of a punt that helped Houston get better field position.
Derek Stingley Jr had two of the Texans interceptions this week, and he's starting to remind fans why he was selected with the No. 3 pick in the draft.
The Texans showed a lot of heart as they were able to stop the Broncos and secure the win when Jimmy Ward caught Wilson's third interception of the day in the end zone.
It should also be noted that after a rough performance against the Jaguars, corner Tavierre Thomas didn't play a single snap on defense, with Desmond King starting in his place at nickel corner. King led the team in tackles and also made a huge play, stripping the ball from the running back and scoring a touchdown. The player was later overturned and didn't count. Once again highlighting the terrible officiating in the NFL this season. Had the play counted, the score would not have been close.
Bad news for Texans fans
There were some negatives from the game, unfortunately. Texans receiver Tank Dell broke his fibula blocking at the goal line, and will miss the remainder of the season. A huge blow for Houston. Also, a questionable decision to have Dell blocking in that situation.
Someone will have to pick up the slack with Dell unavailable moving forward. Noah Brown had back-to-back games with over 150 receiving yards, before missing two games due to injury. In his first game back against Denver, he had two targets and didn't record a catch. He also had a drop on Sunday.
Robert Woods also had zero catches this Sunday, so something will have to change. Stroud can't have two of his top three receivers without any catches.
Be sure to watch the video above for our reaction to the Texans win, how the Texans will acclimate to life without Tank Dell, and much more!
Catch Texans on Tap (a Texans podcast) every Monday on YouTube.
SportsMap Emails
Are Awesome