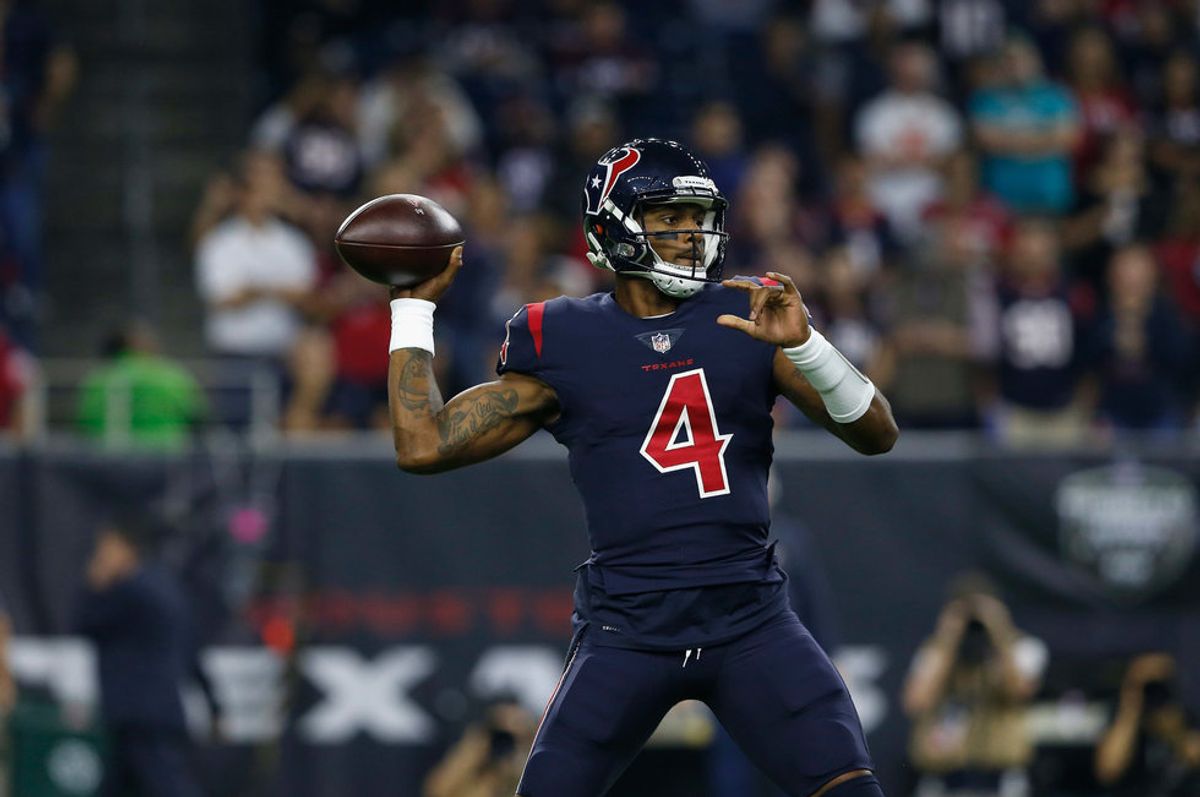 Photo by Tim Warner/Getty Images
Football season is finally here, so let's take a look at how the fantasy ranks are stacking up for Week 1. Keep in mind, these are PPR rankings, and don't forget to set your lineup for Thursday Night Football. If you have any questions feel free to hit me up on Twitter. Be sure to check out my show MoneyLine with Jerry Bo on ESPN 97.5FM. We're on every Sunday from 10-noon, and we'll talk a lot of fantasy football and NFL gambling getting you ready for kickoff every Sunday.
QB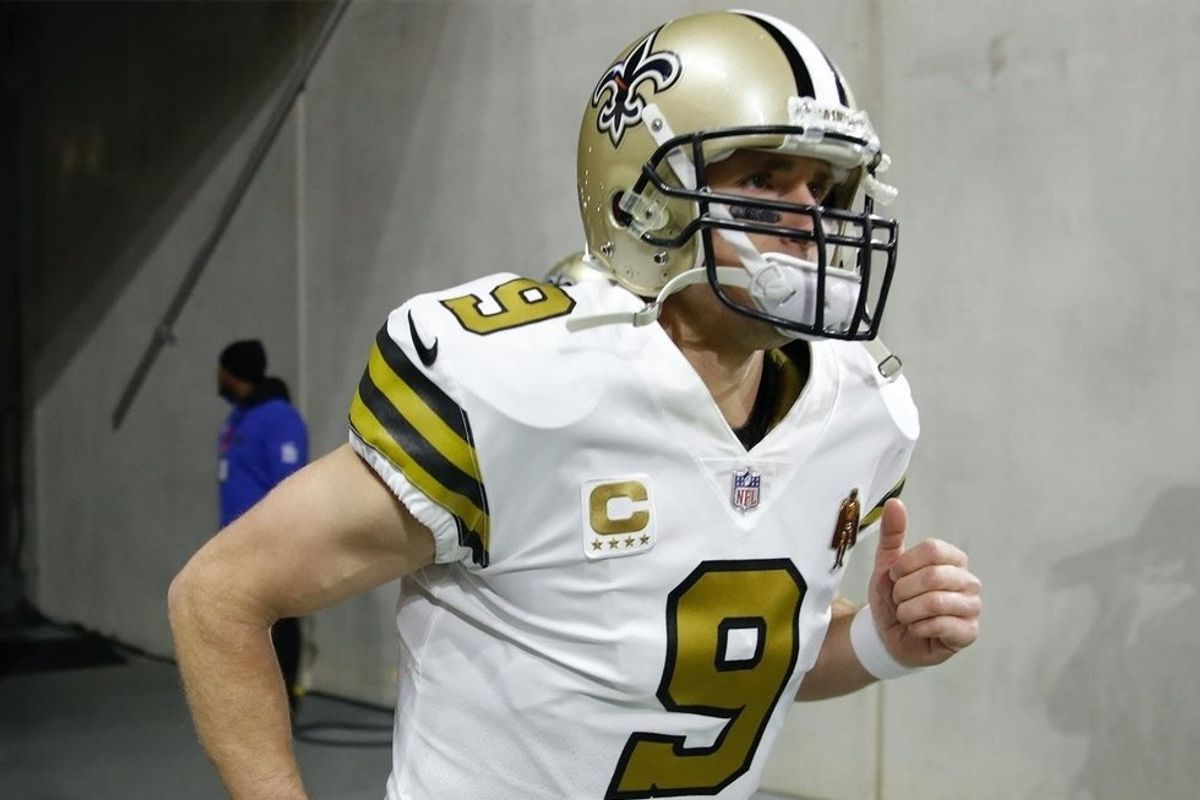 Photo via Saints/Facebook
1Carson Wentz PHIvsWAS
2Patrick Mahomes KC@JAX
3Deshaun Watson HOU@NO
4Drew Brees NOvsHOU
5Baker Mayfield CLEvsTEN
6Aaron Rodgers GB@CHI
7Lamar Jackson BAL@MIA
8Jameis Winston TBvsSF
9Ben Roethlisberger PIT@NE
10Tom Brady NEvsPIT
11Russell Wilson SEAvsCIN
12Matt Ryan ATL@MIN
13Jared Goff LAR@CAR
14Dak Prescott DALvsNYG
15Cam Newton CARvsLAR
16Mitch Trubisky CHIvsGB
17Kyler Murray ARIvsDET
18Matthew Stafford DET@ARI
19Kirk Cousins MINvsATL
20Jimmy Garoppolo SF@TB

RB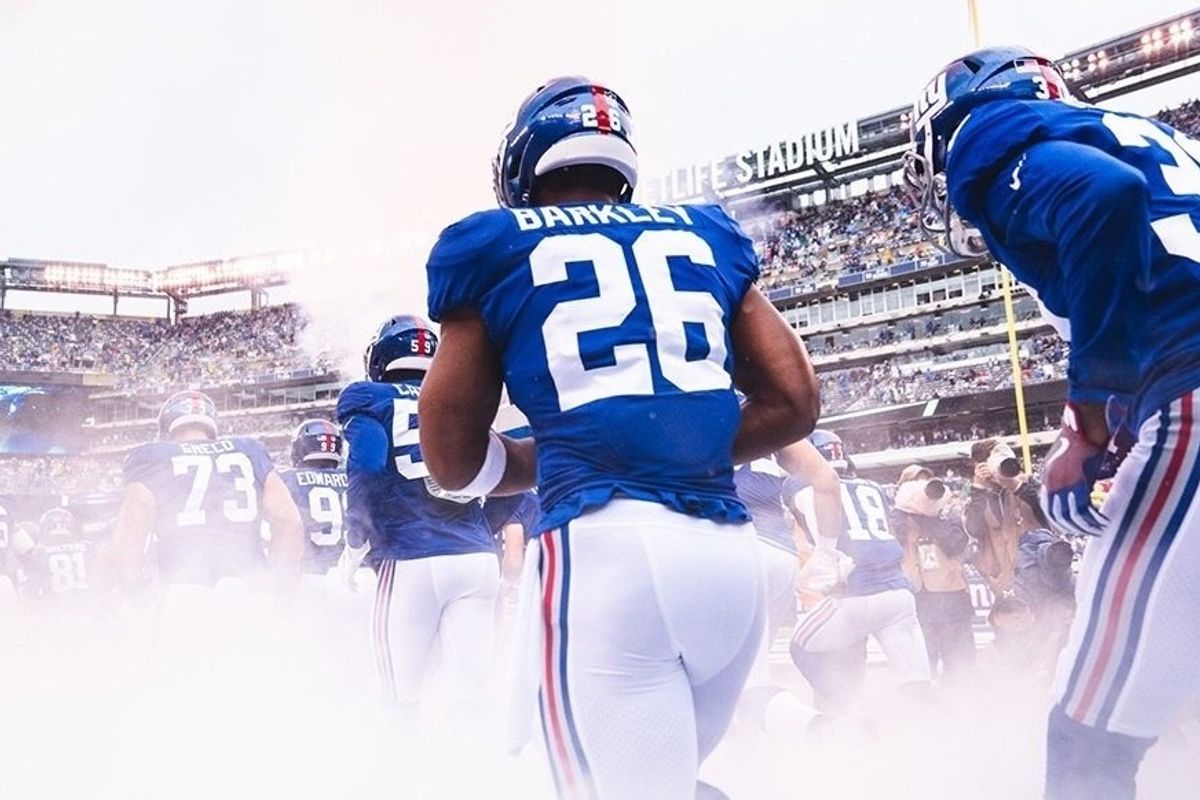 Photo via: Giants/Facebook
1Saquon Barkley NYG@DAL
2Alvin Kamara NOvsHOU
3Christian McCaffrey CARvsLAR
4Nick Chubb CLEvsTEN
5James Conner PIT@NE
6Dalvin Cook MINvsATL
7Le'Veon Bell NYJvsBUF
8Ezekiel Elliott DALvsNYG
9Chris Carson SEAvsCIN
10David Johnson ARIvsDET
11Todd Gurley LAR@CAR
12Mark Ingram BAL@MIA
13Leonard Fournette JAXvsKC
14Kerryon Johnson DET@ARI
15Joe Mixon CIN@SEA
16Devonta Freeman ATL@MIN
17Tevin Coleman SF@TB
18Austin Ekeler LACvsIND
19David Montgomery CHIvsGB
20Josh Jacobs OAKvsDEN
21Sony Michel NEvsPIT
22Duke Johnson HOU@NO
23Damien Williams KC@JAX
24Aaron Jones GB@CHI
25Marlon Mack IND@LAC
26Derrick Henry TEN@CLE
27James White NEvsPIT
28Phillip Lindsay DEN@OAK
29Tarik Cohen CHIvsGB
30Derrius Guice WAS@PHI
31Matt Breida SF@TB
32Kenyan Drake MIAvsBAL
33Latavius Murray NOvsHOU
34Justin Jackson LACvsIND
35Rashaad Penny SEAvsCIN
36Mile Sanders PHIvsWAS
WR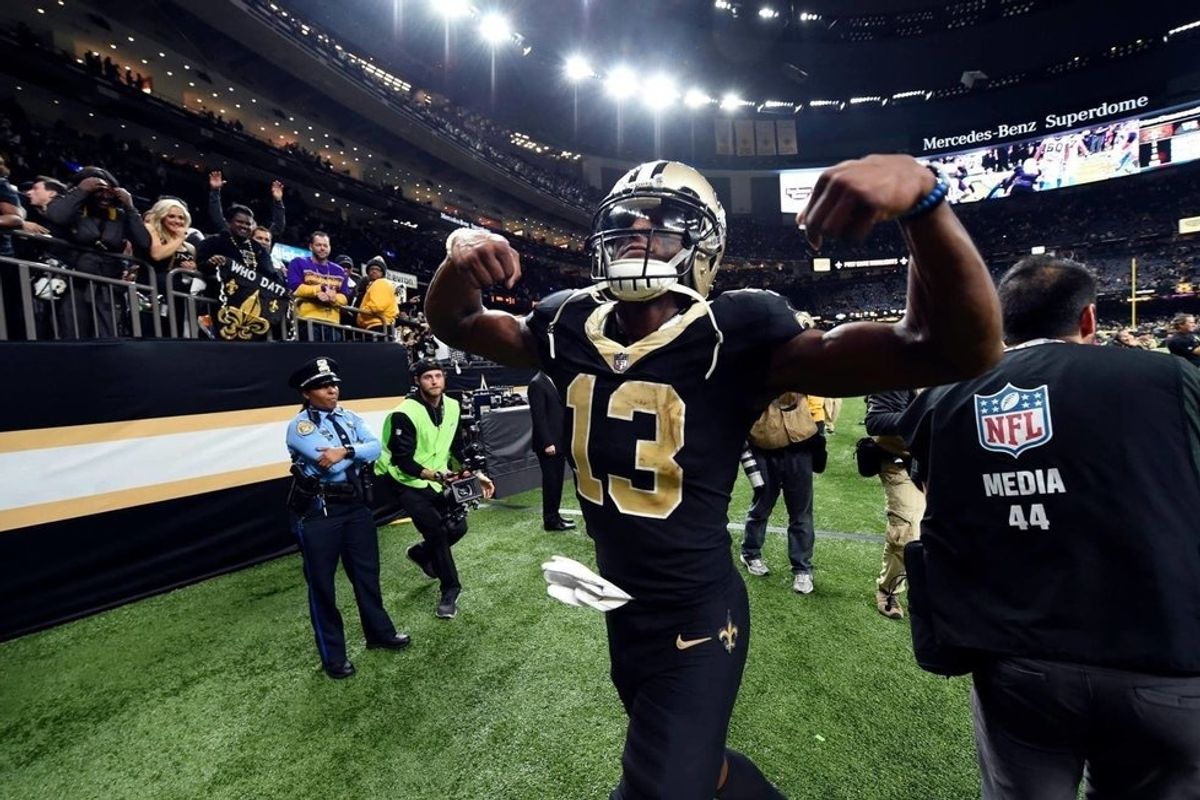 Photo via New Orleans Saints/Facebook
1Michael Thomas NOvsHOU
2DeAndre Hopkins HOU@NO
3Davante Adams GB@CHI
4Julio Jones ATL@MIN
5Odell Beckham Jr CLEvsTEN
6JuJu Smith-Schuster PIT@NE
7Mike Evans TBvsSF
8Tyreek Hill KC@JAX
9Adam Thielen MINvsATL
10Julian Edelman NEvsPIT
11Keenan Allen LACvsIND
12Tyler Lockett SEAvsCIN
13Antonio Brown *Update: Out, inactive for Week 1.
14Brandin Cooks LAR@CAR
15Stefon Diggs MINvsATL
16Kenny Golladay DET@ARI
17Robert Woods LAR@CAR
18Chris Godwin TBvsSF
19Cooper Kupp LAR@CAR
20Tyler Boyd CIN@SEA
21Dede Westbrook JAXvsKC
22Josh Gordon NEvsPIT
23Amari Cooper DALvsNYG
24D.J. Moore CARvsLAR
25Emmanuel Sanders DEN@OAK
26Will Fuller HOU@NO
27Calvin Ridley ATL@MIN
28T.Y. Hilton IND@LAC
29Sterling Shepard NYG@DAL
30Mike Williams LACvsIND
31Marvin Jones DET@ARI
32Curtis Samuel CARvsLAR
33Allen Robinson CHIvsGB
34Robby Anderson NYJvsBUF
35Alshon Jeffery PHIvsWAS
36Jarvis Landry CLEvsTEN
37DeSean Jackson PHIvsWAS
38Larry Fitzgerald ARIvsDET
39Michael Gallup DALvsNYG
40Marquise Goodwin SF@TB
TE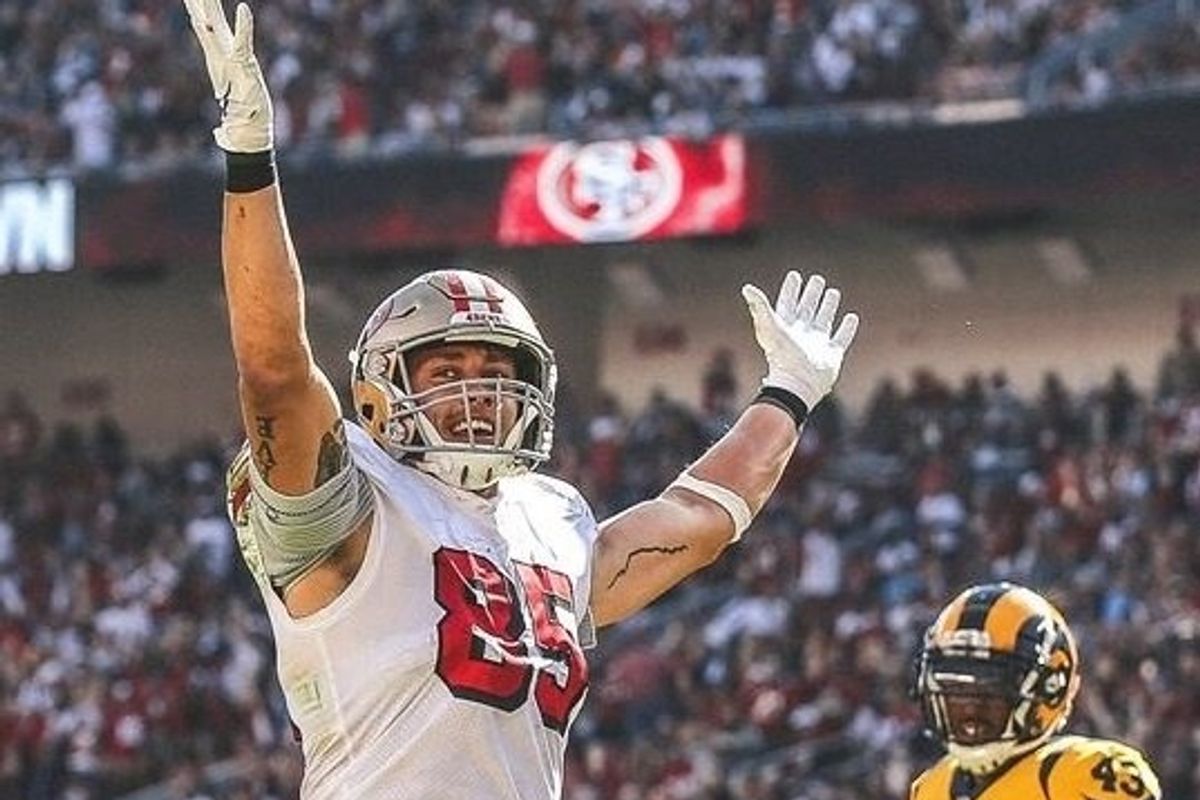 1Travis Kelce KC@JAX
2George Kittle SF@TB
3Zach Ertz PHIvsWAS
4Evan Engram NYG@DAL
5OJ Howard TBvsSF
6Hunter Henry LACvsIND
7Jared Cook NOvsHOU
8Vance McDonald PIT@NE
9Delanie Walker TEN@CLE
10Austin Hooper ATL@MIN
11Greg Olsen CARvsLAR
12T.J. Hockenson DET@ARI
13David Njoku CLEvsTEN
14Mark Andrews BAL@MIA
15Darren Waller OAKvsDEN
DEF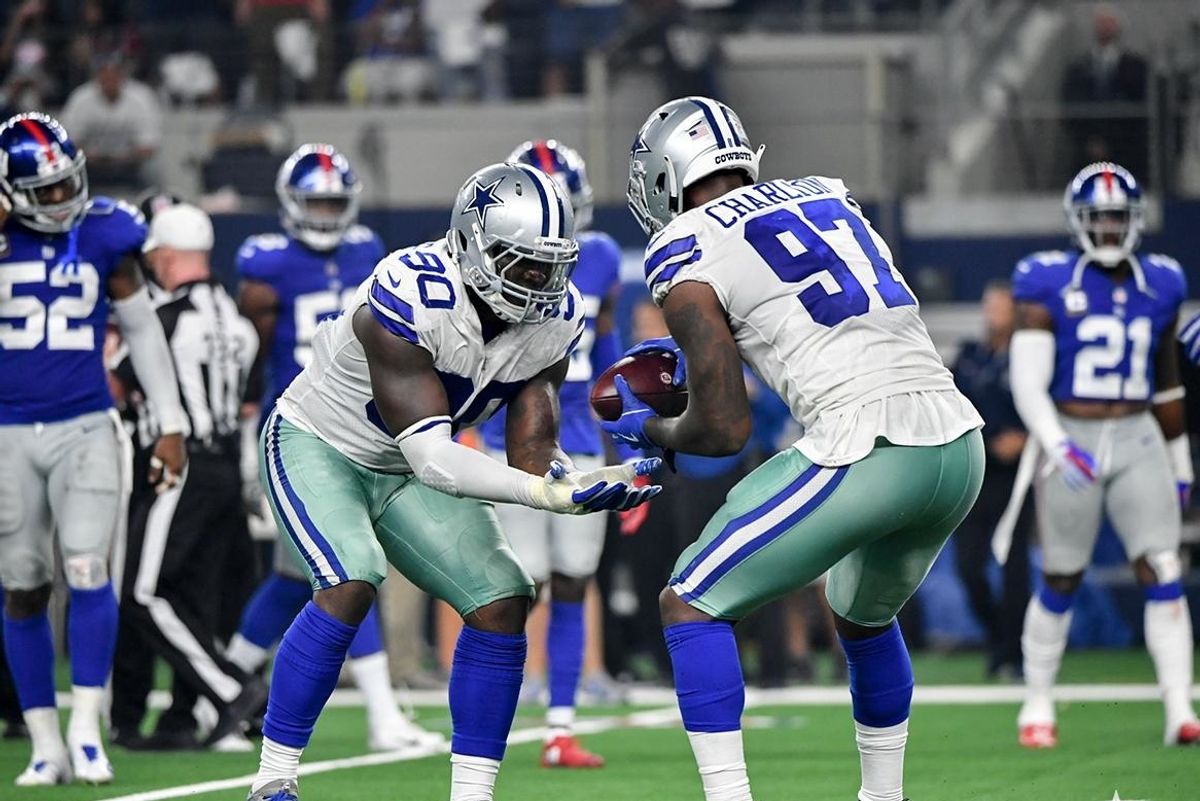 Photo via: Cowboys/Facebook
1 Ravens @MIA
2 Eagles WAS
3 Seahawks CIN
4 Cowboys NYG
5 Browns TEN
6 Broncos @OAK
7 Bills @NYJ
8 Bears GB
9 Chargers IND
10 Rams @CAR
11 Jets BUF
12 Vikings ATL
13 Saints HOU
14 Chiefs @JAX
15 Lions @ARI

KICKER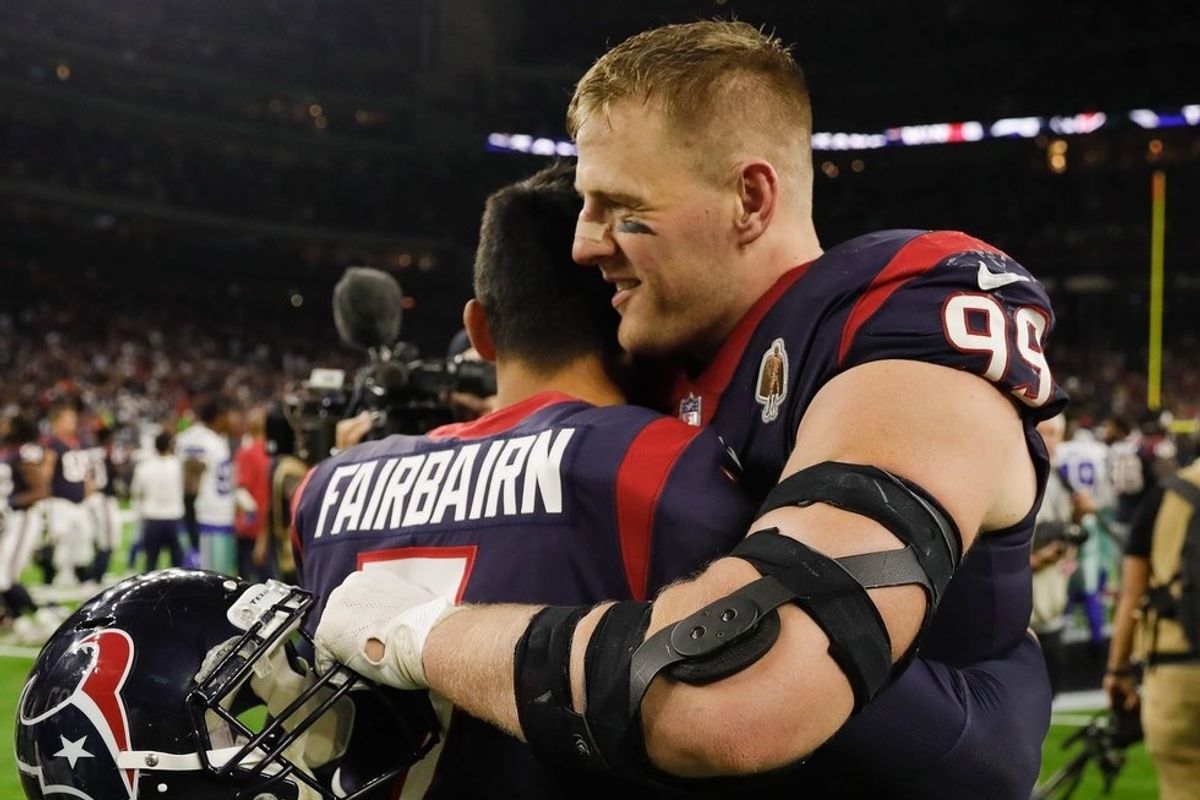 Bob Levey/Getty Images
1Justin Tucker BAL@MIA
2Greg Zuerlein LAR@CAR
3Wil Lutz NOvsHOU
4Stephen Gostkowski NEvsPIT
5Michael Badgley LACvsIND
6Ka'imi Fairbairn HOU@NO
7Jake Elliott PHIvsWAS
8Brett Maher DALvsNYG
9Jason Myers SEAvsCIN
10Matt Prater DET@ARI
11Dan Bailey MINvsATL
12Harrison Butker KC@JAX
13Mason Crosby GB@CHI
14Robbie Gould SF@TB
15Matt Bryant ATL@MIN
When Bryce Young and CJ Stroud were drafted with the first two picks of the NFL Draft, we knew they would be compared to one another for years to come.
And here we are just 11 games into the season and one quarterback has already seen his head coach fired. Panthers owner David Tepper spoke to the media on Wednesday and discussed his decision to fire Frank Reich, and also set the record straight on how they arrived at the decision to draft Young.
In so many words, Tepper basically blamed the Texans for how the top of the draft played out. He mentioned Stroud by name and said the Panthers were ready to draft him at No. 2 overall until the Texans backed out of the three-team trade with the Bears.
Tepper made a point of saying everyone in their building had Bryce Young as the top player on their draft board, despite rumors about Frank Reich preferring Stroud.
CJ Stroud and the Texans have been so much better than Bryce Young and the Panthers that Tepper clearly felt it was necessary to defend himself, and the decisions he's made for the organization.
In the end, the person that gets the worst end of the deal is Bryce Young. Coaching changes can be very difficult on young quarterbacks. And it looks like he'll have to learn a new offense in his second year when the Panthers hire a new coaching staff.
How fortunate we are as Texans fans to have DeMeco Ryans and CJ Stroud leading the team moving forward.
With all of this in mind, is there a reason Texans fans haven't fully bought in to the new-look Texans? JJ Watt was a guest on The Pat McAfee Show this week and was asked about the team's inability to fill the stadium on Sundays.
As a former player for the Colts, McAfee always thought Houston had the loudest and best fans in the NFL. And while the Texans are 9th in attendance this year according to ESPN, even CJ Stroud has asked for the fans to fill the stadium.
So there is something to it. You can see the empty seats in photos. So why aren't the Texans packing NRG with a shiny new franchise QB?
We believe the recent history of the team is why fans are slowly coming back. McAfee wasn't here for:
Bill O'Brien cussing at fans during games
Trading DeAndre Hopkins away for next to nothing
The Jack Easterby disaster
Deshaun Watson allegedly blaming ownership for why he wanted out
The Deshaun Watson scandal
Firing back-to-back coaches after one season, and the list goes on.
Don't miss the video above for the full conversation!
If you enjoy the videos, subscribe to SportsMapTexans on YouTube!
SportsMap Emails
Are Awesome