The middle part of OTA work got under way for the team
11 observations from Texans OTAs
May 29, 2019, 2:47 pm
The Texans got to work after a break on their next phase of OTAs. Here's what you need to know.
Vyncint Smith has improved
#Texans WR @vyncintsmith at the OTA workout. pic.twitter.com/mNO3usDOug

— Cody Stoots (@Cody_Stoots) May 29, 2019
He looks like a totally different wide receiver than last year. Everything looks to be a little bit faster from the processing maybe even to his speed. It was expected last year would be a rude awakening for him coming from Limestone college but he surprised and made the team then stayed on the team.
This year he isn't just a go route guy. He is fluid and smooth over the middle and has better mastery of NFL routes. He will need to continue to improve consistency but there is absolutely a space for Smith on the team. Only DeAndre Hopkins, Will Fuller, and Keke Coutee are locks. Smith fits the mold of an outside receiver the Texans could use as depth behind Hopkins and Fuller. He has plenty of competition though as Bill O'Brien made sure to note the wideouts play a position that right now is "very very competitive."
Jordan Thomas
Some #Texans tight end work from OTA workouts today. A lot of competition in that group. pic.twitter.com/asCqqd9crI

— Cody Stoots (@Cody_Stoots) May 29, 2019
Jordan Thomas looks comfortable at tight end now. He also has changed his body a little and seems to be much more fluid. He will be a key contributor for the team and has a chance to be the first tight end on the field for the Texans. He is just so big he becomes a tough cover for linebackers.
O'Brien said it is good and bad he got to play as a rookie but noted he did some good things for the team in 2018. He also mentioned Thomas had a long way to go getting to where he wanted to be and where the team needed to be. He is well on his way though.
Kahale Warring still working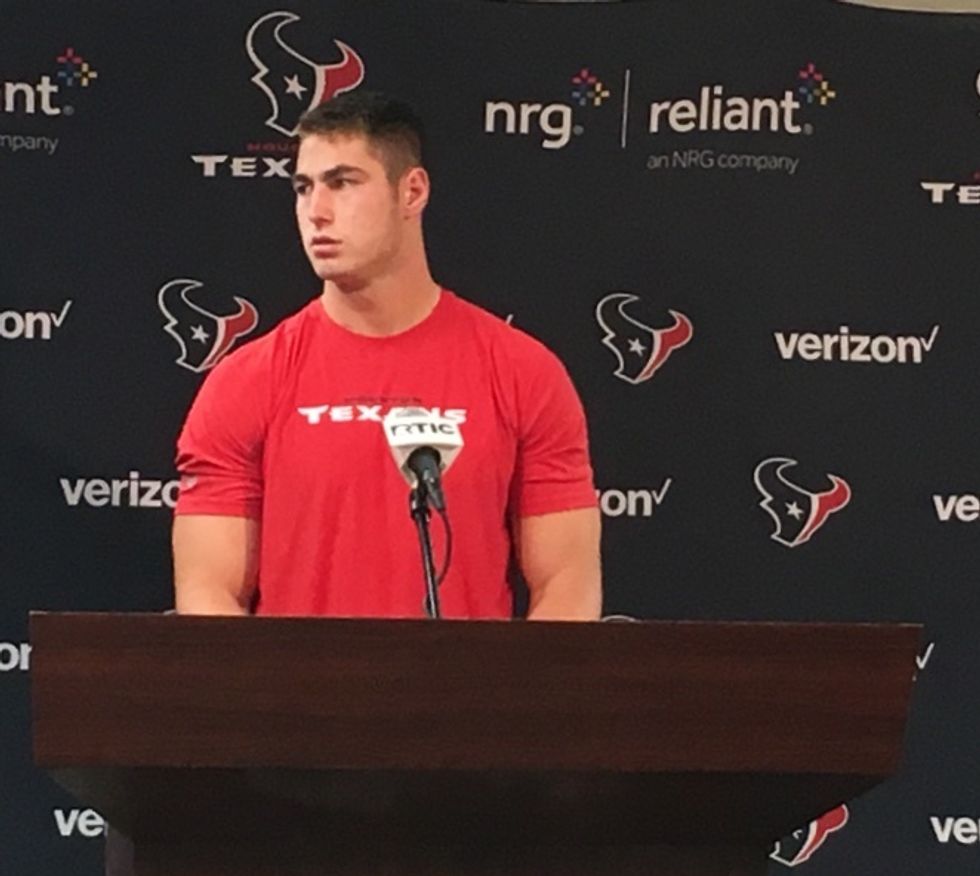 Texans tight end Kahale Warring
Cody Stoots/SportsMap
It was an up and down day for the Texans new tight end. He got a lot of work at all facets of the tight end position throughout the day. He will have to improve his blocking, not necessarily from a physical point. He said he relished the opportunity, but from a technique and awareness standpoint.
He said "all the tight ends at my position are helping" him get acclimated at the position and even Deshaun Watson is "in my ear" helping him on the field. The potential is there as he's physically gifted and has a great athlete background mentioning his basketball helping him on the field. Towards the end of the workout he hauled in a nice catch despite having shown a little fatigue earlier.
Joseph still young
Johnathan Joseph is the elder statesmen in the secondary and he's embracing his role as the leader and veteran. He also wants to show he has plenty left in the tank too as he knocked down a couple of balls and was a little angry at himself at for missing a near interception.
He praised the work ethic of the secondary and the rookie draft picks, Lonnie Johnson and Xavier Crawford, who are trying to fit in. He mentioned Johnson had a lot of talents when it came to height, weight, and speed and praised Crawford's speed.
Joseph will have to play and he will have to be solid for the Texans to succeed early. He looks good now and the injury bug actually hit him for just the first time last season. It will be interesting to see how he works against the Packers and Lions in the joint practices as well as his work against Deandre Hopkins and Will Fuller.
Growth with the slot specialist
Deshaun Watson and Keke Coutee are going to frustrate opposing offenses with the speed at which they work together. Watching them is like watching two players who have far more time together than you would expect. Coutee, of course, missed a ton of time his rookie year with his hamstring injury. The relationship is strong between he and Watson.
Coutee mentioned he took a ton of time this offseason working on making sure his body is where he can stay on the field. He said stretching and a lot of work on his soft tissues is where he spent a lot of the time.
Play of the day goes to the fullback
Cullen Gillaspia had the play of the day when he skied for a pass and snatched it out of the air. My goodness it was impressive. He is extremely athletic and it shows on the football field. It doesn't sneak up on you. It is ever-present.
He is the team's fullback but he is certainly a more modern fullback than say Jay Prosch was for the Texans two seasons ago. Kyle Juszczyk of the 49ers and how they use him is the eventual goal I would guess for Gillaspia. He has to have an impact on special teams as the team works him into the position he just started playing last year at Texas A&M.
New McKinney, Same Results
Benardrick McKinney looks a bit more svelt than previous years. I would be concerned about it considering he plays such a psychically demanding position but he has shown the same level of athleticism we are used to seeing and his coverage ability is as solid as ever.
With these types of practices with no pads guys like McKinney, thumpers in the run game, have to work on other things. He has always been athletic but it will be interesting to see how much this slight tweak to his frame impacts his work.
Reid and Gip
No, it isn't the hot new buddy cop show coming to CBS this fall but it is apparent Justin Reid and new safety Tashaun Gipson are becoming fast friends. Gipson and Reid communicate a lot before and after plays often time with the veteran instructing the second-year safety.
Johnathan Joseph said the defense likes the idea of interchangeable safeties, something Reid mentioned last week. If Gipson and Reid can get to the level of being able to do each other's jobs before the season starts the Texans will have a nice matchup weapon.
"Basically a rookie"
That was the comment Bill O'Brien made about second-year cornerback Jermaine Kelly. Kelly missed all of last season with an injury and has quite a bit of catching up to do. He looks the part of what the Texans are heading towards in their secondary though. He is a physical marvel easily over 200 pounds and solid. He has some length to his game too.
Making the team will not be easy for Kelly but there will be opportunities. If he can shine on special teams and make plays in the secondary there is a route for him to stick around. This is his first taste of real NFL action and he is worth paying attention to going forward.
Foreman's motivation
D'Onta Foreman said he feels like this is the best he has ever felt heading into a football season. He looks like it too. He also said he feels like the coaching staff is excited about him and what he can do. You can tell they are too because they didn't add a significant running back to the roster.
The important thing for Foreman is catching up. He hasn't been fully healthy playing football since 2017 so getting back to where he was and then building from that point is a key for him.
Coach Cushing
It still doesn't feel right to see Brian Cushing running around in workout gear and not a Texans uniform but such is the life of coach Cushing. He isn't helping just in the weight room either. He was assisting the linebackers with a couple of drills. His impact may not be immediately quantifiable, and who knows if he will stick around, but it doesn't hurt to have him as well as former Texans linebacker Akeem Dent around a linebacker corps who is fairly young overall.
Cushing not having to do football workouts has led to a slightly more muscular version of the linebacker we once knew. He still can move a little though simulating a player in one of the drills.