THE DEFENSE PUT ON A SHOW FOR THE FANS IN THEIR FIRST OPEN PRACTICE
11 observations from Texans training camp, August 1
Aug 1, 2019, 3:58 pm
Plenty of juice for the fans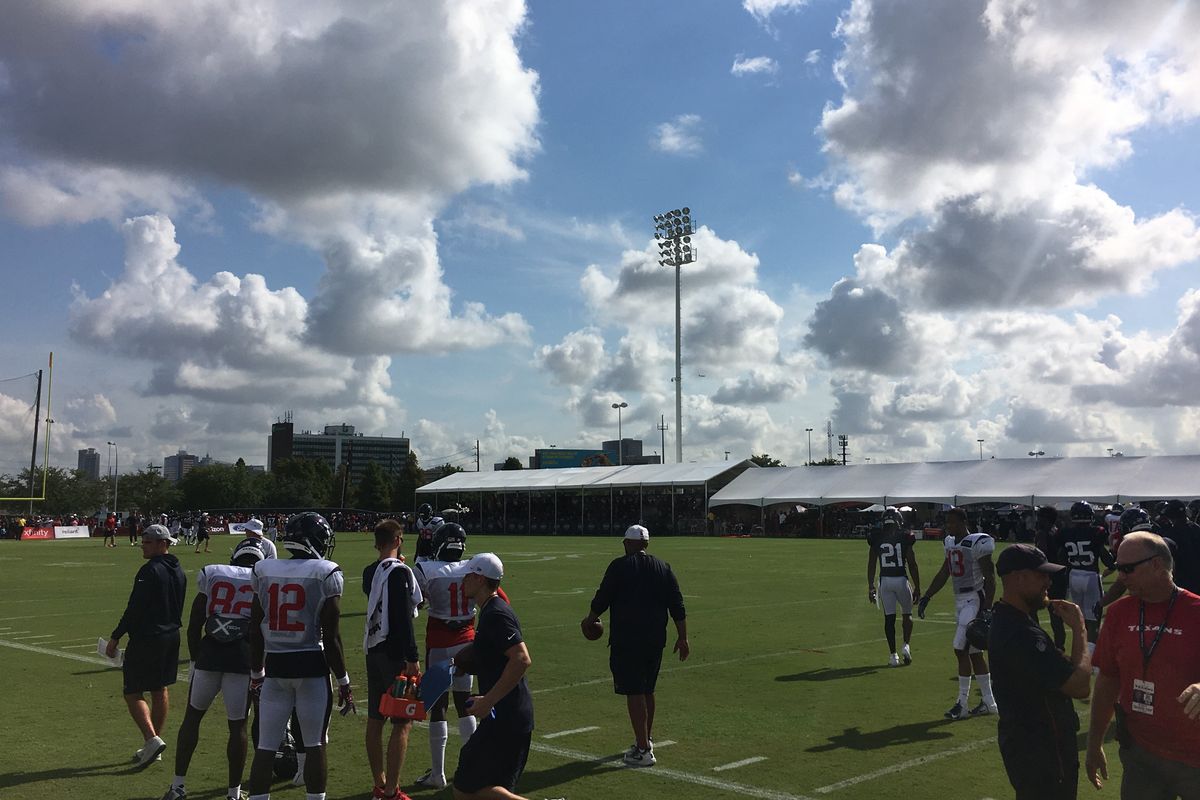 Photo by @edclarke03/Eddie Clarke.
The Texans did what was probably one of their longest situational team work sessions of camp. There was a lot of simulation of a game and Bill O'Brien stressed how important it was to get that worked out and then build on it from a two-minute situation to simulating a four-minute simulation as well.
Hopkins vs vets
Back shoulder. One hand. 🤭@DeAndreHopkins | #TexansCamppic.twitter.com/q9XKeXy6fR

— Houston Texans (@HoustonTexans) August 1, 2019
DeAndre Hopkins worked over Johnathan Joseph in their first rep in one-on-one drills. He easily separated from the veteran corner and caught the ball one-handed falling out of bounds as Joseph closed. The next time the two players matched up Joseph didn't even finish the rep and had Hopkins beat. The quarterback threw the ball and it sailed way past Hopkins. A win for Joseph.
After the rep, the veteran corner, with a little jawing, started to discuss what went wrong with Hopkins' route and started to fix it with him. Joseph is such an asset having played so much football.
Keep writing his name down
Again. Feels like every day Watson finds Tyron Johnson. pic.twitter.com/QEH0nfpYga

— Cody Stoots (@Cody_Stoots) August 1, 2019
I had been watching drills for mere moments and the above video occurred. Tyron Johnson is going to make this team. He has been the fourth best wideout in camp. He can run all the routes and I would wager can work inside and outside well enough the Texans would be comfortable with him doing each. He's fun and easy to root for each day.
Defense wins the day
The defense were the big winners today. They got to Deshaun Watson a few times and were terrors to most of the wideouts. This is to be expected with question marks at some of the spots for the starting offensive line and the defense having almost every starter from last year back as well. They're ahead but the offense was able to rattle off some yards. It wasn't smooth for the offense as much as start and stop.
Tytus the key? 
Tytus Howard had a day off and will be back working with the team Saturday. The various players filling in for him didn't bring his level of success against the defense. He is really carving out a nice role for this team. If you had said the Texans would draft a starter with their first round pick, we all would have been happy right?
Whitney's way back
Whitney Mercilus is in the final year of his contract with the Texans and after a down year last year looks poised to punish offenses. He has worked the Texans tackles all camp rarely coming away with a loss in his rep. Today he flashed through the line forcing Watson to step up into more pressure. He could be a key player for this pass rush if he rushes more than last year.
Ball security issues
I wouldn't put this on Deshaun Watson as much as the right side of the offensive line but there were a couple of forced fumbles. J.J. Watt shook loose and knocked the ball out of Watson's hands. Another couple players got a forced fumble or affected the throw by Watson. Not a good showing for the right guards and tackles today.
Backup spots up for grabs
Not only are there plenty of starting spots up for grabs on the offensive line, the players who don't end up starting are battling with each other for the few backup spots. The Texans always keep an extra tackle, extra interior player who can snap the ball, and another lineman. That would be eight. It is hard to see them keeping nine. Plenty of spots to be had if someone can separate themselves from the pack.
Coutee's new workouts
O'Brien on the challenges for #Texans WR Keke Coutee. pic.twitter.com/OoV4WzceK0

— Cody Stoots (@Cody_Stoots) August 1, 2019
Bill O'Brien above mentioned some of the various things he wants Coutee to work on now that he is healthy. Coutee is healthy after changing up his offseason work. He mentioned more stretching and he looks to have put on some weight as well. If healthy, he should be an extremely solid option for Watson.
Quote of the day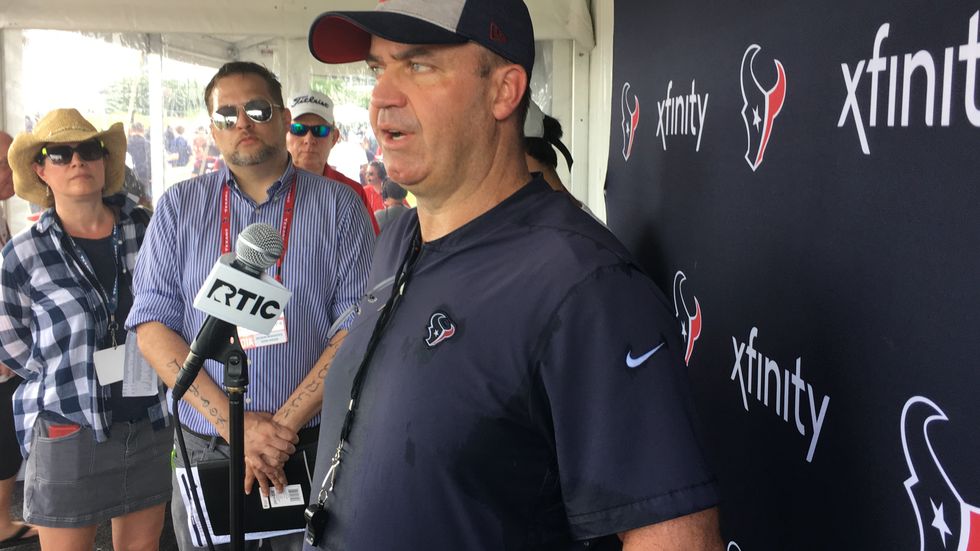 Texans Head Coach Bill O'Brien
@Cody_Stoots/Cody Stoots
"There's probably a hundred things spoken about relative to your decision to do something whether it's with the team that currently exists or something outside the team. We talk everyday. We've got a great structure of communication."
Texans Head Coach Bill O'Brien on how the team discusses potential moves in and outside the building.