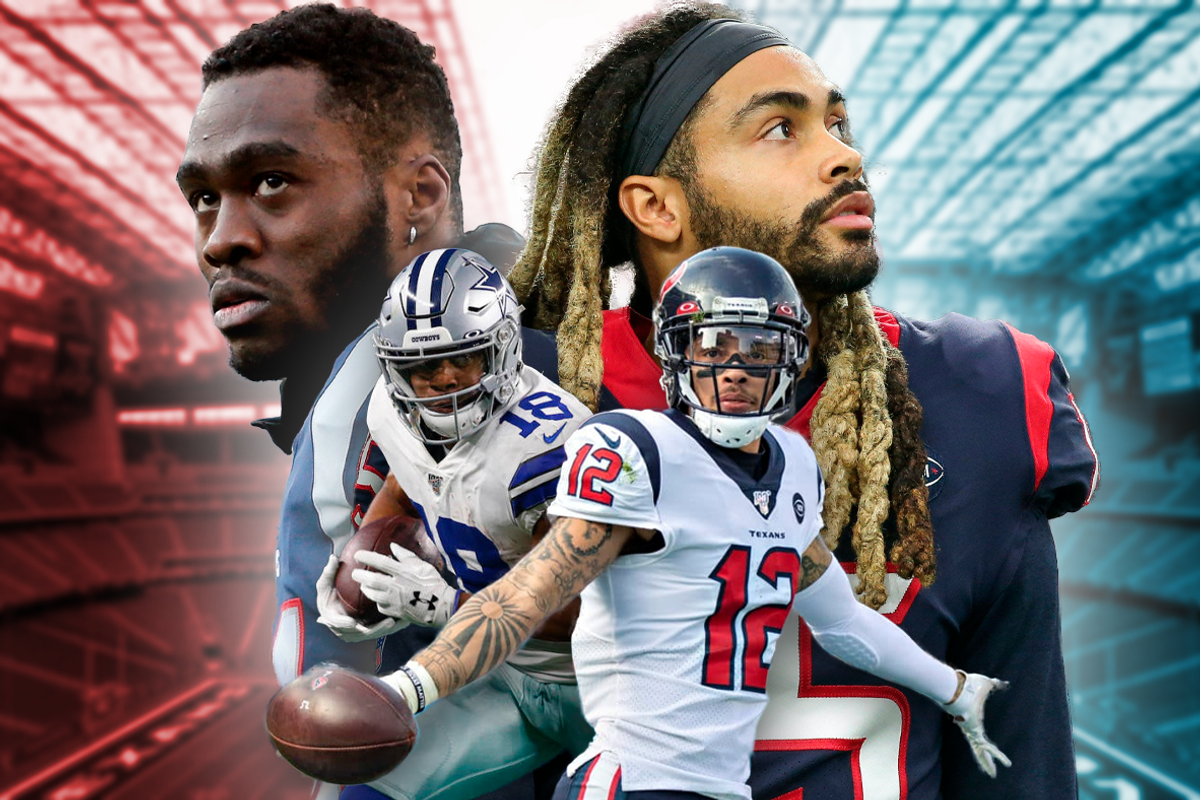 Composite photo by Jack Brame
Last season, the Kansas City Chiefs proved speed kills. They hoisted the Lombardi Trophy on the back of a team built around an offense whose foundation is speed. They nicknamed their offense, or skill position players, the 'Legion of Zoom' because of said speed. No matter how big a hole they dug themselves into, that speed and explosive offense could dig them out of. The Texans saw it firsthand in their playoff loss. After being up 24-7, they ended up losing 51-31. The Chiefs repeated this feat in similar fashion against the 49ers in the Super Bowl. Going into the 4th quarter down 20-10, they rattled off 21 unanswered points to win 31-21.
The NFL is a copycat league. Suffice to say, Texans Grand Poobah Bill O'Brien decided this offseason to attempt to replicate that model. While this is different from their usual Patriots love fest, it is still an attempt to copy another team's identity instead of establishing their own. Whenever a team tries to replicate what another team has done to be successful, they often fail. The question is: do the Texans have enough speed on offense to cause mismatches and be just as explosive as the Chiefs?
Quarterback position is close
Patrick Mahomes has proven himself via winning league MVP and then Super Bowl MVP in consecutive years. He's accomplished enough to warrant the "face of the league" talk he's received. Deshaun Watson seems to be on the verge of being the Peyton Manning to Mahomes' Tom Brady. He may not have as talented of a roster, but he's enough of an enigma himself to elevate the guys around him. Watson is the kind of guy that wants it so bad, he'll play well and win in spite being held back due to his coach and GM being a buffoon.
Receivers are meh
When looking at the receiving corps around the league, the Texans' group is average at best. Too many guys with questionable injury history, or their best days seem to be behind them...or both. I saw a tweet earlier that embodies the gist of this article. It talked about the speed at receiver the Texans have and displayed their 40 times. I quoted it and said it was from their respective combines. Not to say this group isn't still explosive, but they all have their issues. This group lacks a true top dog and doesn't have anyone that sparks real fear in defenses. They have potential, but that same potential gets coaches and GMs fired. Let's not even address the tight end position. The Texans have thrown spaghetti at the wall there, whereas other teams have invested wisely.
Running backs?
Duke Johnson was underused last season. David Johnson hasn't been good since 2016. This is the combo the Texans are counting on going into next season. While I believe they can be good enough to get the job done, I'm not sure. A trade for a more stable and solid vet would make me more at ease (Leonard Fournette). However, given the talent at other positions, the running backs may only serve as the parsley flakes in the full meal presentation. Meaning they're a compliment, not a focal point.
Offensive line
Trading for and extending Laremy Tunsil came at an extremely high cost. Not to mention spending a 1st and a 2nd round pick on two other starters on the line last offseason. This line is coming together and could prove to be one of the better young lines in the league. They are athletic and can be nasty. This is the second most important position group on this side of the ball behind Watson. If they play well and up to their collective potential, I see great things happening. However, if they fail to live up to that potential, look forward to an arduous season.
There's so much hanging in the balance when it comes to this team's offensive explosion. All the what ifs can be put to bed if the main triggermen (Watson and O'Brien) are in sync. If O'Brien can tap into Watson's next level abilities, this offense can be scary. With the way things have gone the last couple years, things may be very average. I pray I'm right on the former and that the latter is a thing of the past. This offense reminds me of that awesome v6 engine with all the potential in the world. All it needs is a few add-ons and it could run the racetracks for years to come.
On Thursday Dusty Baker made official what had been speculated for weeks – he will not be returning as Astros manager in 2024.
This was not a retirement announcement. Technically his contract with the Astros had expired. Thank you for a job well done. Good luck with your future endeavors. Don't be a stranger. You'll always be a part of the Astros family.
He wasn't fired for the same reason. You can't fire someone who is no longer an employee of the organization.
He's just not returning. Let's leave it at that.
Basically Baker was just getting in front of the situation. He's smart. He wanted to control, at least appear to control his destiny. By announcing that he won't be back as Astros manager, he saved owner Jim Crane and general manager Dana Brown a possible backlash of dumping a 74-year-old future Hall of Famer.
This way, there is no bad guy. Baker is leaving and it's his choice. He goes out with dignity intact. Now he can return home to Northern California and spend his days hunting and fishing and, as Marvin Zindler used to say, whatever makes you happy.
Baker used the old "you can't fire me, I quit" tactic. At least he didn't tell the Astros to "take this job and shove it."
The first recorded ploy of "you can't fire me, I quit" was in 1964 in, oddly enough, the Rudolph the Red-Nose Reindeer animated TV special. Rudolph performs the song, "We're a Couple of Misfits." The lyrics go "Why am I such a misfit, I am not a nitwit, they can't fire me, I quit!"
In 2023 Dusty Baker was a misfit in the Astros organization.
Reports had circulated for several weeks that Baker would not be invited back for 2024. The decision was inevitable and probably best for both Baker and the team. The Astros were flailing in second place, more threatened by the Mariners creeping up the standings than the Astros overtaking the Rangers for first place in the American League West. Plus there were disagreements between Baker and management over how to award playing time to roster players. Baker clearly had grown tired of being told how to run his business.
There's a saying that a new broom sweeps clean. Earlier this year, Crane hired Brown as the Astros new general manager. One of the key decisions, perhaps the biggest, that a general manager makes is who manages the team. Dana Brown didn't hire Dusty Baker.
Dusty Baker wasn't a Dana Brown guy. While the Astros made it to Game 7 of the ALCS, it was a troublesome regular season. The Astros finished with 90 wins, 16 fewer than their World Series title year in 2022. There are cracks in the team's foundation that must be addressed from a new perspective. This is Dana Brown's team moving forward.
Listen to Baker's carefully chosen words – and what he didn't say - when he broke the news to USA Today that he would not be managing the Astros in 2024.
"What I really appreciate is that Jim (Crane) has been totally honest and transparent with me on all things," Baker said.
That could either mean that Baker read the writing on the wall or was told that a decision had been reached to move in new a direction after the 2023 season.
"I have a lifetime of knowledge, much more than those who have never played the game."
He might be talking about fans and the media, who have been on Baker's back this season for his perplexing lineup choices and other strategy moves. Baker can read the newspapers and he has a radio in his car. He likely recognized that he had lost much of the public's support.
But listen to his closing words.
"I still have a lot to offer, baseball has been my life. I'm gone, but I will be back."
Baker is 74. If the phone were to ring tomorrow and it's a team looking for a veteran manager with playoff experience … "when do I start?"

Remember Daryl Morey's reason for leaving as Rockets general manager on Oct. 15, 2020 after 13 years in Houston. He said he wanted to spend more time with his family.
Seventeen days later he signed to become president of basketball operations with the Philadelphia 76ers.
SportsMap Emails
Are Awesome