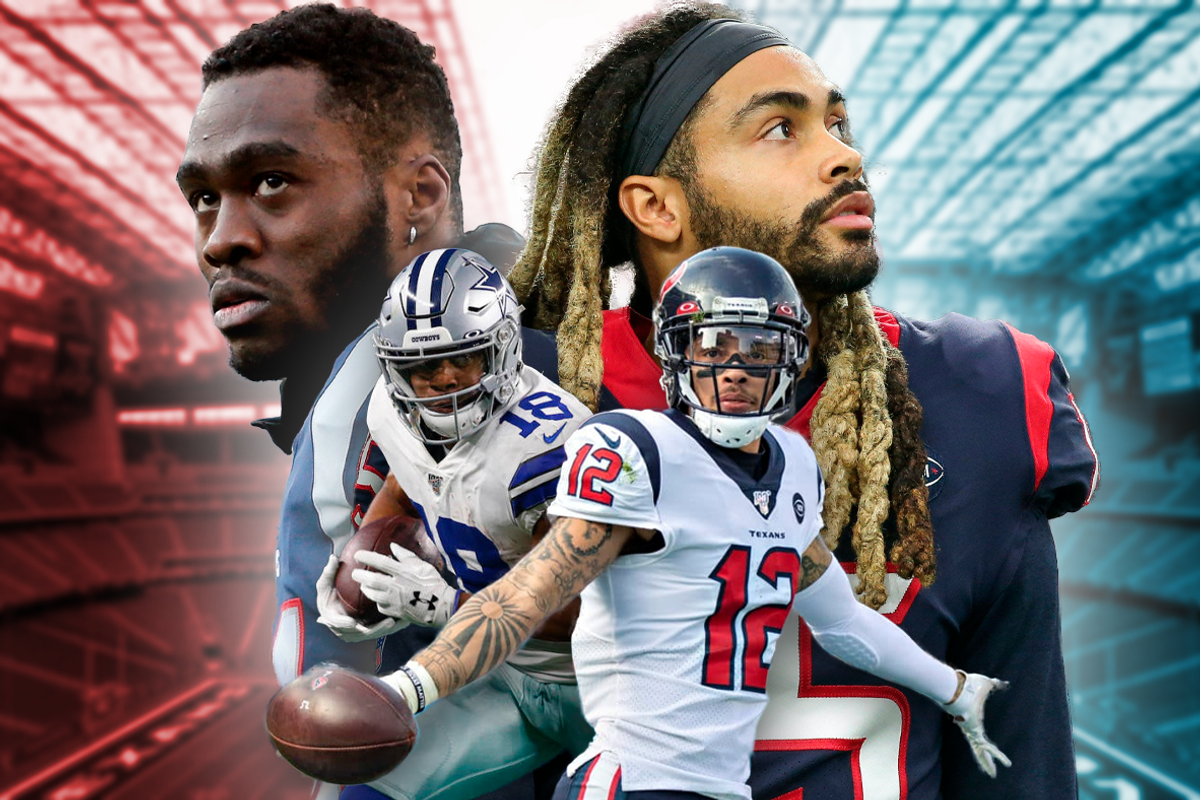 Composite photo by Jack Brame
Last season, the Kansas City Chiefs proved speed kills. They hoisted the Lombardi Trophy on the back of a team built around an offense whose foundation is speed. They nicknamed their offense, or skill position players, the 'Legion of Zoom' because of said speed. No matter how big a hole they dug themselves into, that speed and explosive offense could dig them out of. The Texans saw it firsthand in their playoff loss. After being up 24-7, they ended up losing 51-31. The Chiefs repeated this feat in similar fashion against the 49ers in the Super Bowl. Going into the 4th quarter down 20-10, they rattled off 21 unanswered points to win 31-21.
The NFL is a copycat league. Suffice to say, Texans Grand Poobah Bill O'Brien decided this offseason to attempt to replicate that model. While this is different from their usual Patriots love fest, it is still an attempt to copy another team's identity instead of establishing their own. Whenever a team tries to replicate what another team has done to be successful, they often fail. The question is: do the Texans have enough speed on offense to cause mismatches and be just as explosive as the Chiefs?
Quarterback position is close
Patrick Mahomes has proven himself via winning league MVP and then Super Bowl MVP in consecutive years. He's accomplished enough to warrant the "face of the league" talk he's received. Deshaun Watson seems to be on the verge of being the Peyton Manning to Mahomes' Tom Brady. He may not have as talented of a roster, but he's enough of an enigma himself to elevate the guys around him. Watson is the kind of guy that wants it so bad, he'll play well and win in spite being held back due to his coach and GM being a buffoon.
Receivers are meh
When looking at the receiving corps around the league, the Texans' group is average at best. Too many guys with questionable injury history, or their best days seem to be behind them...or both. I saw a tweet earlier that embodies the gist of this article. It talked about the speed at receiver the Texans have and displayed their 40 times. I quoted it and said it was from their respective combines. Not to say this group isn't still explosive, but they all have their issues. This group lacks a true top dog and doesn't have anyone that sparks real fear in defenses. They have potential, but that same potential gets coaches and GMs fired. Let's not even address the tight end position. The Texans have thrown spaghetti at the wall there, whereas other teams have invested wisely.
Running backs?
Duke Johnson was underused last season. David Johnson hasn't been good since 2016. This is the combo the Texans are counting on going into next season. While I believe they can be good enough to get the job done, I'm not sure. A trade for a more stable and solid vet would make me more at ease (Leonard Fournette). However, given the talent at other positions, the running backs may only serve as the parsley flakes in the full meal presentation. Meaning they're a compliment, not a focal point.
Offensive line
Trading for and extending Laremy Tunsil came at an extremely high cost. Not to mention spending a 1st and a 2nd round pick on two other starters on the line last offseason. This line is coming together and could prove to be one of the better young lines in the league. They are athletic and can be nasty. This is the second most important position group on this side of the ball behind Watson. If they play well and up to their collective potential, I see great things happening. However, if they fail to live up to that potential, look forward to an arduous season.
There's so much hanging in the balance when it comes to this team's offensive explosion. All the what ifs can be put to bed if the main triggermen (Watson and O'Brien) are in sync. If O'Brien can tap into Watson's next level abilities, this offense can be scary. With the way things have gone the last couple years, things may be very average. I pray I'm right on the former and that the latter is a thing of the past. This offense reminds me of that awesome v6 engine with all the potential in the world. All it needs is a few add-ons and it could run the racetracks for years to come.
The Rockets are back in action against the Warriors Monday night. Photo by Katelyn Mulcahy/Getty Images.
LOS ANGELES (AP) — Going into Sunday night's game, LeBron James wasn't motivated alone by Dillon Brooks' slights against him.
The Los Angeles Lakers superstar took to Instagram on Saturday night and wrote under a graphic showing he had 108 games with at least 30 points since coming to Los Angeles in 2018 "But I just came here to make movies though! Ain't that what y'all said right !?!?"

That graphic needs to be updated.
James scored a season-high 37 points, including the go-ahead free throw with 1.9 seconds remaining, as the Lakers held off the Houston Rockets 105-104 on Sunday night.
It was James' fifth 30-point game this season and his fourth in his last seven.
"Sometimes you need to remind people. So that's what it was," James said about the graphic.
Alperen Sengun's layup tied it with four seconds remaining when the Lakers called timeout. Austin Reaves passed it into James, who was fouled by Tari Eason as he drove inside. James missed the first free throw, but made the second.
Houston, which did not have a timeout left, got the ball to midcourt, but Brooks' 3-point attempt was offline.
"I liked how we battled back and kept fighting. We just didn't play smart at the end," Rockets coach Ime Udoka said.
James scored 13 points in the fourth quarter and gave the Lakers their fifth win in the last six games.
Earlier in the game, the NBA's All-Time leading scorer became the fourth player in league history with at least 10,500 assists (he finished with eight and is at 10,504). He also tied Vince Carter for seventh on the 3-pointers list with 2,290, and moved past Clyde Drexler for eighth on the steals list at 2,208.
"That's the LeBron we've all come to know and love over these 21 years," Lakers coach Darvin Ham said.
James and Brooks, who have had a nice rivalry going since last season's playoff series between the Lakers and Memphis Grizzlies, put on another entertaining show.
James picked up a technical for shoving Brooks early in the third quarter but then made a "too small" gesture on the court after he scored over Brooks late in the quarter.
"He's a great competitor. I like going against him. And he was hooping tonight for sure. He shot the ball exceptionally well and kept them in the game," James said.
Anthony Davis added 27 points and 10 rebounds, but fouled out with 58 seconds remaining. Reaves came off the bench and had 17 points.
Brooks led the Rockets with 24 points, including a season-high six 3-pointers, and Sengun had 23. Houston has dropped two straight after five straight wins.
UP NEXT
Rockets: At Golden State on Monday night.
Lakers: Host Utah on Tuesday in the In-Season Tournament.
SportsMap Emails
Are Awesome