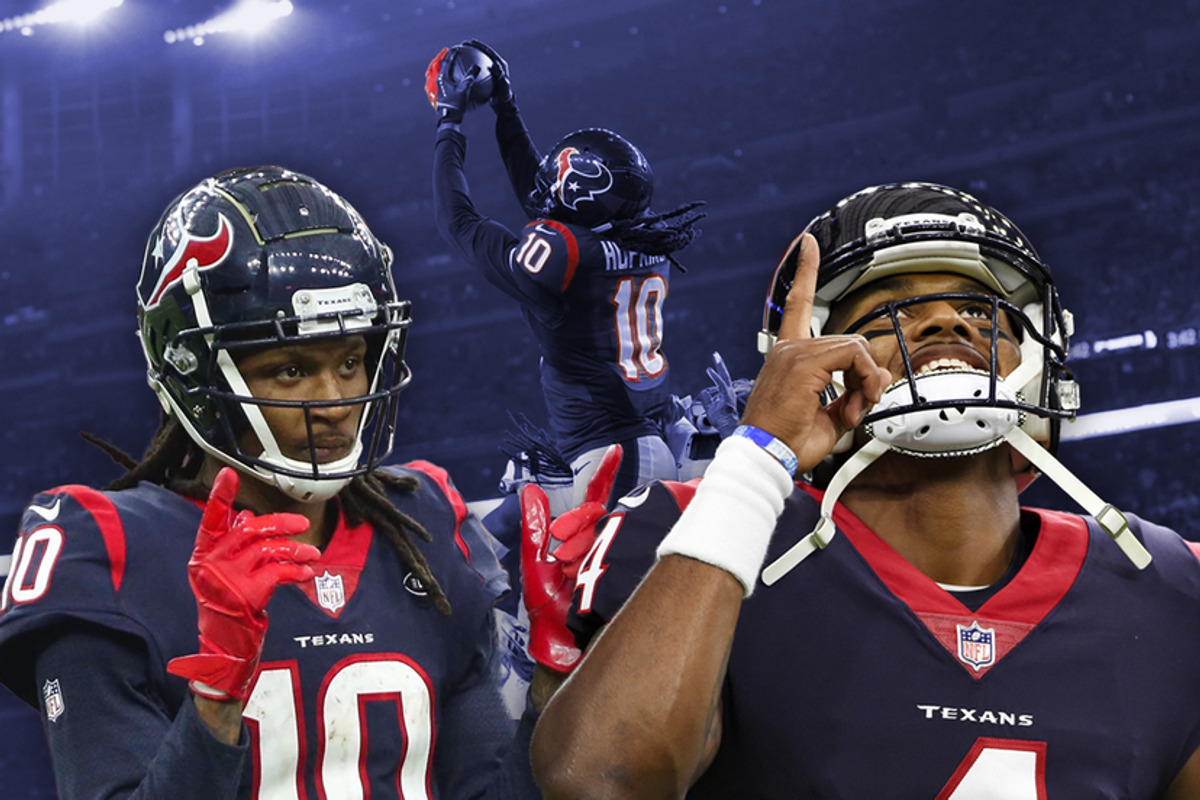 Composite photo by Jack Brame
Texans WR DeAndre Hopkins and his mother Sabrina Greenlee caught up with The Main Event's Cody Stoots and Jake Asman from Radio Row in Miami. They talked about Sabrina's upcoming film "Sabrina" and Hopkins shared his thoughts on losing to the Chiefs, how close the Texans are to winning a championship, and more.
You can read the transcript below where Hopkins talks about the Texans' season or you can listen to the entire interview if you want to hear more about the upcoming movie.
On the Chiefs loss and playing through the injury (Rib/finger)
It's football. I knew, obviously going out there playing, being injured, it didn't matter to me. We had a lot to fight for. I'm pretty sure a lot of my other teammates were banged up also. It was a tough game. Really don't want to re-live it too much obviously (laughs). But Kansas City is a great team you can't take anything away from those guys. They beat us out fair and square. Obviously a great comeback by Patrick Mahomes and those guys but uh, you know, I'm pulling for them. Sammy Watkins is a fellow teammate of mine at Clemson University. Also like family to me. So I'm happy for them.

On the big lead and did they think they were going to the AFC title game?
Oh, man. No question. No question. Up 24 to nothing there's no question in your head we're going to the AFC title game. But obviously us beating ourselves, making mistakes, turnover, just little critical mistakes. But I think everyone went out there and played hard. I don't think anybody has any regrets.
On Deshaun Watson continuing to grow
That's what I love about Deshaun. He never feels like he arrived. Little things, even if he's faking a hand-off. Little stuff like that, that you wouldn't think a quarterback is hard on himself. Deshaun, he's his biggest critic. I don't expect him to feel like 'Oh, you know, we had a good year, let me not work on it' that's not Deshaun at all. He's a hard worker. I know he's going to come out next year and demand the most from us, his teammates, and also himself.

On if Bill O'Brien is overloaded with the new GM title
You know, it's not easy man. I'm pretty sure he has a lot on his plate, but he handles it pretty well. Being able to go out there and still coach a team at a competitive level the way we did and compete for almost a title man, it's not easy, he's human, but he does a great job handling it very well.
Could Bill actually be better at the GM job because he is the coach?
I'm not sure. I can't speak on that because I've never, honestly, I don't know how that works upstairs. What those guys go through, I'm pretty sure other GM's are pretty knowledgeable about football. But, I think it's definitely probably an advantage that he's coached before and you know actually been out there on the football field and knows exactly what's going on X's and O's wise. So I'm pretty sure that helps.
Are the Texans close to getting to an AFC Title game and ultimately a Super Bowl?
Oh, there's no question that we're close. Obviously, us being up 24 to nothing on a team playing for a Super Bowl, I don't think that's a question. But I think that everyone has to perform at their peak ability in those games. You know, beating ourselves will not help. Turnovers, little things like that. It's a players league. Players out there playing. So I think for us to get over that hump everyone has to take accountability for their own job.

During the Texans' game against the Carolina Panthers on Sunday, center Jarrett Patterson sustained a leg injury that will keep him out of the lineup for the foreseeable future, per Aaron Wilson.
#Texans wide receiver Robert Woods expected to miss another game with foot injury, per sources. And tight end Brevin Jordan's foot issue could take some time as he deals with plantar fasciitis. With center Jarrett Patterson sidelined (fracture in ankle area, per source, Texans… https://t.co/DluZWB3w2y
— Aaron Wilson (@AaronWilson_NFL) October 31, 2023
Monday, Texans head coach DeMeco Ryans was about the health of rookie center Juice Scruggs who has missed the entire regular season to this point with a hamstring injury. Ryans said he didn't have an update on Scruggs when asked if he would be returning to practice this week.
So it looks like the Texans may turn to Michael Dieter at center, who replaced Patterson on Sunday, while they wait for Scruggs to get healthy. The Texans have already dealt with a ton of injuries to their o-line this year. Which is why Tytus Howard is struggling to play left guard instead of lining up at right tackle, the position he was given a hefty contract extension to play before the season.
The coaches have said they want to have their best 5 linemen on the field, which is why Howard is not likely to move back to tackle anytime soon, even though his run blocking has been below average at guard. This also means the Texans inability to run the ball may not get fixed this season.
Houston's running backs have also received criticism for the lackluster running game, but all three backs haven't seen much success, so this feels like a scheme/talent issue on the line. In fact, the Texans' two biggest runs on Sunday came after the backs had to make a defender miss in the backfield.
Houston had a great opportunity to run the ball against one of the worst run defenses in the league against Carolina. But even that matchup couldn't get the Texans run game on track. So where do they go from here? Maybe being less predictable and throwing more on first down could help Stroud and the offense. How they shuffle the line when Scruggs returns could also be an option.
Either way, be sure to watch the video above as we examine all the possibilities to get the ground game going, and protect Stroud in the process.
Subscribe to SportsMapTexans on YouTube for our latest videos.
SportsMap Emails
Are Awesome