How clever sports collectors are seriously cashing in on the pandemic
Aug 24, 2021, 3:21 pm
This month a Honus Wagner card from 1911 sold for $6.6 million. Photo by Getty Images.
After seven decades, since Willie Mays was a rookie, Major League Baseball is trading companies that sell baseball trading cards. Starting in 2026, sports apparel company Fantatics will have sole authority to produce cards bearing MLB team logos. Fanatics will be taking over for Topps as MLB's "exclusive partner" in the baseball card category.
Since the NFL and NBA are part of MLB's deal with Fanatics, Topps is left with Major League Soccer as its main pro sports property. Talk about bad timing, Topps is set to go public with an evaluation of $1.3 billion, although Mr. Wonderful on Shark Tank might argue that sales won't support that figure now.
Topps, which started as a chewing gum company, first produced baseball cards in 1951. With major sports leagues unavailable now, Topps may approach college conferences with trading card offers.
More bad timing for Topps - the sports card industry has exploded during the Covid pandemic with collectible cards increasing in value as much 500 percent the moment buyers leave the store. Card buyers are lining up outside stores before they open to race for the hobby aisle like the Running of the Bulls in Pamplona. Occasionally things turn ugly, like last May when four men assaulted another man who had just purchased baseball cards at a Target store in Milwaukee. The man pulled a gun on his attackers. No shots were fired and the four would-be muggers were arrested. This is why we can't have nice things – and Target can't have baseball cards on its shelves. Target only sells trading cards via its website now.
"To ensure the safety of our guests and team members, MLB, NFL, and NBA trading cards will no longer be sold in stores until further notice" – sign at Target customer service counter in Houston.

This month a Honus Wagner card from 1911 sold at auction for $6.6 million, a record for baseball cards. The previous mark was $5.2 million for a 1952 Mickey Mantle "rookie card," despite The Mick joining the Yankees in 1951. Years later Mantle would be victimized when Kramer sucker punched him in the jaw during a brawl at Yankees fantasy camp in Florida.
Other high-end sports cards include an autographed LeBron James rookie card ($5.2 million), a Luka Doncic rookie card for $4.6 million, and a Wayne Gretzky rookie card for $3.75 million – all sold this year. Doncic has played only three NBA seasons, how's this even possible?
I've never been a baseball card guy, other than flipping them into a hat when I was a kid, or playing closest to the wall, or knocking down leaners. I usually got wiped out by the kid who lived two floors up. You won't hear me say, "I'd be a millionaire today if my mother didn't throw out my baseball card collection from under my bed."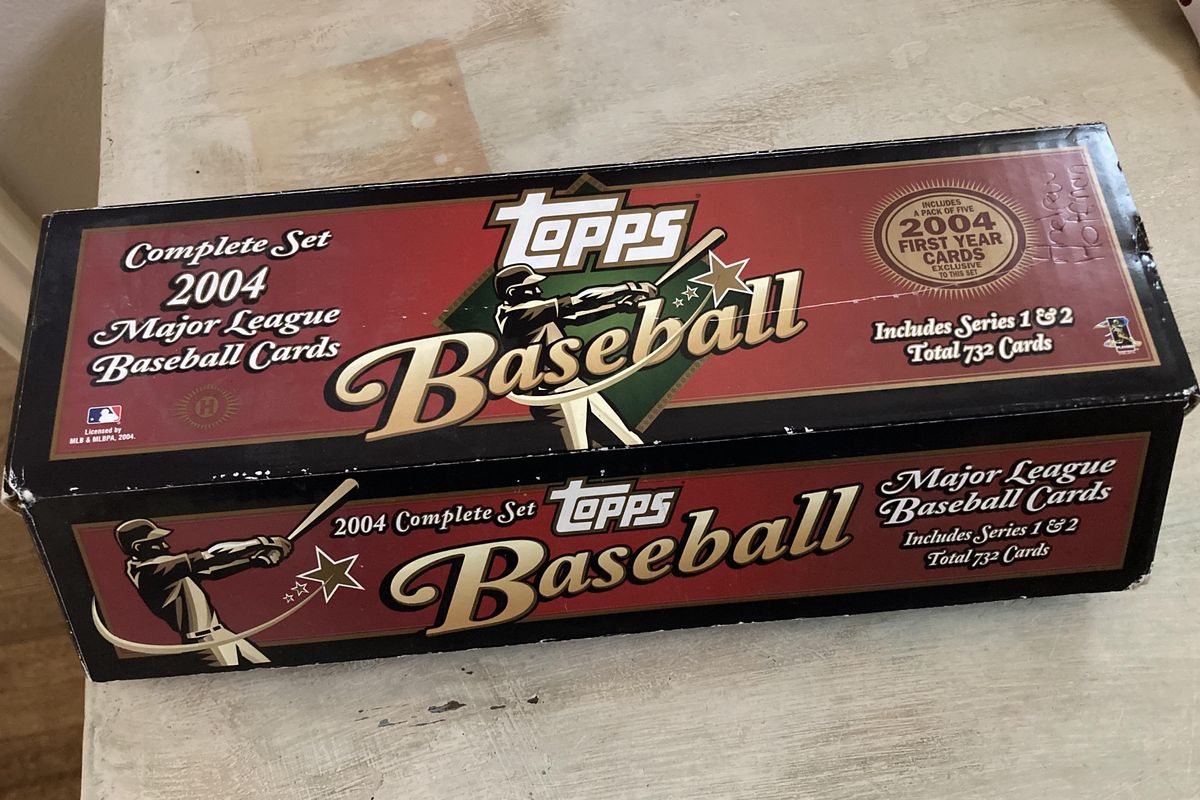 The 2004 Topps set didn't include Barry Bonds. Photo by Ken Hoffman.
I haven't had much luck with baseball cards as an adult, either. In 2004, I bought the "complete set" of Topps baseball cards at Walmart as a birthday present for my kid. Later I discovered that the Topps set that year didn't include Barry Bonds, only the greatest player of that era, maybe the greatest ever – if you can overlook his giant steroid (alleged) melon. Bonds didn't sign the Major League Baseball Players Association licensing agreement, by which big leaguers share equally in payments from baseball card companies. It comes to about $500 per year per player.

Bonds, on his way to becoming the all-time home run king, wanted to sell his own card and keep all the money. It wasn't until 2017 that Bonds and Topps reached a deal for a 2004 Bonds baseball card so collectors could complete their sets belatedly. Nah, I'm good.
Let's see how Bonds did that missing baseball card year. He batted .362, hit 45 homers and had an all-time record on base percentage of .609. If you're familiar with the Backyard Baseball video game for children, those are Pete Wheeler crazy numbers.
Here's where Bonds' 2004 stats get ridiculous. Between hits and walks, he reached base 376 times – despite having only 373 official at bats (walks don't count as at bats). He's the only player ever to accomplish that weird feat. Bonds walked 232 times that year, 120 of them intentionally. There's a record that will never be touched. The 120 intentional walks shouldn't be a surprise, though. Allowing him to walk to first was smarter than watching him trot completely around the bases. In 1998, Bonds was walked intentionally with the bases loaded. You can look it up.
Once I collected a baseball card against my will. I had just finished interviewing legendary Astros announcer Milo Hamilton at spring training in Kissimmee. He reached into his pocket and handed me about five Milo Hamilton baseball cards with a rubber band around them. He made them himself. They were autographed – "Milo Hamilton – HOF." I figured he signed them personally to me, thinking my nickname was HOF. No he meant "Hall of Fame." Hamilton received the Baseball Hall of Fame's Ford C. Frick Award in 1992. There is a special wing of the Baseball Hall of Fame in Cooperstown, N.Y. for broadcasters.