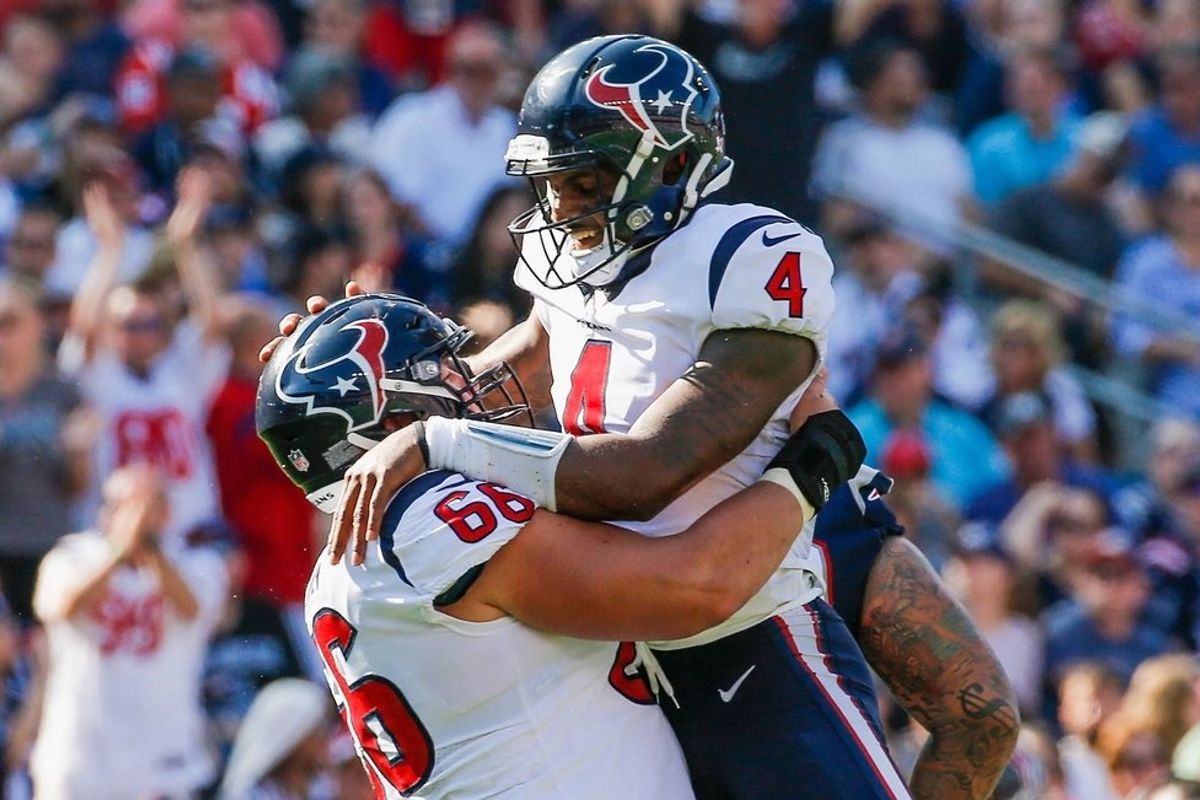 The NFL instituted the Rooney Rule to encourage teams to include minorities in the hiring process for head coaches and general managers. The rule states teams must interview at least one minority candidate in their hiring process before making a hire. This was presumably to be done in good faith. However, teams have found a myriad of ways to make a mockery of the rule and its intentions. To pour salt in the wound, there's a disproportionate amount of minority head coaches and GMs in the league.
Given the great racial divide, the NFL has tossed around the idea of giving teams the incentive of moving up in the draft if they hire a minority head coach (six spots) and/or GM (ten spots). Those changes have to be voted upon. However, there are other changes that will be in place starting this point forward. They include: teams must interview at least two external minority candidates for head coaching positions, at least one for coordinator positions, and at least one for senior-level front office positions (females were included in the front office positions).
So how could the Texans benefit from all this? Where could they stand to improve their team? Here's how I see it:
Bye Bye Bill O'Brien!
About two months ago, I made my case to be Bill O'Brien's replacement. The Texans must've ignored my plea because I haven't gotten a call or email yet. A week later, I gave a realistic exit for O'Brien. Depending on how this season goes, that plan may be executed in the offseason. I've previously stated my hope for Chiefs' offensive coordinator Eric Bieniemy to be hired as head coach given his tutelage under Andy Reid and what they've done for Pat Mahomes. ESPN's Louis Riddick is a very sharp guy who'd be a good GM hire given he's served in front offices previously, and he's pretty talented evaluating talent on television. Bringing back Rick Smith would be another front office move I could see Cal McNair doing. Getting out from under the dictatorship of buffoonery should be priority number one.

Draft position improvements
Looking at the Texans' lack of draft picks could present an unattractive task to any incoming regime. Couple that with the piss-poor contract extensions that have been handed out, I wouldn't be surprised if the organization had to overpay and over-promise. The potential to maximize the minimal draft capital the Texans have could help entice candidates. Knowing you're without a 1st or 2nd rounder, but have a greatly improved position in the 3rd and possibly 4th rounds helps. That, and number four is under center is a nice carrot to dangle.
Quality replacements
Quality minority candidates are out there. Anthony Weaver is the new defensive coordinator on Kirby and replaces an aging Romeo Crennel. Many questioned his hire. How do you find the next hot coaching prospect unless you give them a shot no one else was willing to give? This applies to minority candidates. I was shocked Bieniemy didn't get hired this offseason. When Sean McVey's assistants got hired after one or two good seasons, you'd think Bieniemy would've been a shoo-in. The Dolphins hired minorities at head coach and GM last offseason. After fleecing the Texans for numerous draft picks and flipping other players into more picks, they used said picks to stockpile young talent. They also spent their cap space wisely to bring in veteran talent and are well on their way to contending for the AFC East in the post-Brady era.
The Texans are in an unenviable position. Number four makes this job a lot more attractive despite the other obvious flaws this organization has. One thing an incoming regime could take solace in is job security. The McNairs are notoriously slow to pull the trigger on organizational changes when it comes to head coaches and GMs. They'd come in knowing they'd have at least four to five years to build something. The first one or two years may be difficult given the shape the organization is currently in, so that job security looks even better. Do I see the McNairs being the type of folk who'd actually go through with an idea this radical? Not really. But what better way for Cal to take charge and put his own stamp on this organization's future than with a total reset under this potential rule change. It could also help set a trend and that's something this team is not known for. In the meantime, we wait. The jackassery on Kirby can't last forever.
"Another one!"- DJ Khaled
That's the first thing that came to mind when I heard the news of Tytus Howard being shut down for the season because of a knee injury. They've had more injuries on the offensive line this season than Nick Cannon has Father's Day cards. Almost every member of the offensive line has spent time on the injury report. Howard went down in the same game in which Juice Scruggs was finally on the active roster. He missed the first 10 games due to a hamstring injury. The irony of next man up has never been so in your face.

The other thing that came to mind was the soap opera As the World Turns.
Howard had just signed an extension this offseason. So did Laremy Tunsil and Shaq Mason. They drafted Juice Scruggs, and signed a few guys too. Those moves, along with other holdovers, were expected to fill out the depth chart. Then a rash of injuries struck. At one point, only one of the original five guys expected to start was playing! In fact, they beat the Steelers 30-6 with that backup offensive line!

One can't have the expectation of backups to perform as good as the starters. They're professionals and are on an NFL roster for a reason. However, the talent gap is evident. One thing coaching, technique, and preparation can't cover is lack of ability or talent. The Texans have done a good job of navigating the injury minefield this season. While the Howard injury will hurt, I have faith in the guys there still.
As of this writing, the Texans are in the eighth spot in the AFC playoff picture. The Steelers, Browns, and Colts are all in front of them at the fifth through seventh spots respectfully. They've beaten the Steelers already. They play the Browns on Christmas Eve and their starting quarterback is out for the season. The Colts are relying on the ghost of Gardner Minshew to steer their ship into the last game of the season vs. the Texans with a possible playoff trip on the line. The Broncos and Bills are the two teams immediately behind them. They play the Broncos this weekend. Even though they're on a hot streak, this is the same team that got 70 put on them by the Dolphins. The Bills are the old veteran boxer who still has some skill, but is now a stepping stone for up & comers.
To say this team should still make the playoffs would be an understatement in my opinion. I believe in them and what they have going on more than I believe in the teams I listed above. That includes teams around them in the playoff race that aren't on their schedule. The one thing that scares me a little moving forward is the sustainability of this line. When guys get up in age as athletes, it becomes harder to come back from injuries. The injuries also tend to occur more frequently when it's a knee, foot, ankle, shoulder, elbow, or another body part critical to blocking for C.J. Stroud.
I know they just re-signed three of those guys and drafted one they believe can be a starter, but depth and contingency plans are a way of life in the NFL. We see how important depth was this season. Why not plan ahead? Don't be surprised if the Texans spend valuable draft capital on the offensive line. By valuable, I'm talking about first through third or fourth rounders. Those are prime spots to draft quality offensive lineman. Whether day one starters or quality depth, those are the sweet spots. The only guy on the two deep depth chart for this offensive line that wasn't drafted in one of those rounds was George Fant, who was an undrafted rookie free agent. While I highly doubt they spend any significant free agency dollars on the group, I'm not totally ruling it out.
The bottom line is, this team will be okay on the line for the remainder of this season. The only way that doesn't happen, more injuries. Stroud is clearly the franchise guy. Protecting that investment is a top priority. I don't care about a number one receiver, or a stud stable or singular running back if the quarterback won't have time to get them the ball. If the pilot can't fly the plane, you know what happens. So making sure he's happy, healthy, and has a great crew is of the utmost importance.
SportsMap Emails
Are Awesome