UH men's basketball releases complete schedule for the 2019-20 season
Sep 21, 2019, 5:19 pm
The University of Houston men's basketball team announced the release of their 2019-2020 schedule on Friday. The Cougars will play a total of 32 games beginning with a home exhibition match against Angelo State on Nov. 9.
UH will tip-off their new season on Tuesday, Nov. 12 in a non-conference game against Alabama State inside the Fertitta Center in Houston. Highlighted by Oklahoma State making a trip to Houston on Sunday, Dec. 15, the Cougars' 10-game non-conference schedule will end against UTEP on Dec. 19, before taking part in the three-day invitational Diamond Head Classic from Dec. 22 - 25 in Honolulu, Hawaii.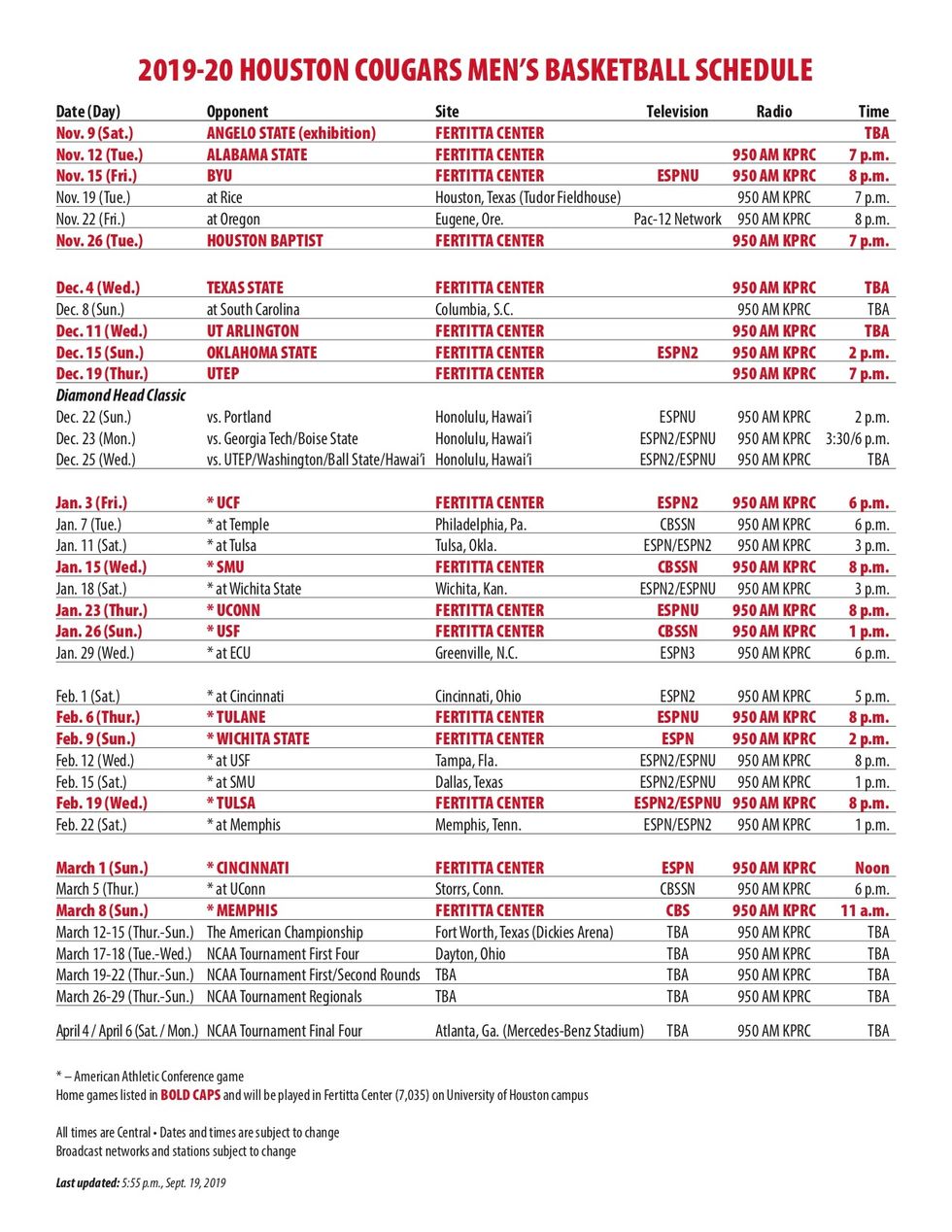 The start of the American Athletic Conference 18-game schedule begins on Friday, Jan. 3 with UFC at home, which follows a two-game road trip against Temple (Jan. 7) and Tulsa (Jan. 11). The Cougars will welcome in-state rival SMU to the Fertitta Center on Wednesday, Jan.15 and a trip to Cincinnati on Feb. 1 -- a rematch of the 2019 AAC championship game last spring. Houston will end their conference schedule on March 8 in an AAC home showdown against Memphis.
Last year, the University of Houston men's basketball team had one of their most successful seasons in school history. They finished the year with a 33-4 record and appeared in their second consecutive NCAA Tournament. The Cougars advanced to the Sweet-16 before falling to the Kentucky Wildcats in a 62-58 loss.
UH Men's Basketball program enters the 2019-20 college season looking to defend their American Athletic Conference title with two-time defending Conference Coach of the Year winner Kelvin Sampson leading the way.