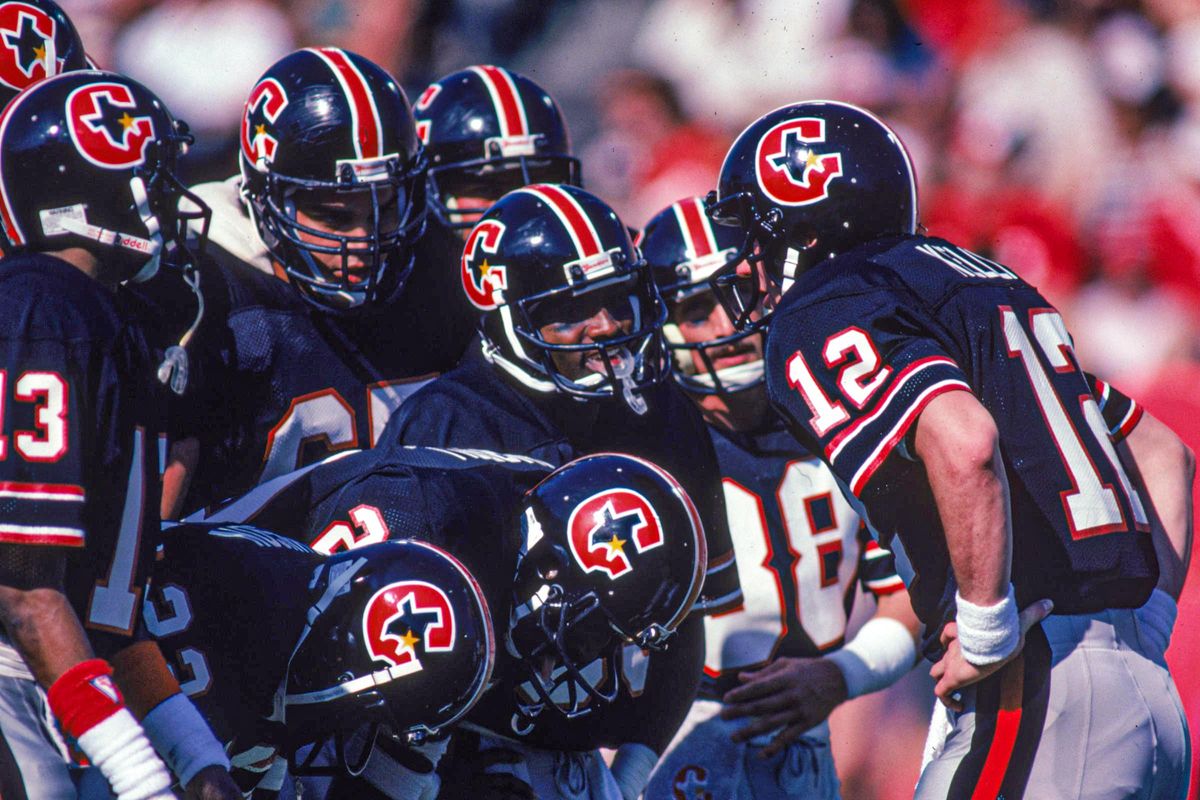 The USFL returns this weekend.Photo by Stephen Dunn/Allsport/Getty Images.
Spring has sprung in Houston, birds are chirping, we're praying our lawnmowers start, guys are back on their bikes wearing ridiculous Spandex shorts, our cars are covered with whatever that disgusting yellow stuff is, the Astros are back and the NBA playoffs are tipping off ....
Are you ready for some football? In Houston? But really Birmingham, Alabama?
Against all odds, the resurrected United States Football League returns Saturday night, live in prime time on both NBC and Fox, with the Birmingham Stallions hosting the New Jersey Generals. It'll be just like old times, as the Stallions and Generals were teams in the original USFL that started in 1983 and died three years later. Watch ESPN's 30 for 30 called Small Potatoes: Who Killed the USFL? for the sad and frankly dumb saga.
The all-new USFL has eight teams and two conferences. The South Conference has our Houston Gamblers, New Orleans Breakers, Tampa Bay Bandits and Birmingham Stallions. The North Conference has the New Jersey Generals, Philadelphia Stars and Michigan Panthers and Pittsburgh Maulers.
"Our" Houston Gamblers? The USFL isn't hiding it, but TV commercials promoting Saturday night's league opener don't mention that every team, regardless of what the front of their uniforms say, will play every game in Birmingham, Alabama – at either Protective Stadium and Legion Field.
The league and all eight teams are owned by something called the National Spring Football League Enterprises Company, LLC. … but really Fox Sports.
In other words the Houston Gamblers won't play in Houston, won't have local ownership, no local offices, no home stadium, no local cheerleaders, the players won't live here and local sports anchors won't be reporting breathlessly from the sidelines in Alabama. The Houston Gamblers have about as much connection with Texas as, you remember that commercial, picante sauce made in New Jersey. The last line of that commercial was "get a rope." I didn't come out of my house for three weeks.
Saturday night's league opener will be broadcast by both NBC and Fox, the first time two networks aired the same pro football game at the same time since the 1967 Super Bowl was on CBS and NBC. All 40 USFL regular season games will air on either NBC, Fox, USA Network, FS1 or Peacock. Check your local listings each week to find the Gamblers' game.
The Houston Gamblers head coach and general manager is Kevin Sumlin, former University of Houston and Texas A&M coach. The starting quarterback is Clayton Thorson, whose name sounds like the alter ego of a Marvel superhero. The team colors are black, red, gray, white and yellow-gold. I'm not sure if crayons have that many colors.
The Holy Bible says, "To everything there is a season" (Ecclesiastes 3.1). Is spring a season for football? So far, no. There have been several attempts by pro leagues to play a football season after the NFL's Super Bowl – the original USFL, another USFL attempt that never got off the ground in 2010, the Alliance of American Football and two cracks by the XFL. They all flopped.
The odds are against the USFL 3.0. But as Justin Bieber and most recently The Undertaker said, never say never. Speaking of odds, Vegas has posted lines on this weekend's USFL games. Houston is a 3-point underdog against Michigan. The game will air at 11 a.m. Sunday on NBC.
Houston also has the longest odds to win the championship, plus-700. Since there were no pre-season games and nobody really knows anything about any of the teams, I'm putting $10 on the Gamblers this week and another $10 on them to win the title. Reason: why not? Don't forget, the Houston Roughnecks were 5-0 in the 2020 XFL season until Covid shut down the league. What does that have to do with the Gamblers' chances of winning this year? Absolutely nothing.
The USFL will have some gimmick rules: a team can go for a 3-point conversion after a touchdown, and the team scoring a touchdown can retain possession by making a first down on 4th and 12 from its own 33 yard line. If they fail to make a first down, the other team takes possession. If the other team sacks the quarterback on that do-or-die play, it gets the ball on the opponent's 10 yard line – in the red area. I call it the "red zone," too, but I've heard several NFL coaches call it the "red area."
Active roster players will make about $45,000 for the 10-game season. Practice players will earn about $15,000. No middling quarterbacks will get $40 million a year like in the NFL. Seriously, Derek Carr, $121.5 million for three years?
The USFL won't be a tough ticket. Adult tickets will be $10 and will come with three free tickets for kids under 15. I still don't expect to see sold-out stadiums for the USFL. In fact, the only similarity between Houston's team in the USFL and Houston's team in the NFL will be half-empty stadiums.
Luka Doncic had 41 points, nine rebounds and nine assists, and the Dallas Mavericks prevented the Houston Rockets from advancing to the quarterfinals of the NBA In-Season Tournament with a 121-115 victory on Tuesday night.
Kyrie Irving added 22 of his 27 points in the second half for the Mavericks, who had already been eliminated. Their victory allowed the New Orleans Pelicans to win Group B in the Western Conference with a 3-1 record.
Doncic fell just short of his 59th career triple-double. That would have tied him for ninth place all-time with Larry Bird. He shot 15 of 29, 3 of 10 on 3-pointers.
"Sometimes we take him for granted, and we shouldn't," Mavericks coach Jason Kidd said. "He's about winning, but it just so happens he's a walking triple-double.
"The Mavericks, who trailed by nine points in the third quarter, grabbed the lead for good at 99-98 with 6:25 to play on a drive by Irving. Leading 103-100 with 5:25 left, they went on an 8-2 run that included three free throws by Derrick Jones Jr. when he was fouled by Dillon Brooks on a 25-footer with the shot clock about to expire.
Jabari Smith Jr.'s 3-pointer with 8 seconds left pulled the Rockets within 119-115 before Dallas closed it out.
Doncic played after sustaining a low-grade sprain of his left thumb on his non-shooting hand early in Saturday's game. He wore a wrap on the thumb.
Doncic made a hook shot from the free throw line after recovering a loose ball near the baseline.
"I'm 2 for 2 in my career on the hooks," Doncic said, saying the other came while playing for the Slovenian national team against Sweden.
Irving shot 2 for 11 in the first half, 1 for 5 on 3-pointers, with no free-throw attempts. He was 6 for 11 in the second half, hitting 1 of 2 behind the arc, and sank all nine free throws.
"I told the team, 'Played well enough to win, not smart enough to win,'" Rockets coach Ime Udoka said. "We were extra-aggressive, especially at the end of the third quarter. Had multiple players make a few dumb fouls, put Kyrie at the line and got him going when he didn't have a lot going. You can be aggressive, obviously, but slapping somebody on a 3-point shot on the arm is an unintelligent play. It has nothing to do with aggression."
Alperen Sengun had a season-best 31 points for the Rockets, who had six scorers in double figures. Fred VanVleet had 10 points and 12 assists.
The Rockets have lost all six of their road games this season. They went into play leading the NBA by allowing an average of 104.4 points per game.
The Mavericks didn't use the specially built court for either of their home tournament games, citing dissatisfaction with the quality.
UP NEXT
Rockets: Will finish a back-to-back at Denver on Wednesday.
Mavericks: Host Memphis on Friday.
SportsMap Emails
Are Awesome